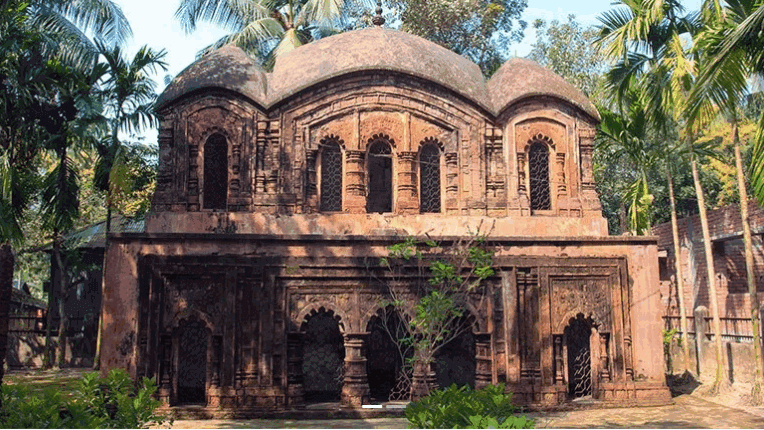 Rajaram Temple is located in the Khalia village of Rajoir Upazila of Madaripur district and is the oldest temple in Madaripur district. The temple, built in the seventeenth century, is still standing, ignoring the Mahakala. It is known that the then Hindu zamindar Kalisadhak Rajaram Roy Chowdhury built the temple at a huge cost. However, the exact date of construction was not known. However, many believe that it was built around 1825. It has become known as the manufacturer. Zamindar Rajaram Roy Chowdhury himself used to worship in this temple. This temple looks like a chauchala house and is built in the style of rural Bengal of Bangladesh. Built on 23 percent of the land, the temple is 20 feet long, 16 feet wide, and 48 feet high. In the terracotta of the two-storied temple, various scenes of Ramayana and Mahabharata have been skillfully painted.
Besides, there are innumerable images of various gods and goddesses, animals, birds, and herbs on the temple. The skillful craftsmanship of skilled artists still captivates people after hundreds of years. The terracotta used for the decoration of the temple contains various stories of the Battle of Kurukshetra, Ramayana, and Mahabharata. There is a kitchen next to the temple.
From this kitchen, various rituals and materials of worship were made. The temple has a kitchen with a total of 9 rooms. Of which 3 rooms on the ground floor and 6 rooms on the upper floor. There is also a separate place for worship. At present, it is under the Department of Archeology of Bangladesh.
How To Go Rajaram Mandir
The distance by road from Dhaka to Madaripur is 191 km and it will take about five hours to reach this district. Buses leave for Madaripur 24 hours a day. If you want to go to Madaripur, you have to reach Mawa Ghat first. BRTC, Pracheshta, Hilsa, Gungun, Ajmeri transport travels from Dhaka to Mawa Ghat. The BRTC bus terminal is located at Gulistan and the fare for this bus is TK 60 / -. Attempt transport leaves from Uttara and Rampura and the fare of this bus is 100 / -. Hilsa, Gungun, Ajmeri transport left Jatrabari for Mawa at a fare of TK. 60 / -. From Mawa Ghat you can reach Kawrakandi or Majhikandi Ferry Ghat by ferry, speedboat, trawler, or launch. From here you have to take a local bus or taxi to get off at the Tekerhat bus stand in Madaripur. From Tekerhat you can go to Khalia Shanti Kendra by van. Rajram will take down the temple as soon as he tells Vanwala. The rent will be 20 TK.
Visit Also: Shakuni Lake