Senapoti Dighi Of Traditional Of Mughal Period At Madaripur
Diganta-Jora Dighi is a treasure trove of natural beauty. All the nature lovers are fascinated by the chirping of the birds or the chirping of the flying birds in the sky of Dighi. The aura of the setting sun at dusk creates a unique beauty in the clear lake water. Who doesn't like to be a little distracted in this lively environment? There are various folk tales and myths surrounding these ancient lakes of natural beauty. One such traditional dighi is Senapati Dighi. One of the ancient lakes of Madaripur is very rich in beauty and tradition. Senapati Dighi is located between the Amratala and Khatial villages of the Baligram union in Kalkini Upazila of Madaripur. Senapati Dighi is one of the historical places of Madaripur. Spread over an area of ​​about 15 acres, this lake is as beautiful in its natural beauty as it is surrounded by a touch of history and tradition.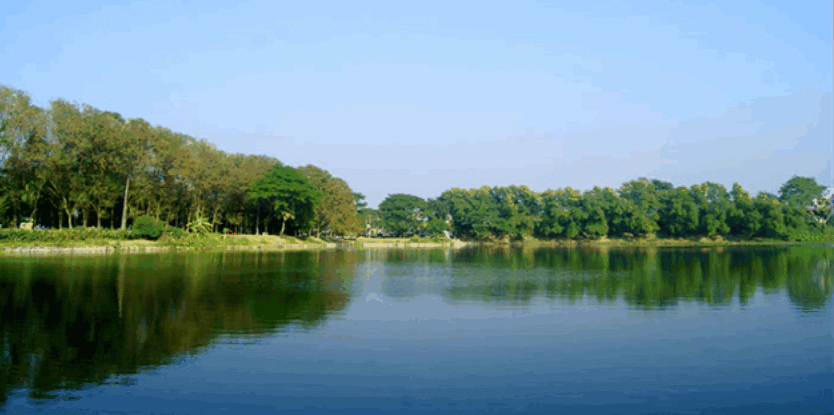 The tank was dug on 24 December 1665 by Islam Khan, a trusted general of Umed Khan, the eldest son of Shaista Khan during the Mughal period. That is why this lake is called Senapati Dighi. This lake, which is about three hundred and fifty years old, still survives in its glory with its beauty. Surrounded by bamboo bushes, this tank never dries up. This lake attracts a lot of tourists and many people come here for picnics during the holidays. It is known from history that Islam Khan was the eldest son of Subedar Shaista Khan. During the reign of Mughal Emperor Jahangir, his eldest son Buzurg Umed Khan, under the leadership of Subedar Shaista Khan, led expeditions on 26 rivers to drive out the Mughal pirates.
After expelling the Mughal pirates from Chittagong, a part of his army launched an operation in the present Barisal region of Bakerganj. From there they chased away the Mugh soldiers and left for Dhaka. Along the way, they stop at this place in Madaripur. Islam Khan, a trusted general of Umed Khan, dug the tank to meet the water shortage during their stay. It is further said that after digging this dighi, the water did not rise and horses used to run here. At one stage of the race, water started rising from the south side of the tank, and in a short time, the tank became full of water. There are many more folk tales surrounding this lake. There are rumors that in the past if you went to this dighi during any ceremony and asked for dishes, it would rise on the bank of the dighi. At the end of the ceremony, it would be left on the bank of the tank again. If not, misfortune would have happened. More commonly, this area once had a huge banyan tree.
Lots of Hanuman lived in this banyan tree. Hindus consider this banyan tree and Hanuman as deities. After bathing in this tank for their worship, they would come under the banyan tree and worship. For a long time Hindus and Muslims used to come to this lake and take various vows.
How to get there:
There are buses from Gabtali and Keraniganj in Dhaka to Madaripur. There are buses of Sarbik, Chandra and Sohail Paribahan from Gabtali. The dighi is located at the head of the road from Eaterpool in Madaripur town to Gaganpur Bazar on the south side and straight on the west side.
Where to stay:
There are several hotels to stay in in Madaripur town. There are hotels like Hotel Mathrubhumi, Sumon Hotel, Hotel Palash, Hotel Beach, Hotel Sarbik International, etc.
Read More: How To Go Madaripur