Shah Mahmud Mosque Symble Of Mughal Architecture At Kishoreganj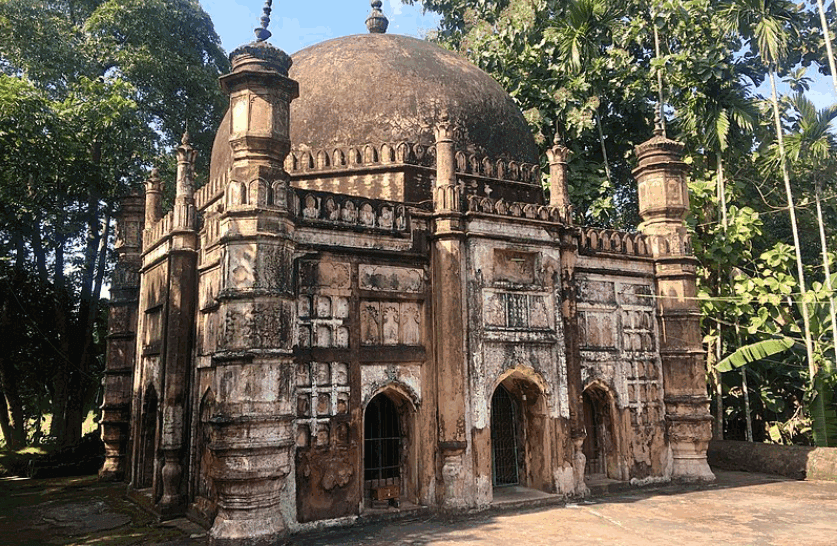 Kishoreganj Haor-Baor, a district very close to Dhaka, is a rich ancient place. The district is rich not only in natural richness but also in terms of history and heritage. So Kishoreganj is a different application for travel lovers. The village of Egarasindur in Kishoreganj is historically very important. There are several ancient architectures that have historical significance. One of these monuments is the Shah Mahmud Shah Mosque.
Location
Shah Mahmud Mosque is located in the village of Egarasindur, about 11 km from Pakundia Upazila Sadar in Kishoreganj district. The village of Egarasindu is a place steeped in history. In addition to the fort of Isa Khan, there are several old architectures here. The mosque is located one kilometer away from the fort.
History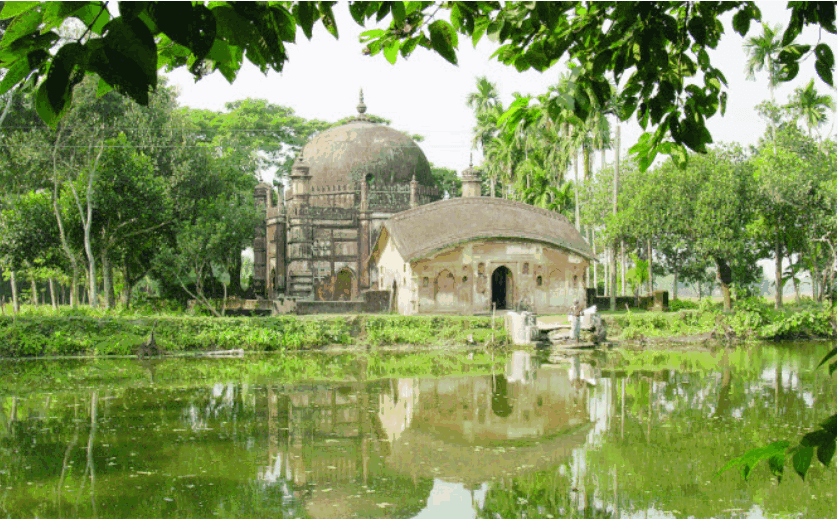 This ancient mosque was built in 1680. Built-in the style of Mughal architecture, this mosque is a sight to behold. It is known from history that this mosque was built by the merchant Sheikh Mahmud. He was a rich man at that time. This mosque is named after him. The Sheikh Saadi Jame Mosque is a short distance from this mosque. Shah Mahmud's brother was Sheikh Saadi. They were two brothers businessmen. Their successors live next to this mosque.
Architectural style
The mosque stands on a high platform surrounded by low walls surrounded by an architectural style. This beautiful architectural style of the mosque has a combination of Mughal architecture and local art. This mosque is square in shape with one dome. Dochala pucca house can be seen at the entrance. It is called Balakhana. Entering through the balakhana, the plastered courtyard of the mosque catches the eye. Inside and outside of this mosque, the paintings of the Sultanate period are decorated. This square mosque has one dome. You can see four octagonal minarets in the four corners of this mosque. Inside there are three mihrabs on the west side. The arches have terracotta designs that look like bows. Each column attached to the mihrab has a design of small trees with different flowers along with the design of the leaves.
The walls and cornices of the mosque are parallel to other Mughal architectures. In addition to the terracotta work on the east wall, the aesthetic design of the Mughal period can be seen on the walls, columns, and minarets. In the past, there were four precious stone slabs in the four corners of the mosque which are now extinct. Regular prayers have been offered here since the establishment of this mosque. Some worshipers can pray inside this mosque. Inside the boundary wall outside the mosque, there is an open space suitable for prayers.
There is a big pond in front of the mosque. The pond has paved ghats. Besides, an ajukhana has also been set up here to provide water for Azur.
How to get there:
You can reach Kishoreganj by bus from Dhaka. Different buses leave from Dhaka's Mohakhali for Kishoreganj. These buses include Jalsinri, Ananya, and Nandail flood transport. The fare on these buses will be around 130 Tk. If you want you can go directly to Goalghat. In that case, let the bus helper know in advance. Besides, if you want to come from Kishoreganj city, you can come to Pakundia by renting CNG or autorickshaw for 30 Tk. Then you have to come to Goalghat by CNG or autorickshaw from Pakundia. The rent will be 25 Tk. You can reach Shah Mahmud Mosque from Goalghat by rickshaw or on foot.
Read More: Narosundha Lake