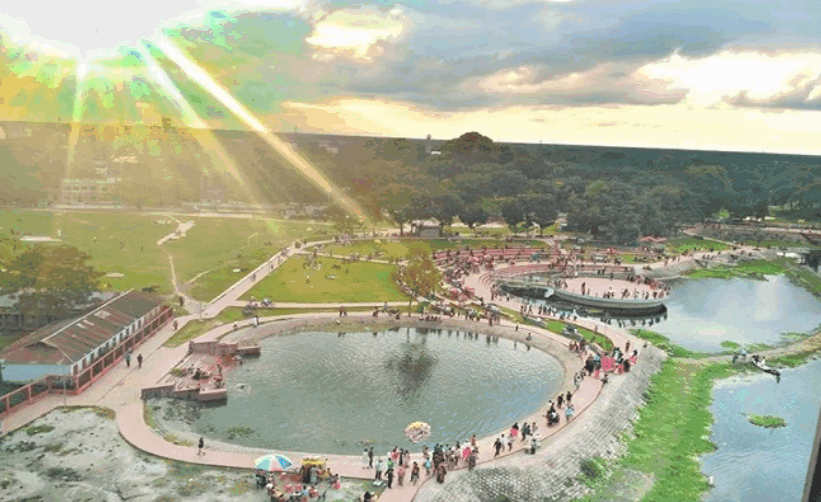 Narosunda Lake is a beautiful lake beside the Narosunda river in Kisharganj District. The once fast-flowing Narsunda river flows over Kishoreganj district town. Various development projects were formulated to revitalize the river, the lifeblood of Kishoreganj district town. As part of these projects, Narsunda Lake City has been built around the Narsunda River. In this Lake City, 5 beautiful bridges have been built which have increased the attraction of this city.
Narosunda Lake Kisharganj
Narsunda Lake City has added extra fun to the city's entertainment. 5 beautiful bridges and 2 overbridges have been constructed at different points of the city. In addition, special measures have been taken to facilitate walking along the river banks, and a wide walkway has been constructed. As a result, city dwellers can easily enjoy the beauty of the two banks of the river.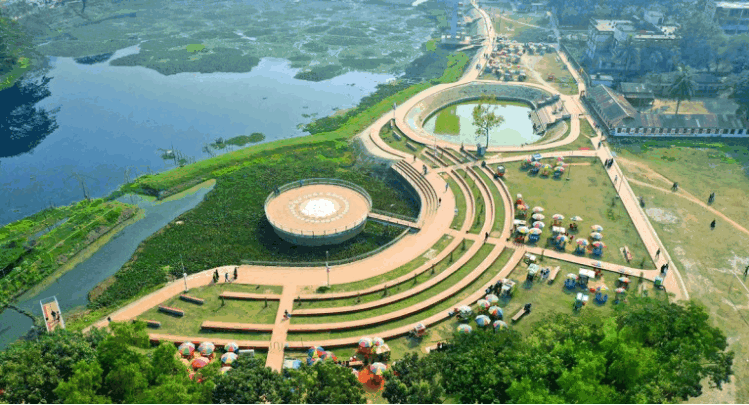 There is a road from Gurudayal Government College to Gourangbazar Bridge. People of all ages, big and small, can walk here in the morning and afternoon and enjoy the immense beauty of the Narsunda River. In this way, the body and mind of the city dwellers become fresh by overcoming the fatigue of the busy days. Entertainment lovers are flocking to this beautiful Narsunda Lake City every day in the hope of getting rid of the life confined within the four walls.
Gurudayal College's pond, floating open stage is here for recreation in the natural environment. There are also opportunities for boat trips on the Narsunda River. At the same time, visitors can enjoy the beauty and diversity of Kishoreganj city from the top of the high observation tower of Lake City. That is why these places are always crowded with people coming in the hope of entertainment. Besides, an amusement park has been constructed on the west side of Gourangbazar Bridge. It has added a new level of entertainment to the city dwellers.
How to Go Narosunda Lake & River At Kisharganj
You can go to Kishoreganj by bus or train from Dhaka. From Kamalapur, 3 intercity trains leave for Kishoreganj at 7:40 am, 10:20 am, and 6:20 pm. Besides, Nabil Paribahan, Esha Enterprise, Golapbagh buses ply from Dhaka's Sayedabad to Kishoreganj. From Mohakhali, Ekta Service, Dream Line, Ananya Paribahan, Ananya Classic etc. buses ply on Dhaka-Kishoreganj route. From the Kishoreganj bus stand, you can go directly to Narsunda Lake City by renting a rickshaw. Rickshaw fare will be 20 Tk. Or you can go to the open stage adjacent to Gurudayal College by renting a local easy bike for 5 Tk per person.
Read More:
People Also Search More About:
kishoreganj sadar union list
kishoreganj sadar ward number
kishoreganj upazila chairman
eidgah mosque
shahi eidgah
eidgah sharif