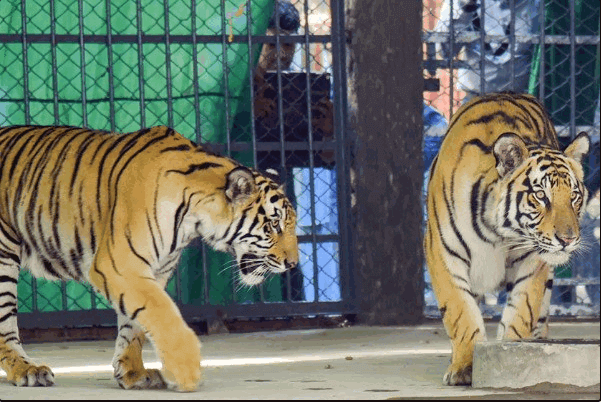 Shitesh Babu's Zoo is a privately run zoo located on Ramakrishna Mission Road in Srimangal town of Moulvibazar. It is basically the residence of Sitesh Ranjan Dev, the founder of this zoo. Sitesh Babu has built his mini zoo in this house located next to Ramakrishna Sebashram which is now the Wildlife Service Foundation. The zoo is currently run by Sajal Dev, son of Sitesh Ranjan Dev.
I will give Sitesh Ranjan, a great hunter of one time. His father Srish Chandra Dev founded the animal service ashram 45 years ago. The naughty boy Sitesh has got into the habit of his father's intoxication and love for animals.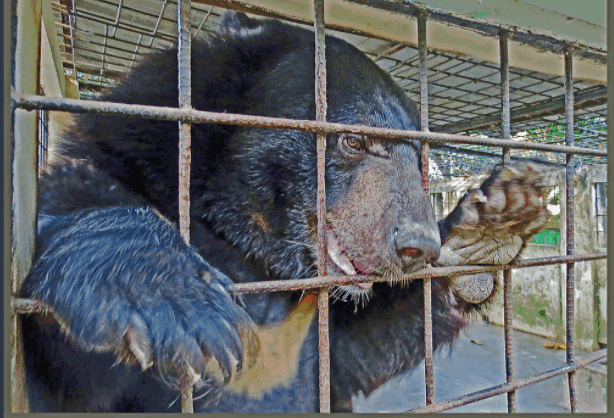 While living with his father, he did not know when he became an animal lover. He has faced death many times while hunting. There is an impression on his body. There are also adventurous and thrilling stories of returning from the gates of death. In 1991, the infestation of wild pigs increased in the leafless tea garden of Kamalganj.
Tea garden authorities took refuge in Sitesh Babu. Sitesh Babu hunted with a double gun all night in the garden. During the hunt, he fell in front of a bear about eight feet long. The bear's paw lost much of his cheek, including his right eye. The treatment lasted for two months. Even though he is healthy, the impression of that terrible claw remains on his face.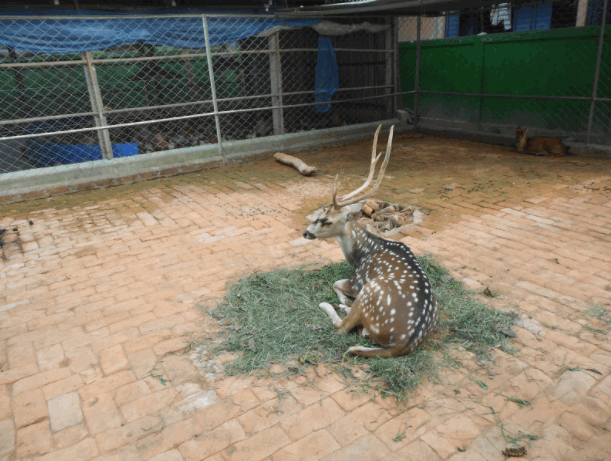 What is in Sitesh Babu's Zoo
As you enter the Wildlife Service Foundation at Sitesh Babu Zoo, you will hear the chirping of birds and when you look at it, you will see the color palette and the sound of chirping will come to your ears. Anyone who sees these rare species of birds will be amazed. Sitesh Babu Zoo has wild swan, chakha, sarali, raj sarali, tea bird, cormorant, harial, green dove, wild rooster, dahuk, water pigeon, blue throat spring bauri, tila pigeon and partridge, carcass, tia, parrot, various Bird of the species.
The murals featuring the activities of the Wildlife Services Foundation will catch the eye. A rare species of golden Hanuman will be seen at Sitesh Babu's zoo. One by one you will see vultures, white bucks, rare species of golden-colored tortoises, venomous conch snakes, fish tigers, guinea fowl.
The special feature of this golden-colored tortoise is that it lives in trees and never wants to go down in the water, it is occasionally seen roaming the shore. They prefer to eat dry food. Another attraction of this small zoo of Sitesh Babu is the flying squirrel. This very innocent creature can fly from one place to another with wings 300 to 400 feet away.
While flying, the skin of their body spreads in the shape of wings. The special attraction of this zoo is the white tiger and this species of tiger is not found anywhere else in Bangladesh. Covered in a thick white milky body, this rare tiger can change the color of its eyes in an instant.
Besides, the attraction of the zoo's acre is the name of the Maya deer group. After Maya deer, there is a bear cage. In one corner of the zoo is the location of the python where there is a pair of pythons. These pythons laid 36 eggs here five years ago. She hatched from the eggs which were later released in Lauyachhara. Sitesh Babu's zoo also has a pair of thick-bodied hedgehogs, a Himalayan pump civet, and a long-tailed Hanuman.
Schedule and Ticket Price 
Sitesh Babu Zoo is open daily from 8 am to 2 pm and from 3 pm to 3 pm. At that time you have to buy a ticket with 20 Tk and enter the zoo.
The Way To To Sitesh Babu Zoo
To go directly to Srimangal by rail or road from Dhaka. From Dhaka's Fakirapul and Saidabad, non-AC buses of Hanif Enterprise, Shyamoli Paribahan, Sylhet Express, etc. go to Srimangal. The rent is 300 to 400 Tk. From Dhaka's Kamalapur railway station, the Sylhet-bound Parabat Express departs at 6.40 am every day except Tuesdays, the Jayantika Express at 12 noon every day, the Kalni Express at 4 pm every day except Fridays, and the Upaban Express at 9:50 pm every day except Wednesday at Srimangal or Kulaura in Moulvibazar.
The fare from Dhaka to Srimangal is Elegant 200 Tk, Elegant chair 240 Tks, first chair 320 Tks, first-class berth 480 Tks, soft seat 460 Tks, AC seat 552 Tks, AC berth 828 Tks. Besides, you can also take a direct train from Chittagong to Srimangal or Kulaura in Maulvi Bazar.
The Sylhet-bound Paharika Express can get off at Chittagong Railway Station at 8:45 am every day except Monday and the Udayan Express at 9:45 pm every day except Saturday. The Paharika Express leaves Srimangal at 12:58 pm every day except Saturday and the Udayan Express at 11:24 pm every day except Sunday. Non-AC buses of Hanif Enterprise, Shyamoli Paribahan, Sylhet Express, Saudia Paribahan from Fakirapul, and Saidabad in Dhaka to Maulvi Bazar via Srimangal. The fare for a non-AC bus is 350 to 380.
Where to Stay At Sremangal
Srimangal Tea Museum is a modern resort with modern facilities. And if you want to stay somewhere else in Srimangal besides T-Resort, then the best quality place to stay is T-Resort on Bhanugachha Road (Phone: 01712916001).
Other accommodations include:
Hotel Grand Sultan (five stars) – 01552-683454
Rain Forest Resort (01938-305706) T Town Rest House,
Hotel Plaza (8626525, 01711-332605)
BTRI-08626-71225. Etc.
The rent of these hotels and resorts is from Tk 500 to Tk 5,500. Apart from this, Nisarg Nirab Eco Resort (01715041207) and Nisarg Lichibari Eco Resort (01716939540) are two excellent resorts in Radhanagar, Srimangal. There are hotels.
Srimangal's Food Hotel Grand Taj, Habib Hotel, Kutum Bari, and Srimangal Inn are very popular in Srimangal town. In addition, almost all the resorts here have catering. But remember, when you visit Srimangal, don't forget to taste the sataranga tea in the Nilakantha tea cabin here.
Read More Related With:
People Also Search More About:
Shitesh Babu's Zoo Moulvibazar Bangladesh
Shitesh Babu's Zoo Sylhet
Shitesh Babu's Zoo Sreemangal