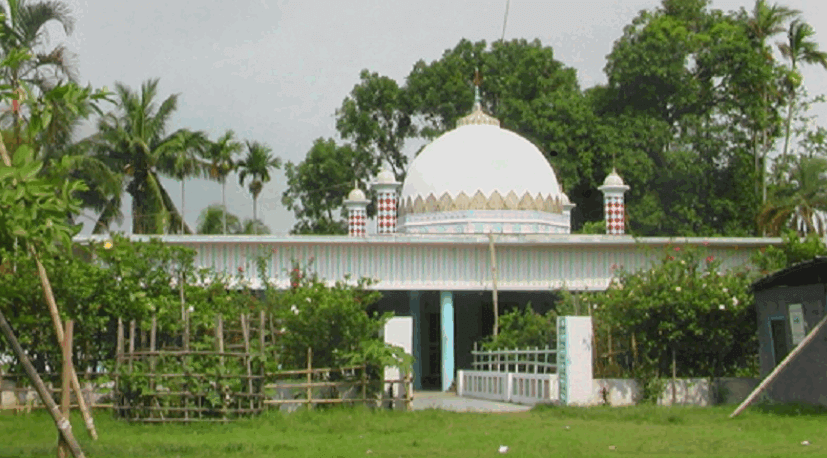 Sureshwar Darbar Sharif is a Place of worship in Bangladesh, Shariatpur District. Shariatpur was introduced as a district in 1984. In ancient times this region was also included in Idilpur. This Idilpur was then included in the kingdom of Kotalipara or Chandradwip. Kedar Roy and Chand Roy, two brothers of the Bara Bhuiyans, ruled the state here.
Although at present there is no sign of them except Digambari Dighi. Then at one time, it came under the rule of the Mughals. This means that the region is rich in ancient history and tradition. There are various historical places as well as religiously important installations. One such is Sureswar Darbar Sharif.
This Darbar Sharif is located in the Sureshwar village of Naria Upazila of Shariatpur district. Sureshwar is a secluded village surrounded by the beautiful Padma. The quiet village is famous in this region for Hazrat Shah Sufi Syed Ahmad Ali, alias Hazrat Shah Sufi Syed Jan Sharif Shah.
Hazrat Shah Sufi Syed Ahmad Ali Sureswar Darbar Sharif
Hazrat Shah Sufi Syed Ahmad Ali is a spiritual Sufi saint. This devotee is called Hazrat Sureshwari after his village. From time immemorial, religious-spiritual gurus have been known to call pirs after their own birthplace.
It is known that Shah Sureshwari was a lover of music. He plays a role in worshiping the Creator and creating feelings with him through music and melody. He tries to establish a loving relationship with Allah and His Messenger with the love and affection that the melody gives birth to in the human mind.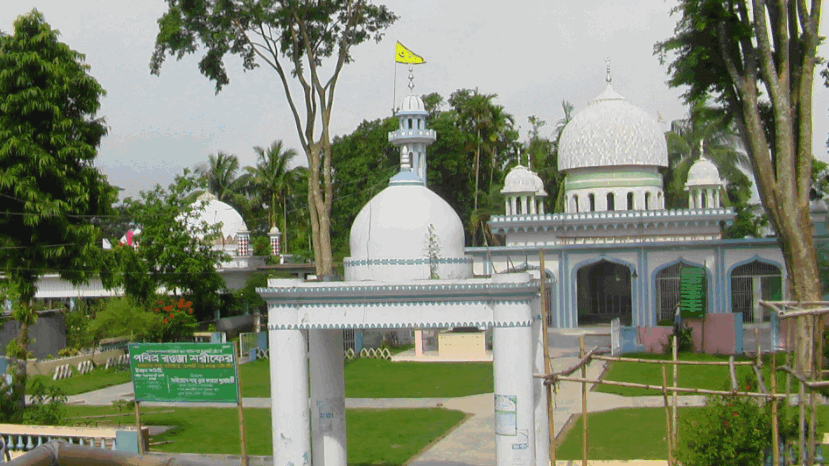 He established his Darbar Sharif here. His Rawza Sharif is also located here. There is also a session with Sharif. There are also two stones. The two stones are especially revered as living stones. To the east of Rawza Sharif is this large stone.
It is said that Hazrat Shah Arefin (R) brought these two stones from Mazar Sharif and placed them here in a very small condition. Subsequently, the two stones gradually become larger and contain the current state. That is why they are called living stones.
Apart from the devotees of this Durbar Sharif, many visitors also come here to visit. Every year 6 Ursas are held here on the occasion of various conferences and day celebrations.
How to Go There Sureswar Darbar Sharif
You can reach Shariatpur from Dhaka using both land and waterways. However, waterways require more time. You can go directly to Shariatpur by bus from Sayedabad. Take the Glory Express bus to Naria and from Naria to Sureshwar Darbar by autorickshaw or rickshaw.
If you want to go by water, passengers travel safely from Sadarghat Launch Terminal to Sureshwar Launch Naria Ghat. Sureshwar Darbar Sharif is a short distance from Naria Ghat. You can take a rickshaw or auto.
Visit The Official Site Of Sureshwar Dargah.
Read More:
Frequently Asked Question About:
Sureshwar Darbar sharif
খাজা ওয়াজেদ আলী
সুরেশ্বরী শাজরা
বিশ্ব অলি খাজা বাবা ফরিদপুরী
সুরেশ্বরী পীর
সুরেশ্বরী দরবার শরীফ
সুফি ফতেহ আলী