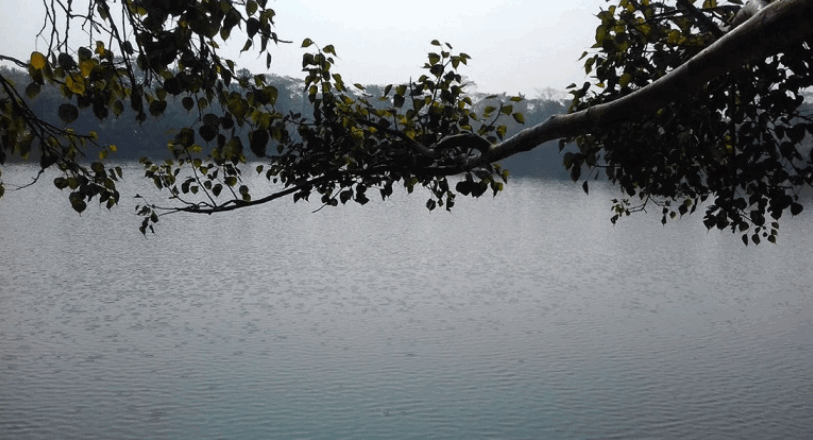 Although the emergence of Shariatpur as a district is not very long, this region has a rich history. Shariatpur district was formed in 1984 with the southern part of Bikrampur and part of Idilpur pargana of Barisal. Shariatpur was named after Haji Shariat Ullah, a social reformer and leader of the anti-British movement at the time. There are many historical and religious sites and places in this district. Digambari Dighi of Mahisha is such a historically and religiously important tourist destination.
Digambari Dighi is located at Mahishar in Vedharganj Upazila of Shariatpur district. The lake is believed to have been excavated about 800 years ago. Dighi was dug here on the orders of Chand Roy and Kedar Roy, one of the Bar Bhuiyans. This dighi, built for the goddess Digambari, later became one of the most important pilgrimage sites for Hindus. There are installations in and around Dighi covering an area of ​​about 23 acres.
Digambari Dighi in Mahishara
Digambari Sannyasi Bari, Jora Pukur, Mansa Mandir, Kali Mandir and Lakshmi Mandir are around the Dighi. Apart from these, there is also a fairground. Every year from the first Baishakh 07 (seven) days long Baishakhi Mela is held. Since ancient times, there has been a ritual of worship here every Saturday and Tuesday. Many visitors from home and abroad come here for the fair and worship of Pohela Boishakh. Digambari Dighi and its associated installations have become one of the cultural spheres of the region.
Every year during the winter, thousands of guest birds meet alongside the visitors. Fans from far and wide come here with various vows. There are also various myths surrounding this lake. They believe that bathing in the water of the lake cures all sins and diseases. In 1982, the 600-year-old lake was re-excavated by draining water through more than 50 irrigation devices. Excavations have uncovered a number of rare statues and archeological finds. Among them is a Kasti stone statue weighing 42 kg.
At present, a tourist area has been developed around Digambari Dighi and its surrounding areas. Some of the places of interest here are Burir Haat Jame Mosque, Rudrakar Math, Sureshwar Darbar Sharif, Dhanuka Mansa Bari, Modern Fantasy Kingdom, Panditsar, Shivling, Mansingh Bari, Magar, the birthplace of renowned poet and lyricist Atul Prasad Sen, Vaidya Pradhan Rajnagar, Kur. Buri Haater Mosque, Haturia Zamindar Bari, Rudrakar Math, Zamindar Bari and others.
How to get there:
If you want to go to Shariatpur, you have to go to Mawa Ghat first. From Saidabad or Gulistan in Dhaka, you have to go to Mawa Ghat first. You can go to Mawa by BRTC, Hilsa, Great Bikrampur, Ananda Paribahan. Get off at Mawa Ghat and then cross the river by launch or speed boat. You can cross the river and go to Shariatpur by bus, motorbike or tempo. Digambari Dighi can be reached by local transport after reaching the district town.
Read More: Sureshwari Mazar