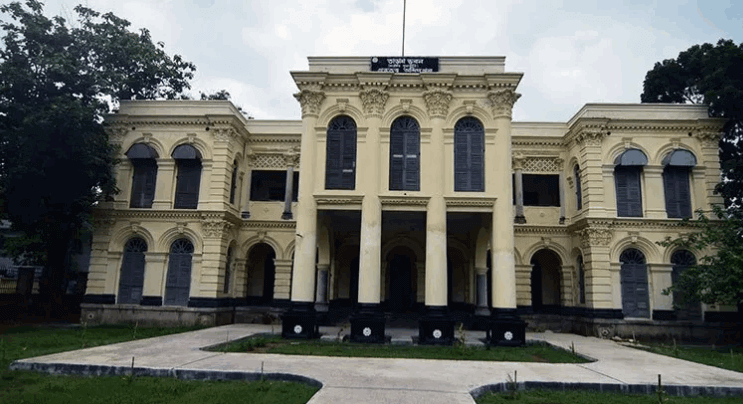 Tarash Bhaban is located at Golappur in the Pabna district of Bangladesh. A special archeological site located on Hamid Road. A unique immortal masterpiece of aesthetic beauty and architecture of Pabna city, this building is also known to many as Rajbari of Tarash. Banamali Roy Bahadur Tarash Bhaban, the largest zamindar of Pabna, erected the building in the 1800s.
However, the ancestors of Banamali Roy did not live in Pabna at first. It was built by Banamali Roy for the leisure time of his zamindari. A few years after the establishment of Tarash Bhaban, zamindars Banamali Roy and Banwarilal Roy established Banamali Institute, Town Hall, Jagannath Deva Temple, etc. next to Tarash Bhaban.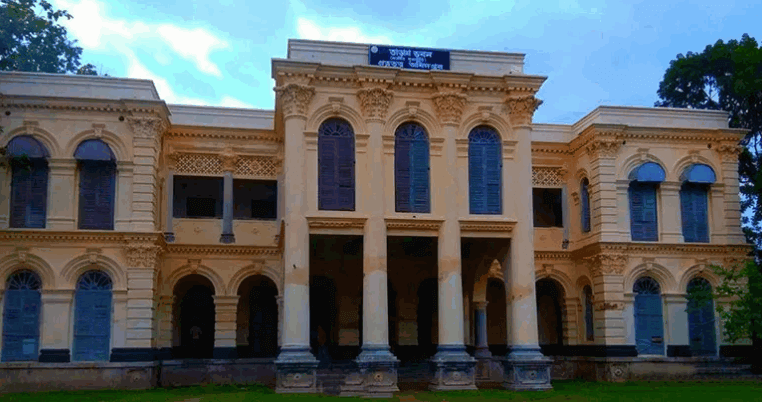 Tarash Bhaban Pabna
The Tarash idea is a two-story and rectangular nature, an ancient Greek style of antiquity. The two-storied building of this building consists of four curved round pillars. The building is 30.40 m (100 ft) long and 16.28 m (60 ft) wide. The main heritage of Tarash Bhaban is its giant entrance arch which is Roy Bahadur Gate. In front of this palace-like building, there are four pillars on each side of the entrance arch and the entrance is made in the middle with a huge semicircular arch. It is said that Banamali Roy had two elephants and the entrance gate was constructed in such a large way so that the gate would not be obstructed by the elephants.
In the late 19th century, Tarash Bhavan was declared an archeological site, and the site is now under the care of the Department of Archeology (now Pabna Municipality). There was a Kayastha zamindar named Basudev in the village of 'Kodla' near Chandaikona in Bogra district who was the ancestor of the Tarash dynasty.
Zamindar Basudev worked in the revenue department of Nawab Murshid Quli Khan. Nawab Murshid Quli Khan was impressed by his honesty and virtue and gave him the title of 'Roy Chowdhury' and thus the zamindari of the Tarash zamindar dynasty was formed. It is said that when the Second World War broke out in 1942, the zamindar family stayed in Tarash Bhaban for a long time.
The Way To Go At Tarash Bhaban
Any vehicle can go directly to Tarash Bhaban from Pabna Bypass Terminal. You can take a rickshaw or an auto to Tarash Zamindar Bari or Tarash Bhavan. It takes 15 minutes to go by rickshaw and the fare is 25-30 Tk. The auto will take 8-10 minutes and the fare is 15 Tk.
Where to stay At Pabna
Hotel Prabasi International, Rupkatha Road, Pabna 600, Bangladesh. Phone: +8 017491485
Hotel Park (has air-conditioned rooms), Abdul Hamid Road. Phone: 0831-64096
Hotel Shilton, Abdul Hamid Road, Pabna. Phone: 0831-62008, 01712-433249
Shady Hotel, Rupkatha Road, Pabna. Phone: 0831-6100, 65390
Prime Guest House (car parking is provided, air-conditioned rooms are available), Abdul Hamid Road, Pabna. Phone: 0831-65701, 0831-6901
Mid Night Moon Chinese Restaurant (Residential Hotel, Car Parking, Air Conditioned Room), Abdul Hamid Road, Pabna. Phone: 0731-857
Welcome to Hotel & Chinese Restaurant (has air-conditioned rooms), Rupkatha Road, Pabna. Phone: 0731-64029,0631-6561
Visit Also:
Read More:
People Also Search For Know About:
তাড়াশ জমিদার ভবন
তাড়াশ ভবন – Pabna, Rajshahi Division, Bangladesh
Tarash Bhaban – Pabna District, Bangladesh