Upendra Sarobar Dighi Excavated By Zamindar Rai Bahadur At Tangail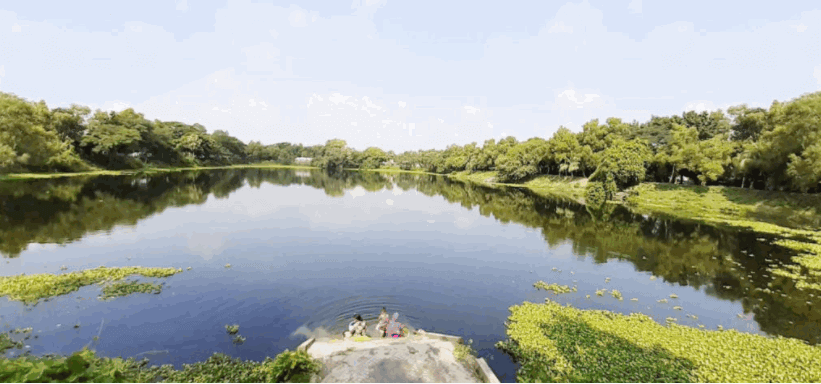 Digha Dighi means a treasure trove of natural beauty. All the nature lovers are fascinated by the chirping of the birds or the chirping of the flying birds in the sky of Dighi. The aura of the setting sun at dusk creates a unique beauty in the clear lake water. Who doesn't like to be a little distracted in this lively environment? Again, there are various folk tales and fables surrounding these dighis.
One such dighi is Upendro Sorobor dighi in Tangail. Surrounded by beautiful natural beauty, this lake is full of memories of history as well as a very charming environment.  Upendra Sarobar Dighi is located at Nagarpur in Tangail. Nagarpur Upazila is an excellent place of ancient architecture. Visitors flock here to see the architectural masterpieces, including the zamindar's house.
This historical lake has made this place of history and tradition even more interesting. The dighi is located next to the Kathuri Shiva temple, a unique architectural landmark of the zamindars. This lake of beautiful beauty attracts a large number of tourists.
History
Zamindar Roy Bahadur dug this beautiful tank in 136 AD. This lake of about 11 acres is also very rich in terms of beauty. There are 12 wide ghats around this tank. And for this, the locals call it Bara Ghatla Dighi. In addition, six deep wells were dug here to keep the water of the lake clear. Many date palms were planted around the lake to enhance its beauty.
The incident of digging this dighi is narrated in this way, one moonlit night of zamindar Raybahadur was sitting in the living room with his companions enjoying the moonlight with joy in his mind. At that time, in the light of the moon, he saw a woman in the distance carrying a pitcher of water and taking water so late at night. Seeing this scene, he inquired about the matter and found out that there is a great shortage of potable water in the village.
As a result, people are suffering from various diseases and pests. And this is why the women of the area collect drinking water from the beel with great difficulty at night and boil it. After knowing this, the tenant Dardi Roy Bahadur felt very sad. He dug the tank the following year to alleviate the suffering of the people.
The beauty of the lake
There is a nice entrance on the west bank of this lake. One can guess how beautiful the edges were at that time. The lake is much more captivating for the green surroundings. The paved ghats around give a unique dimension to that beauty. You can enjoy the natural beauty around the lake by sitting on the ghats.
Pipasura came to visit different districts including Tangail in this lake. Every day, visitors come to the shores of the lake and spend their time relaxing in the natural beauty. Besides, many people come here to fish. Tourists also come here for picnics at various festivals.
How to get there:
There are various transport buses from Dhaka to Tangail. These include Nirala Paribahan, Dhaleshwari Seating Service, Al-Rafi Paribahan, Sakal-Sandhya, Sonia Paribahan etc. From Tangail city you can come to Nagarpur by CNG and go to Upendra Sarobar. CNG will cost 60 rupees per person.
Where to stay:
There are several hotels and guest houses in Tangail. Notable among these are Palash House / Night Odor Residential Hotel; Al Faisal Hotel Residential; Masjid Road, Tangail, Hotel Sagar Residential, Afrin Hotel; Tangail, SS Rest House; Akuratakur Para, Tangail, Palli Bidyut Rest House, LGED Rest House (Government), Sugandha Hotel and Restaurant; Old Bus Stand, Tangail, Nirala Hotel; Nirala Mor, Tangail, Piasi Hotel; Nirala Mor, Tangail.
Read Morte: Gupta Vrindaban