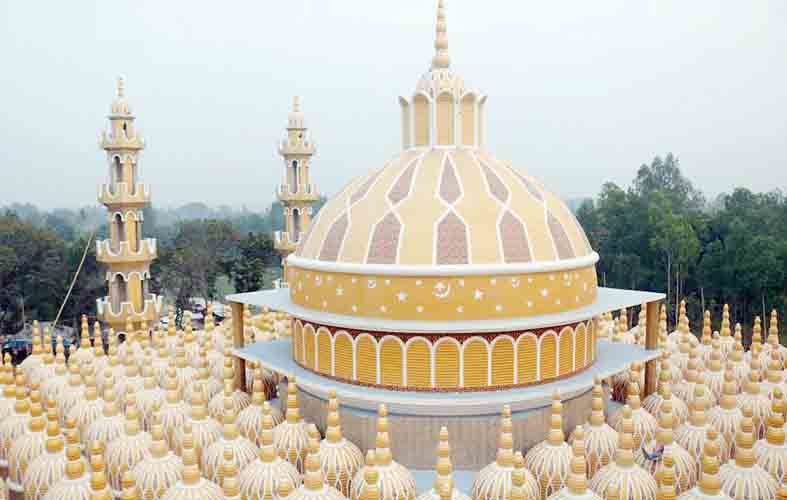 One of the largest mosque's in the world is being built in the southern Pathaliya village of Shimla Union of Nagda in Gopalpur Upazila of Tangail district, which is known as a source of history and heritage. The mosque, which is about 201 domes, will be the world's largest dome and the second tallest mosque in the world.
According to the original design of the mosque, the mosque has been decorated with a total of 201 domes and 9 huge minarets. A full-fledged mosque is not yet fully constructed as a complex. Some parts of the mosque are now under construction.
201 Gombuj Masjid In Tangail
The construction of the mosque began in January 2013. The mosque is being built under the initiative of freedom fighter Rafiqul Islam Welfare Trust. Rijia Khatun, the mother of the founding chairman of the valiant freedom fighter Rafiqul Islam Kalyan Trust, laid the foundation stone of this huge mosque.
The mosque has been estimated as an expenditure on construction, estimated at Tk 100 crore. Although the work is expected to be completed in 2018, the construction work is still underway due to the large size. After the completion of the construction, the imam of the holy Ka'bah Sharif is expected to come and inaugurate the mosque by offering prayers.
There have never been so many domed mosques in the history of the earth. Not only in size but also in a magnificent view, the mosque has a huge dome at 81 feet high. In the center of this large dome and others are 200 small domes. Each of them measures 17 feet in height.
There are four minarets in four corners of the main mosque. Each of them is 101 feet high. Besides, there are four other minarets that are 81 feet high. The tallest tower is located adjacent to the mosque. Its height is 451 feet. A mosque of 144 feet in length and 144 feet in width will be able to offer around 15,000 Muslims can prayers together at this mosque.
The Holy Quran is enclosed in tiles on the walls of the mosque. Anyone sitting or standing can easily read the Qur'an inscribed on the walls of the mosque. The main door of the mosque will be 50 gems brass used for the construction. The tallest tower will be erected in the mosque for Azan. Although the mosque is fully air-conditioned, it is reported that thousands of electric fans will be added to it.
The entire mosque complex will be standing at about 15 bighas. A special shelter will be set up beside the mihrab for the death. Besides, a separate building will be constructed next to the mosque. The building also houses free hospitals, orphanages, old age, poor freedom fighters and rehabilitation of their families. Though not quite ready, it is time to visit the local people as well as travel lovers. Due to this mosque, the area has become quite popular.
Read More Articles:
Also Read: