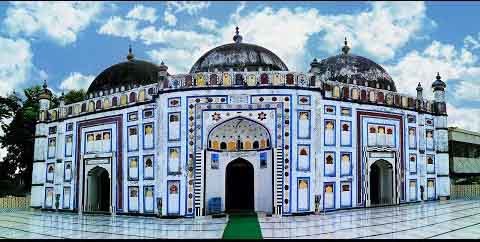 Brahmanbaria is known as the cultural capital of Bangladesh. This is a bright backdrop of history, heritage, and culture of the Chittagong district. There is an Arifile Mosque in the ancient buildings. This historic landmark of Bangladesh is located in the Arifile village of Sarail Upazila of Brahmanbaria district. It's Locally known as the 'Irol Mosque'. It is located about 1 km west of Sarail Upazila.
Arifile Masjid Of Brahmanbaria
There is a controversy over who or what built this historic mosque built-in 1662. Some people say that Darbesh Shah Arif built the mosque and named after him. According to some, Sarail the capital of the state of Tripura was once ruled by Isha Khan one of the twelve bhuiyan. At that time, Isha Khan built many mosques and adjoining tombs said many historical views.
This Centennial mosque has been surrounded by various mysteries in the public. Here is a pair of graves next to the mosque. According to some, the grave is the mausoleum of the two wives of Isha Khan. However, the mystery is elsewhere. Here a tunnel from the grave to the bottom has gone too far which attracts this mosque to tourists.
This architectural design of the Mughal period is built on a fine architectural style. The mosque is 80 x 30 feet and surrounded by walls five and a half feet thick. There are four towers on each of the four corners and three domes with a paddle flower.
Below the domes, there are three bays in the interior of the mosque that divide the interior into three. The exterior wall is designed with four corners of different colors. The mosque has a total of 5 entrances. Three of them to the east and two to the north and east.
The mosque is preserved under the Bangladesh Archeological Department. Beside the mosque, there is a huge ocean floor.
Other Places Of Brahmanbaria For Visit:
3) Kellapath martyr tomb
2) Lakshmipur martyr tomb
3) Jayakumar zamindar house
3) Hatir pool
3) Gangsagar Dighi
3) Gunjaun Baganbari
3) Tigar Jamal Sagar Dighi
3) MP Tila
3) Srighar moth
3) Satiidah Temple
How to go Arifile Masjid:
Train- Brahmanbaria can be reached on any train from Dhaka to Chittagong, Sylhet, Noakhali and Comilla; Except for Golden Express, Sonar Bangla and Kalani Express. Besides, you can come to Bhairab and then take a bus which Kishoreganj. You can reach Kishoreganj headquarters within 1 Hour.
Besides, if you want to come by bus from Kamalapur and the airport. There are lots of buses for Brahmanbaria like Sohag, Titas, Tisha, Royal Transport, Econo Deluxe are one of them. The bus rent is 160 to 200 taka.
Read More Articles:
Also Read: