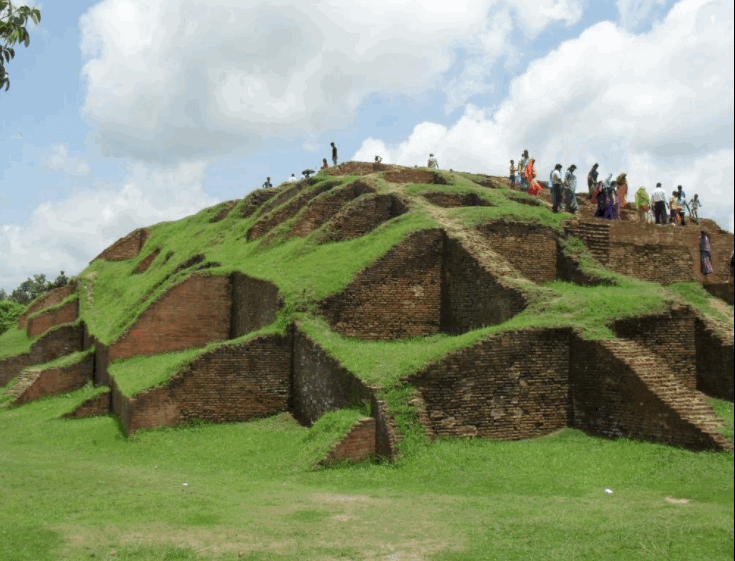 Behular Bashor Ghor is an archeological site excavated at Gokul village under Bogra Sadar police station, known as Gokul Medh. The village of Gokul is situated one and a half kilometers south of Mahasthangarh. The archeological site is popularly known as the abode of Behula-Lakshminder, the hero-heroine of popular folklore of this country. This place is also called the medha of Lakshmindar. Excavations by NG Majumdar in 1934-36 have uncovered the foundation of a huge temple or stupa here. This foundation is built in the style of building a chamber by raising its to level by level. In Behula's living room, 172 chambers were filled with earth on different floors and arranged from the bottom to the top in such a way that they could be used as the foundation of a tall temple or stupa.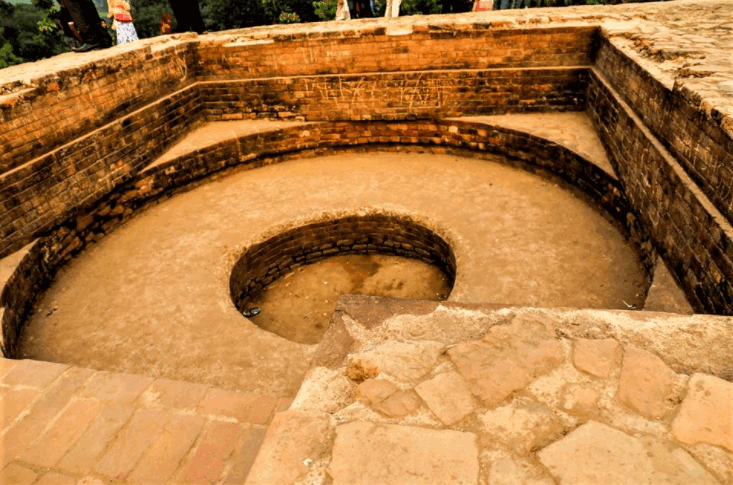 The actual architectural style of building on a multi-storey parallel-leaning wall foundation elevated in this form is a significant architectural feature of ancient Bangladesh. Several terracotta plaques of the later Gupta period (six-seven centuries) have been found with this temple. During the Sen period (11th-12th centuries) a square temple with a verandah was built here. A gold leaf carved with a portrait of a bull was found in this temple with a small stone block with many holes. This suggests that it was a Shiva temple. Behula's living room is an unimaginable monument. According to current researchers, this monument is a Vaidya Math built by Devpal between 609 and 646 AD. This stupa is not the living room.
In the western half of this stupa, there is a proverbial monument of Basarghar. In the eastern half, there is a bathroom resembling a 24-cornered tub. There was a well 6 feet deep in that bathroom. It is said that Behula Lakshindar was able to purify himself by bathing in the water kept in the well after spending Madhunishi in the well. On the way back after visiting Mahasthangarh in Bogra, you can see Behula's Basarghar.
How you will go
From Dhaka to bogura you can go very easy. From bogura CNG, tempo, rikshaw is gone mahasthanghar. These buses go from Dhaka to bogura-
T.R Travels: Morning 7 am tonight 11:30 pm till every after 30 minutes this bus leave Dhaka to apropos bogura. phone:gabtoly-01191-494865,mahakhali-01191-494865.
Shamoly paribahan: Morning 6 am tonight 1:00 am till every after 1 hour this bus leave Dhaka to apropos bogura.phone:asad gate-02-9123471,kolabagan-01711130862,sayedabad-01712596940.
S.R, Travels: Morning 7:30 am to night 11:30 pm till every after 30 minutes this bus leave Dhaka to apropos bogura.phone:gabtoly-02-8011226, Uttara-01552315318.
Hanif Enterprise:Dhaka bus stand,phone: 051-60940,60803,01911-560882.
Where you stay
There are several hotels and motels is also to stay in among these are Natable-hotel Naz garden, Porjoton motel, Safeway motel, Northway motel, century motel, motel castle mh, hotel akboria. You will get four-star hotels here. There is some high-quality hotel here:
Hotel naz garden:Silimpur,  bogura-5800,bangladesh.phone:88-051-62468,66655,63272,64197,78088.
Porjoton motel:Bonani mor,bogura,phone:051-66753.
Akboria hotel: Kazi nazmul islam road, thana road, phone:01716-179982.
Some Other Hotel Names:
Motel Northway,sherpur road.
Hotel al-amin,nabab-bari road.
Hotel royal pales,uposohor.
Hotel sun view,sherpur road.
Hotel safeway,shantahar mor.
Hotel rajmoni,bogura rajabazar.
Hotel hunny day, boro maszid len.
Hotel aziz,kabi nazrul islam road.
Read More: Mahasthanghar