Border Hat on the border of Feni and Tripura has been launched since January 13, 2015. A border haat is held every Tuesday from 10 am to 4 pm on the border between Chagalnaiya in Feni and Srinagar in India. The structure of the Border Hat has been built right in the middle of the border between the two countries. Although only one day a week this place becomes bustling. Paddy fields all around, a few half-baked houses in the middle of it. On one side are Bangladeshi vendors, on the other side are Indian vendors. Buyers enter the market by showing pass or identity cards to BGB or BSF.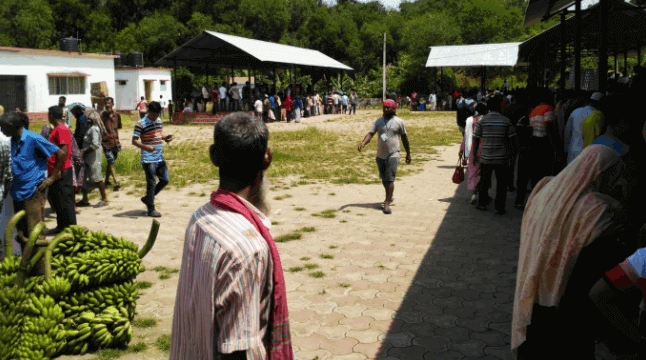 At the border market, Bangladeshi traders sell chanachur, chips, potatoes, readymade garments, fish, dried fish, chicken, eggs, soap, beans, vegetables, towels and towels, wooden tables and chairs, and household iron products. And Indian traders get the opportunity to sell fruits, vegetables, spices, chilies, hulud, betel leaf, betel nut, potato, honey, bamboo, etc. Bangladeshis mainly buy Indian branded cosmetics and chocolate.
When is the Border Hat?
Border Hat runs every Tuesday from 10 am to 4 pm. Take your ID card with you when you go because it takes an ID card to buy a ticket. If not, Black will have to buy at a higher price. A buyer can buy a maximum of eight thousand Tk. There is a ban on buying and selling fish, chicken, eggs, and meat in the market.
The entrance fee is 20 Tk tickets.
Way To Go At Chagol Naiya Border Haat
From Dhaka, you can go to Feni Chagalnaiya by the Star Line bus. Rent AC is 360 Tk and non AC is 290 Tk. And those who will stay from Feni, they will go directly from Mahipal by town service or rickshaw in front of Shahid Market. If you want you can also go by CNG. And if you go by train, you can get off at the station and walk one and a half minutes to Shahid Market. From there, CNG was released one after the other for the purpose of Chagalnaiya. The rent is about 25 Tk. Then from Chagalnaiya again to Border Hat in CNG. The rent will be 15 Tk per person. The border market will collect tickets to enter the market. It is a good idea to keep a voter ID card with you when entering the border. If you do not have a voter ID, you must have a birth-registration card.
Visit Also: Muhuri Project