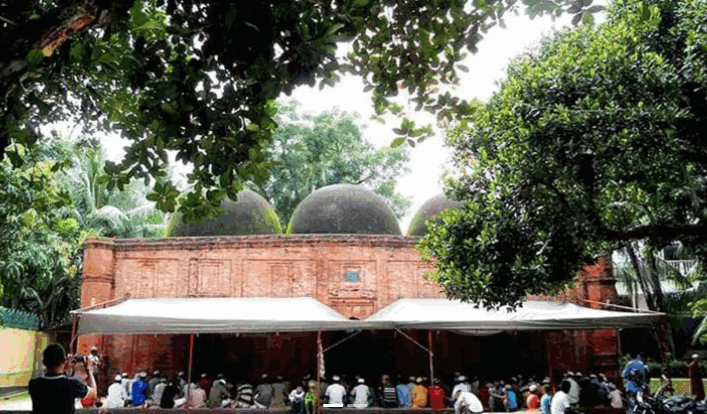 Chatmohar Shahi Mosque is an ancient mosque in Bangladesh. It is located about 200 yards away from Chatmohar Upazila of Pabna district. Formerly Chatmohar was one of the commercial centers of Pabna. At that time Mughals and Pathans roamed freely here. In 1561, Masum Khan Kabli, the general of Emperor Akbar, built a mosque here. This is today's Chatmohar Shahi Mosque. However, in the pages of various books, it is mentioned as Masum Kabli's mosque.
The mosque had a Persian inscription in the Tughra script. However, this inscription is now preserved in the Barind Museum, Rajshahi. Built of red lattice brick, the mosque has three domes. The lattice is called bricks because these bricks were not as thick as the bricks of the present time. These bricks are called lattice because they are thinner and thinner. The walls of the mosque are about 6 feet 9 inches wide. There can be 3 rows inside the mosque. Inside is a black stone inscribed with Kalima Tayeba. At present, the mosque is a preserved building.
The way to go to Mosque
From Dhaka Badal, Shyamoli, Dulki, Mahanagar, etc. buses go to Pabna. Take any one of them and reach Pabna city. You can take any local vehicle from Pabna city to Chatmohar. If you go there and ask someone, Chatmohar Shahi Mosque will show you.
Where to stay at
Hotel Prabasi International, Rupkatha Road, Pabna 600, Bangladesh. Phone: +8 017491465
Hotel Park (has air-conditioned rooms), Abdul Hamid Road. Phone: 0831-64096
Hotel Shilton, Abdul Hamid Road, Pabna. Phone: 0831-62008, 01712-433249
Shady Hotel, Rupkatha Road, Pabna. Phone: 0831-6100, 65390
Prime Guest House (car parking is provided, air-conditioned rooms are available), Abdul Hamid Road, Pabna. Phone: 0831-65701, 0831-6901
Mid Night Moon Chinese Restaurant (Residential Hotel, Car Parking, Air Conditioned Room), Abdul Hamid Road, Pabna. Phone: 0731-757
Welcome Hotel & Chinese Restaurant (has air-conditioned rooms), Rupkatha Road, Pabna. Phone: 0731-64029,0631-6561
Read More: Pakshi Harding Bridge