Barikka Tila / Barek Tila belongs to Tahirpur Upazila of Sunamganj district. On one side is the border of Bangladesh, on the other side is Meghalaya of India, Khasia hills. There are about 40 tribal families in Barikka Tila. A paved road has been built in the middle of the lush green hill to connect Tekerghat with motorbikes. Next to the Barikka Tiller is the Jadukata River which enters Bangladesh from the Khasia Hills in India. On the other side of the river is the average BDR camp in Lau. Sand and rocks enter Bangladesh from the hills of India during the monsoon. Hundreds of boats gather here to pick up sand and stones. In the distance are mountains, hills on one side, rivers on the other, an unprecedented sight. There is also a shrine and a shrine in the mountains of India where thousands of Hindus and Muslims gather on different days of the year for holy bathing and Ursa, then the border is opened for 2-1 days in an agreement between BDR and BSF (at that time folk festivals in both countries). Is gathered).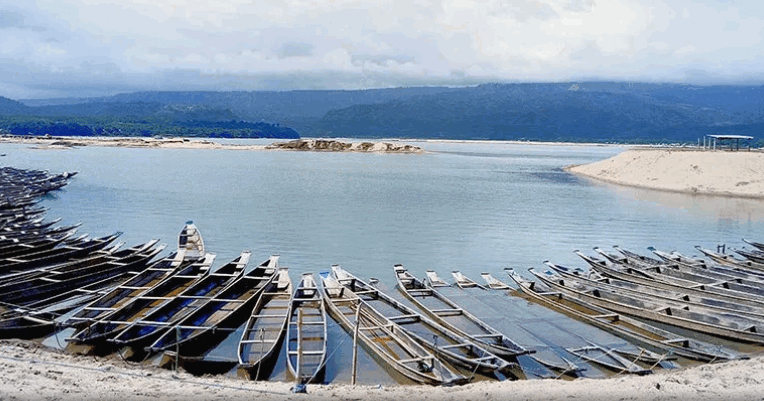 Ascending the Barikka Tila / Barekti Tila, one can see the Khasia hills of the high state of Meghalaya. Boundary pillars of the two countries above the hill. Bangladesh Border Guards also has a patrol post. There are also two tribal villages named Kadai Gara and Rajai on this hill. A 40-minute walk from Barektila to Barachara Charagaon customs land port. As can be seen from the top of the Barikka Tiller, the magical river is a combination of clear water and blue skies with green hills creating bluish imagery. The most beautiful and picturesque scenery around Tanguar Haor.
How to get there
From Dhaka to Sylhet / Sunamganj route both non AC and AC buses run, non AC fare – 450-440-300 Tk and AC fare maximum 1100-900-650-6000 Tk. AC buses include Green Line, Al-Mubaraka, Sohag, Saudia, and S. Alam Transport. The non-AC buses include Shyamoli Paribahan, Hanif Paribahan, Mamun, Unique Paribahan.
Direct Shyamoli transport from Dhaka to Sunamganj, fare 550 / – per person. After breakfast, go straight to Barek Tila with CNG or Honda. However, in the rainy season, you can reach your destination by speed boat or engine boat from Saheb Bari Ghat. If you want to visit Tanguar Haor, you must visit here once. Moreover, if you want to stay in Haor, if you always want to buy food or a market, you can do something from here. Life jackets must be taken along.
Where to stay
There is a rest house in Barachhara Bazaar for 200-400 Tk. Barek Tila is a big market. If you want, you can walk from Tekerghat to Barachhara Bazaar. There is also a closed limestone factory on the side of the lake where he can stay in his guest house if it is empty.
1. Upazila Dakbanglo caretaker Kripesh Das: 0172496171
2. For the Upazila Guesthouse, you have to request the Upazila Chairman Mr. Anisul Haque: 01715172237.
In addition, you will get hotel rent in Sunamganj starting from Tk. 200 to Tk. 1000.
Hotel Nur-Purbabazar Station Road
Sunamganj Hotel Sarpinia-Jagannathbari Road,
Sunamganj Hotel Noorani, Old Bus Stand
Sunamganj Hotel Mizan, Purba Bazar-Sunamganj Hotel Palace Old Bus Stand,
Station Road Surma Valley
where To Eat
Abode You can eat at Barachhara Bazaar or there is a small market at Tekerghat next to the lake. There is only one dining hotel.
Read More: Shimul Bagan