Syedpur in Nilphamari district is one of the ancient cities of Bangladesh. The architectural masterpiece of the ancient beauty of this city is the Chini Mosque in Syedpur which is better known to many as the Chinese Mosque. The mosque is located at Syedpur, 20 km from Nilphamari Sadar. In 183, Haji Baker Ali and Haji Muku Islambagh built a mosque with Chun and bamboo.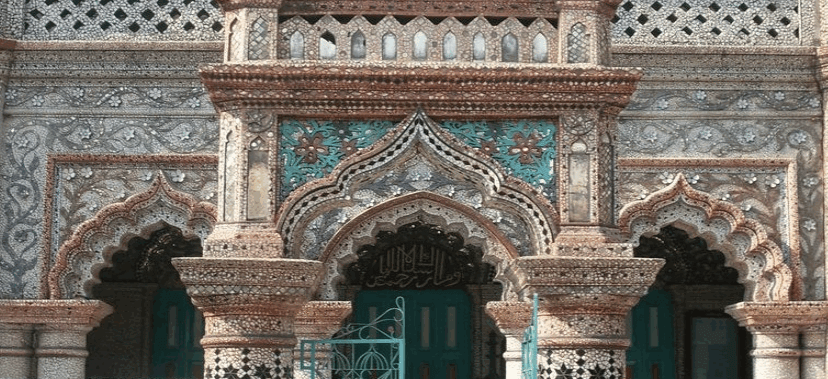 It was later converted to tin with the help of locals. The people of the area form a fund for mosques with a portion of their monthly income. Later, a Hindu named Shanku started building a new mosque for a daily wage of 10 annas. The locals continue to help him through volunteer work. Fragments of porcelain dishes and glass fragments were placed at the base of the mosque and construction work was done with bricks and mortar. This method is called sugar making or sugar granulation. This is why the name of this mosque is the Chinese Mosque or Chinese Mosque. Many people call it the Chinese Mosque because it wraps the whole mosque with a fraction of a Chinese clay dish. And these porcelain utensils were brought from Calcutta. Md. Designed the mosque. Mokhtul and Nabi Box. One has to be really fascinated by the unique artwork of the mosque. Vases, flower bushes, roses, a flower on a stalk, the moon star is engraved on the base of the mosque. You should also be fascinated by the Arabic caliptras of that time. Lots of marble stones have been used in the construction of this mosque. This very beautiful mosque has 32 minarets and 5 domes.
How to get there:
You can take the Nilsagar Express train from Dhaka to Syedpur directly. The train fare is also very low. There are also many direct bus services from Gabtali, College gate, Mohakhali to Syedpur. You can also fly directly to Syedpur. Private flights of United Airways and Bengal Airways operate two days a week at Syedpur. It will take 30/40 minutes.
Where to stay:
One of the residential hotels to stay in Syedpur is Diaz Hotel & Resorts, Uttara EPZ, Syedpur, Nilphamari-5300, Bangladesh. Telephones: +88 0551 62552, +88 0551 62553; Mobile: +88 01978 302080, 01778 302080 Apart from this, there are several residential hotels to stay in Nilphamari. Climb to anyone of your choices. You can stay at Apollo, Bonaful (Syedpur Road) Vacation (Ebadat Plaza), or Navana Residential Hotel.
Read More: Nilsagor