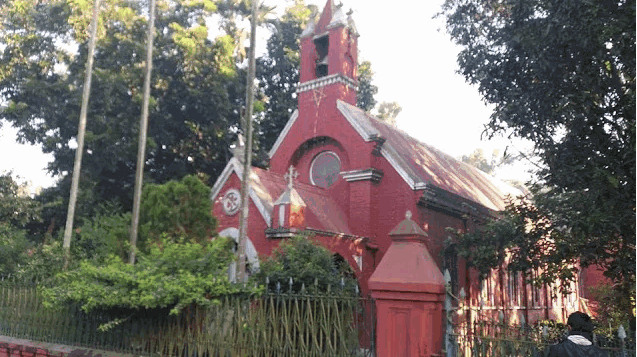 Catholic Church is a traveling place at Syedpur. The town of Syedpur in Nilphamari, the center of trade and commerce of the north, was founded during British rule. With the establishment of the Assam-Bengal Railway, the importance of Syedpur increased manifold. At that time Syedpur of Assam Bengal Railway was a small railway station. A small loco shed is set up just north of this station. This loco shed was the foundation of the largest Syedpur railway factory in the country today.
Later, a huge railway factory was built on 110 acres of land around the loco shed. In setting up this factory, the British considered its location, climate, and environmental position. Anglo-Indian Catholic-Protestant Christians, including many British, worked with Bengalis and Biharis in the factory. A number of residential areas have been developed for them. Sub-ordinate Colony, Sahebpara, and Officers Club are some of them.
Catholic Church Visiting Place
In 16 AD, the British government built two churches on either side of Sahebpara for their religious worship. One belonged to the Roman Catholic Church and the other to the Protestant community. These two churches are the first and oldest churches in the north. Its construction style is rich in Roman and European architecture.
The church adjacent to the railway factory gate was dedicated to the Virgin Mary. In 1892, the British government built a priest's building on 3 bighas of railway land next to the church. At that time, Father Francis was conducting spiritual activities with the devotees of Jesus Christ in Bokka Lim.
After the construction of the old church and priest building in Saidpur, the sisters of the Sisters of Charity community came to this Dharmapalli. Later a school called St. Jeroza was started due to their efforts. The boys and mayors are still studying there with a good reputation.
At one time British and Anglo Indians came to Syedpur centered on the railway factory. In the evolution of time, they have left, but their small-scale Dharmapalli Sub-ordinate Colony, Sahebpara, and Officers' Club have remained. Those gentlemen are no more. But there are two spectacular churches built by them on both sides of Sahebpara. Whose architectural art and construction style fascinates every visitor.
How To Go There Catholic Church
You can take the Nilsagar Express train from Dhaka to Syedpur directly. The train fare is also very low. There are also many direct bus services from Gabtali, College gate, Mohakhali to Syedpur. You can also fly directly to Syedpur. Private flights of United Airways and Bengal Airways operate two days a week at Syedpur. It will take 30/40 minutes.
Where To Stay At Saiodpur
One of the residential hotels to stay in Syedpur is Diaz Hotel & Resorts, Uttara EPZ, Syedpur, Nilphamari-5300, Bangladesh. Telephones: +88 0551 62552, +88 0551 62553; Mobile: +88 01978 302080, 01778 302080 Apart from this, there are several residential hotels to stay in Nilphamari. Climb to anyone of your choice. You can stay at Apollo, Bonaful (Syedpur Road) Vacation (Ebadat Plaza), or Navana Residential Hotel.
More Traveling Places:
Frequently Asked Question:
Catholic Church near jatra bari, dhaka
Catholic Church near dhaka
Catholic church in bangladesh
Catholic church in bhutan
Catholic church meaning
Catholic church beliefs
When was the catholic church founded and by whom
Types of catholic churches