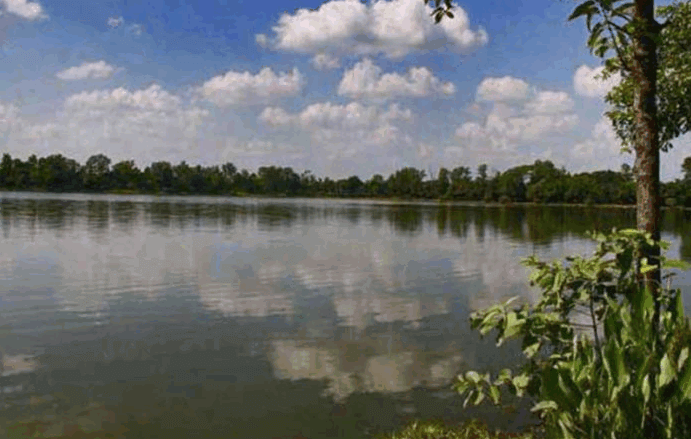 Although not the sea, it has been named Nilsagar in keeping with the name of the sea. The tradition of Nilphamari is this Nilsagar. It is located at a distance of 14 km from the district headquarters. Its area is 53.9 acres. It is said to have been excavated in the eighth century. The great king dug it to supply water to cattle. As a result, it is known as Virat Dighi. In time, it was renamed from Big Dighi to Birani Dighi Binna Dighi and lastly, Nilsagar was renamed as Nilsagar in 1960 with the help of Nilphamari district administration. It is a huge tank.
On the initiative of Deputy Commissioner AH Jabbar, 1 house, 1 paved gate, 1 mosque, and 1 arch were built here and a pleasant environment has been created by planting trees. There are trees like the seashore, betaban surrounded by high shores and shrubs. The water in this tank is very clear. It is thought that 80 to 90 feet of water stay here all year round.
As an additional attraction next to the Nilsagar, you will see a temple on the east bank of the Dighi. On the west side is the abode of a saint. Every day there is a gathering of physiology songs. If you go to the full moon of the month of Chaitra, you will be able to come back from the fair.
How to get there:
The distance from Dhaka to Nilphamari by road is 398 kilometers. You can take SR or Agamani Paribahan by bus from Dhaka. You can reach Nilphamari by bus from Gabtali via Rangpur and Syedpur. If you go by train, you will get off at Rangpur from Kamalapur in 12 hours. From here you will get a bus to Nilphamari. Besides, if you go by plane, you will get off at Syedpur Airport in 30/40 minutes on United-Airways and go to Nilphamari to see the sights here.
Where to stay:
You will find a residential hotel to stay in in Nilphamari town. Get into one of your choices. You can get up at Apollo, Banful (Syedpur Road) Vacation (Ebadat Plaza), or Navana Residential Hotel.
Read More: Dhol Shamudro Dighi