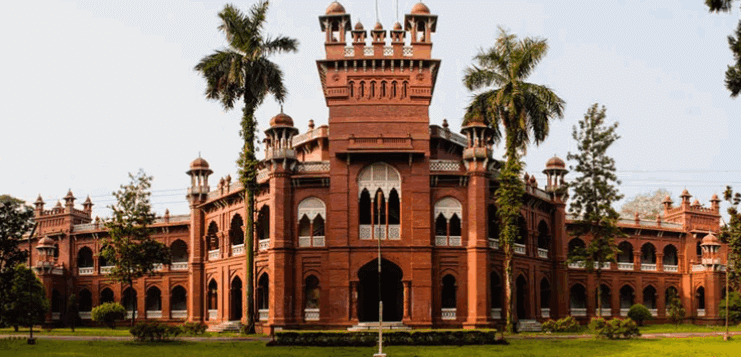 Curzon Hall is a historic building located in Dhaka, the capital of Bangladesh, which is recognized as antiquity. It is currently being used as a classroom and examination hall for some of the science and biology molecules of Dhaka University. On February 14, 1904, the foundation stone was laid by George Curzon, then Viceroy and Governor-General of India. After the partition of Bengal in 1905, Dhaka became the capital of East Bengal and Assam. Curzon Hall was then used as the office of the provincial capital.
The first public protest against making Urdu the sole state language was from this historic Curzon Hall building. After the repeal of the Partition of Bengal in 1911, Curzon Hall came to be used as the Dhaka College building. After the establishment of Dhaka University in 1921, this building came to be used as a science building of Dhaka University.
Curzon Hall Dhaka University
There is a huge central hall in this huge building inlaid with the artwork. Its outer color is red. In front of the building is a spacious garden, where a road runs from west to east through the green chest. Behind it is a huge pond on the west side of which is the main building of Sher-e-Bangla Fazlul Haque Hall. This two-storey building is considered one of the best architecture in Dhaka. The building incorporates a unique blend of European and Mughal architectural styles. This is especially noticeable in the middle of the protruding north-facing horse-shaped grooved arch. In front of Curzon Hall are a large field and a beautiful flower garden. Opposite it is the Shishu Academy and the traditional Doel Chattar. Its arches and domes are a combination of modern architecture and Mughal structures.
How to Go There (Curzan Hall)
You can visit the Science and Technology Museum by any vehicle from the capital Dhaka. Or you can come around in your own car. There is no fee to enter here. You can come back at any time from this Curzon Hall.
Read More:
Frequently Asked Question About Dhaka University Curzan Hall:
curzon hall Bangladesh
curzan hall du
curzan hall architecture
curzan hall photos
curzan hall location
curzan hall history in bangla
curzan hall vector
curzan hall inside