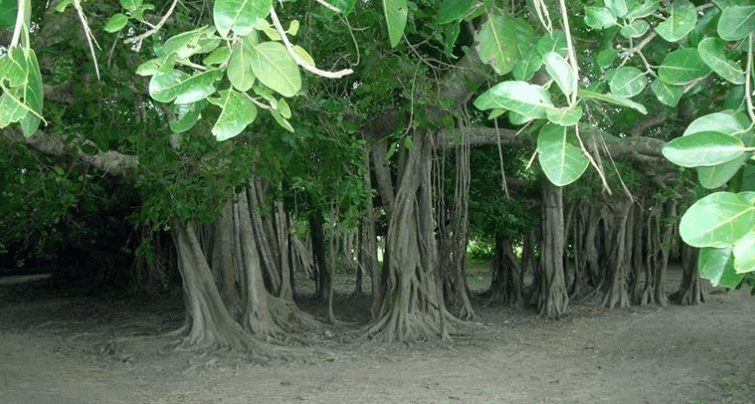 Saitta is a village in the Jadavpur union of Dhamrai Upazila in the Dhaka district. About 500 years ago, the ancestors of the Devidas dynasty of this village planted a palm tree and a banyan tree side by side. The trees grow over time. There are many myths about the two trees. It is said that according to the conventional idea, the pakur tree is considered as male and the bot tree is considered as female and they are married according to the traditional religion. Since then, the two trees have been known as husband and wife. It is also common knowledge that if someone cuts a branch of a tree for any reason, he gets sick. Later he is released with pujo. So no one cuts the branches of the tree. As a result, two branches of the tree have sprouted and spread over about 5 bighas of land.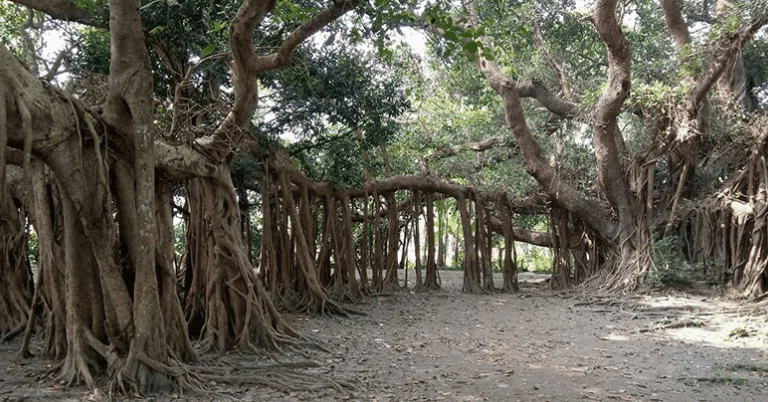 The local Hindus consider the two trees to be deities. They have placed the temple in the shade under a tree on one side. There is also a pressure mill next to the temple. The roots of the two trees have merged in such a way that they can no longer be separated. You have to identify the two trees by looking at the leaves.
The leaves that are green are those of the bot tree, and the leaves that grow green after being colored are the leaves of the palm tree! And the established temple is the Kali temple. Every year on the first day of Boishakh, various ceremonies are organized under the tree. Due to the prevalence of various ghostly events, no one usually goes under the tree at night! As there is no tradition of cutting the branches of the tree, if there is a need to widen the narrow road under the tree, the local chairman should turn the road a little so that the branches do not have to be cut.
The way to get there
Take a bus from the Gabtoli bus stand in Dhaka to Manikganj and get off at Dhulivita. The rent is 60Tk. Then Dhamrai Bazaar by auto. Rent 5 Tk. From there you have to reserve an auto for Jadavpur, Saitta village. If you bargain, you will get 250-300 Tk. Or 'Janseva' and 'SB' from Gabtoli, Dhaka. There is a link 'minibus'. You have to get off at Mahishashi Bazar by public service / SB link bus. Public bus fare is 40 Tk per person and 60 Tk per SB link. CNG fare from the market to Kushura is 5 Tk. Saitta fare from Kushura is 15 Tk. If you go down there and ask someone, he will show you.
Cost of rent:
40 * 2 = 60/60 * 2 = 120 + 20 * 2 = 40 = 120/160 rupees. In this way, you can visit Saitta banyan tree in Dhamrai for about 300-350 Tks.
Visit Also: Sarighat