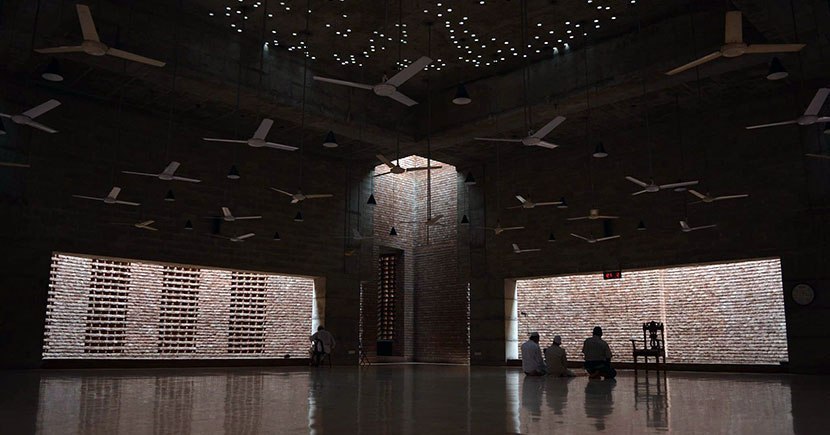 Baitur Rauf Jame Masjid is located at Fayedabad of Dakkhin Khan Police Station, east of Abdullahpur Bus Stand in Dhaka. The special aspect of its architecture is that its ventilation and excellent dispersion of light give different dimensions to the mosque's environment.
Baitur Rouf Jame Masjid In Dhaka
The special feature of  654 sq m mosque is that there is no dome or minaret in the mosque. It is made up of eight pillars all around. The special feature of this design is that it is a pillar with a 13-degree angle towards the Qibla.
Special arrangements have been made around for light entry. Its architecture was inspired by the mosque of the Sultanate period.
Architect Marina Khan has given priority to the design of the Sultanate period in the construction of this mosque. It is quite artistic and well-planned. Natural light and air have been given more prominence in the design than electric light-fan.
Such use of brick masonry without any windows for ventilation is not seen in any other mosque. All this has made the mosque unique. Baitur Rauf Mosque has received the final nomination for the Aga Khan Architecture Award.
How To Go:
From any part of Dhaka, you can go to Abdullahpur in Tongi by bus. If you want to go to Baitur Rauf Mosque, you will have to go to Dakkhin Khan Police Station on the right from Abdullahpur. The mosque will be visible only after walking 1 minute inside the lane to the left of the Fayedabad transmitter. However, the Fayedabad transmitter turn can also be reached by auto from the main road.
Read More Articles:
Also Read: