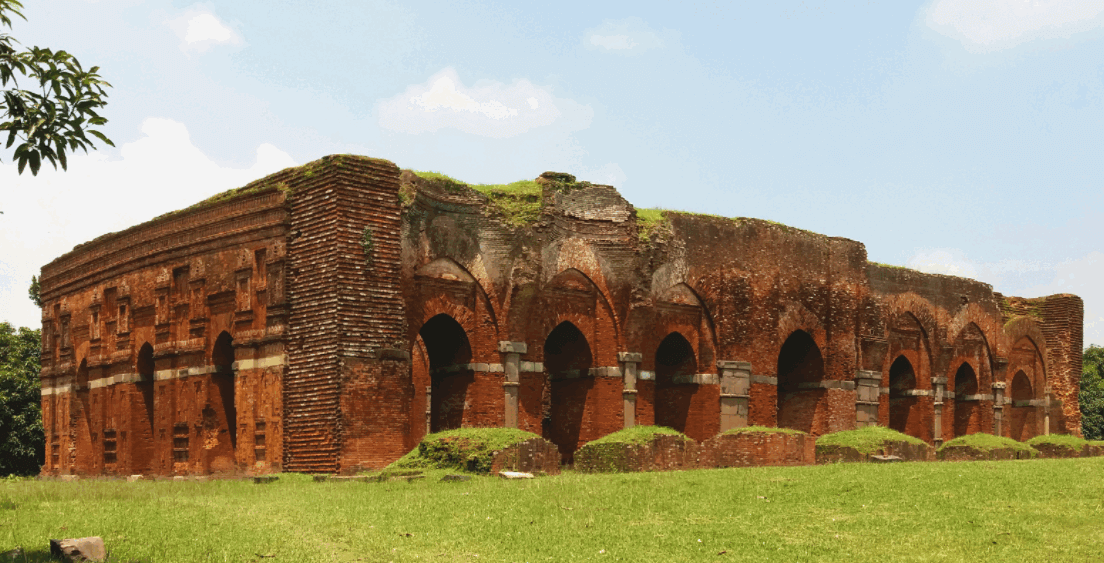 Darashbari Masjid is located near Ampur between Sona Mosque and Kotwali Dargah in Chapainawabganj. The locals know this place as Darasbari. The rectangle inside the mosque is divided into two parts and its main dome is quite interesting to see. The Darasbari Mosque is 99 feet 5 inches long and 34 feet 9 inches wide and has a verandah 10 feet 7 inches long on the east side of the mosque. The mosque has a total of 9 ornate arches. And on the north side of the mosque, there is a huge tank of about 60 bighas. The Yusuf Shahi inscription in Togra script from the historic Darasbari Mosque is now preserved in the Calcutta Museum.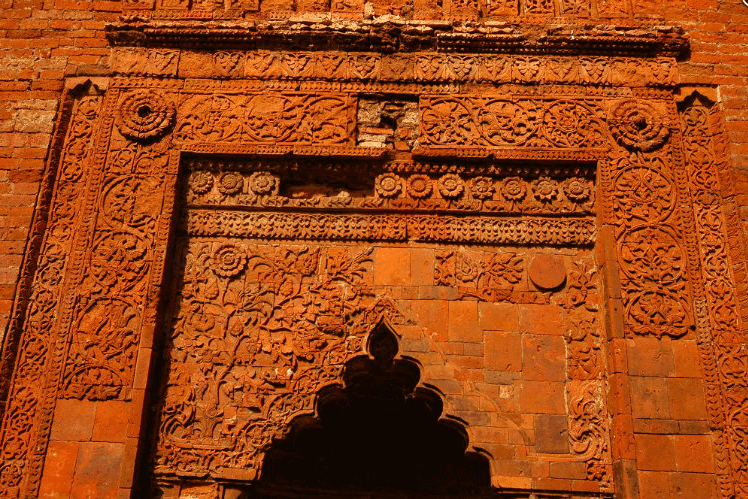 History of Darasbari Mosque
According to an Arabic inscription discovered by Munshi Elahi Bakhsh during the historical search (inscription length 11 feet 3 inches, width 2 feet 1 inch) in 1479 AD (Hijri 884) Sultan Shams Uddin Yusuf Shah built the mosque during his reign. Initially, the name of the mosque was Firozpur Mosque but after the establishment of Darasbari Madrasa in 1504, the name Darasbari Mosque became known to the people. The Darasbari Mosque, made of terracotta bricks, bears a striking resemblance to the Chamchika Mosque in India.
Ways to go to Darasbari Mosque
You can go to Chapainawabganj from Dhaka in different ways. If you want to go to Chapainawabganj by bus from Dhaka, you can go to Chapainawabganj via Rajshahi or directly. However, if you want to go by train or plane from Dhaka, you have to come to Rajshahi first and then go to Chapainawabganj. Various buses from Kalyanpur and Gabtali in Dhaka such as Hanif Enterprise, Modern Enterprise, Shyamoli Paribahan, etc. go to Chapainawabganj via Rajshahi. AC bus 800-1000 Taka and non-AC bus 400 to 500 Taka. When you reach Chapainawabganj, you will get buses to different districts and cities from here. From here, the main purpose of Rajshahi is to leave three types of buses, which are: gate lock, direct and local service. Other bus services from here include Nawabganj-Shibganj, Nawabganj-Naogaon, Nawabganj-Nachol, Nawabganj-Rahanpur.
From Chapainawabganj city you can go directly to Darasbari Mosque near Chhota Sona Mosque by CNG, autorickshaw, or bus. Besides, buses run from Rajshahi to Sona Masjid every hour. Besides, you can go to the mosque by rickshaw after reaching Kansat.
If you want to go by train from Dhaka
The Silk City Express train leaves Dhaka's Kamalapur railway station for Rajshahi at 2.40 pm 7 days a week except for Sundays. Besides, the Padma Express train leaves Dhaka for Rajshahi at 11:10 pm every day except Tuesday. The fares on these trains vary by class, with elegant chairs at Tk 350, soft seats at Tk 604, AC seats at Tk 725, and AC berths at Tk 1,061.
If you want to go by plane from Dhaka
if you want to go by plane from Dhaka, first you have to go directly to Rajshahi by plane. The airfare will be 2500 to 8000 rupees. The airlines that serve the Dhaka-Rajshahi route are: Biman Bangladesh Airlines NovoAir US Bangla Airlines
Where to stay
There is not a very good hotel to stay in in Chapainawabganj, but a 3-star quality hotel has been built (Sky View in – 01955668899). Besides, you can go to Rajshahi from here very fast, so if you bring your family, you can go to Rajshahi. As there are government tourist centers for staying in Rajshahi, there are also many good quality hotels. There are some fairly standard hotels to stay in in Chapainawabganj. Hotel Swapnapuri (0781-56250), Hotel Al Nahid (01713-376902), etc. are some of them. The rent will be approximately 200 to 1000 rupees per night.
Read More: Choto sona Mosque