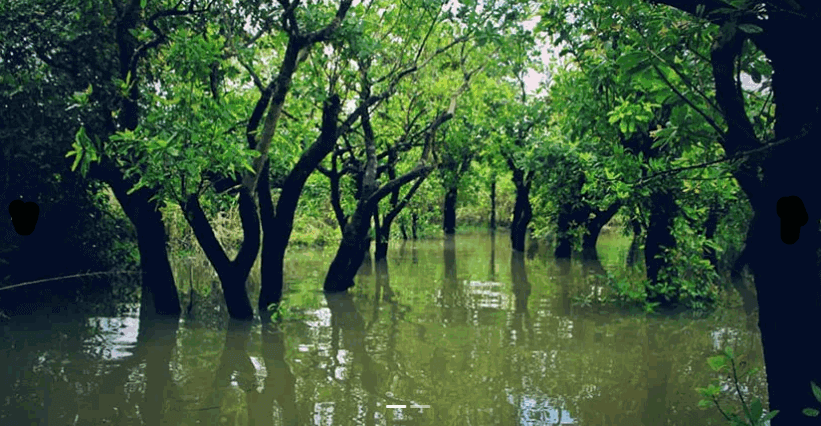 Jugirkandi Mayabon is a water forest in Gowainghat Upazila of Sylhet. Located at Jugirkandi Haor in Alirgaon Union of Gowainghat Upazila, this picturesque forest is locally named Mayabon. The idea is that it is the largest water forest in Bangladesh. Spread over an area of ​​about one thousand acres, this forest attracts the attention of tourists by spreading the magic of its form. There is a huge jungle of rows and rows of trees in the deep water around Mayaban. The dense nature of this water forest of Jugirkandi takes the mind to the unknown land of fairy tales. Where you enter, the mind does not want to come back. The chirping of innumerable species of unnamed birds including Dahuk, Ghughu, Sari, Doel-Shyama gives the desire to get lost in the depths of the forest.
In the picture of the water of the tree falling on the clear-smooth water, the small waves swaying the pansy are like the dance performance of a four-eyed dancer. To the north of this Mayaban is the confluence of the Sari and Piain rivers. Nearby are the Meghalaya hills of India. In Jugirkandi Mayaban there are various species of birds including fisherman, different species of deer, pigeons, finches, sand ducks, and pankauri. Wildlife includes monkeys, otters, squirrels, tigers, etc. The forest is also a sanctuary for various species of snakes and various types of snakes. If you want to enjoy the beauty of Mayaban, you must go in silence. If there is any noise, screaming, shouting, its real beauty will not be enjoyed in any way. When you turn around silently, you can see the call of the dove of this forest located in the water, the leaping of the monkey This is the beauty of Mayaban.
How To Go To Jugirkandi Mayaban
Buses from Dhaka to Sylhet
Buses leave from Dhaka for Sylhet from Gabtali and Sayedabad bus terminals. Buses leave from Fakirapul, Saidabad, and Mohakhali bus stations in Dhaka at regular intervals from morning till 12.45 pm. AC buses of Green Line Paribahan, Saudia S Alam Paribahan, Shyamli Paribahan, and ENA Paribahan run on this route. The rent is 800 to 1,100 Tks. Besides, non-AC buses of Shyamoli Paribahan, Hanif Enterprise, Unique Service, ENA Paribahan go to Sylhet. Rent from Tk 400 to Tk 450 The buses of ENA Paribahan leave Mohakhali and go to Sylhet via Tongi Ghorashal.
Train from Dhaka to Sylhet
The intercity train Parabat Express departs from Dhaka at 6:40 am every day of the week except Tuesday from Dhaka's Kamalapur railway station. The Jayantika Express leaves at 2 pm every day of the week and the Upban Express leaves at 9.50 pm every day of the week except Wednesdays. The Kalani Express leaves at 4 pm every day except Friday. Rent from 150 to 1 thousand 18 Tks. If you go by train, it is best to take the Upban Express at 9.50 pm because it will be early in the morning and if you sleep on the train at night, you can get off the train in the morning and start your journey and it will take 7-8 hours.
Trains from Chittagong to Sylhet
Paharika Express at 8.15 am every day except Chittagong and Udayan Express at 9.45 pm every day except Saturday. Fare from 145 to 1 thousand 191 Tks. Train ticket price: AC berth 698 Tks, AC seat 460 Tks, first class berth 425 Tks, first class seat 270 Tks. Snigdha 460 TKs, elegant chair 180 Tks, elegant 150 Tks, cheap 95 Tks.
Plane / Air from Dhaka to Sylhet
From Dhaka Shahjalal International Airport Biman Bangladesh, United Air, Regent Air, Novo Air and US Bangla Air fly daily to Osmani Airport in Sylhet.
Jugirkandi Mayaban from Sylhet
Jugirkandi Mayaban from Sylhet After crossing 37 km from Sylhet city via Sylhet-Tamabil highway, after crossing Sarighat-Gowainghat road from a place called Sarighat, you have to cross another 8 km and stop at Bekhra Bridge. From here you have to rent a small boat and go through Bekhra canal. Mayaban can enter in ten minutes to see the form of Lokayat Bangla wrapped in a green sheet across the two banks of the canal.
Where To Stay
You don't have to worry about staying because you don't have time to come and go. There are many hotels to stay in Sylhet, you can find any type of hotel according to your needs and affordability. Some of the well known hotels are – Hotel Hill Town, Gulshan, Dargah Gate, Surma, Kaikobad etc. There are many quality rest houses at low rent in Lala Bazar area Hotel Anurag – A single room 400 Tks (two people can stay comfortably), three bed room 500 Tks (normally 4 people can stay). There are various quality residential hotels on Dargah Road for overnight stays. Room rent from Tk500 / – to Tk5000 / -.
Hotel Rose View (0821-721439) in Shahjalal suburb of the city.
Hotel Star Pacific at Dargah Gate (0821-727945).
Hotel Hilltown on VIP Road (0821-716077).
Ho821-721143) in Bandarbazar.
Hotel Fortune Garden (0821-715590) in Nairobi.
Hotel Dallas on Jail Road (0821-720945).
Hotel Garden Inn on Link Road (0821-814507).
Hotel Palash in Amber Khana (0821-718309).
Hotel Dargahgate in the Dargah area (0821-717066).
Hotel Urmi (0821-714563).
Hotel Moon Light in Zindabazar (0821-714850).
Gulshan Center at Taltala (0821-710018) etc.
There are several resorts towards Tamabil / Jaintapur. If your accommodation is somewhere this way, then you have to come to Goainghat from Hadarpar as before. You have to go from Goain Ghat to Sari Ghat. You can go by CNG / Laguna. The rent is 60 Tks per person.
Read More: Ratargul Holiday Home