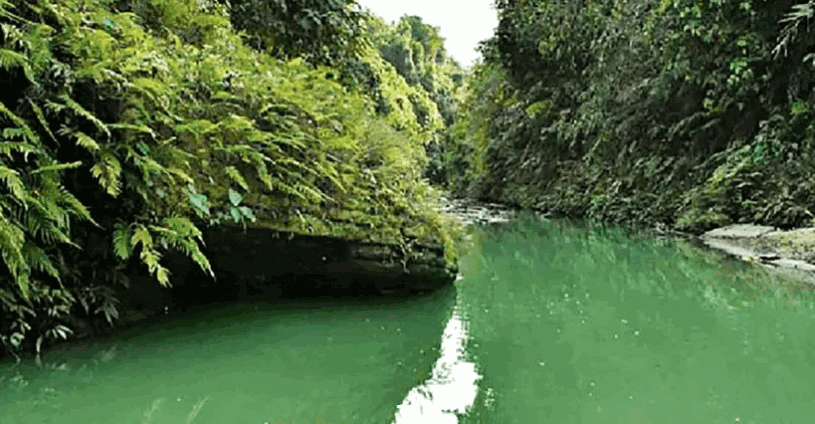 Thanda Chora is a spring located in the Dharmaghar area of ​​Dighinala Upazila of Khagrachhari district. A fountain flowing through the middle of the black stone walls on either side, hence the name cold rhyme. Due to the stone walls on both sides, you can feel the cold as you go inside the fountain. The cold rhyme covers an area of ​​about 600 yards. You have to walk on the black stone to the inside of the rhyme. Those who love adventure, if you travel to Khagrachhari, you can come back from this cold rhyme. The way to get here is also great. On the way to Thandachhara, you will see all the beauty of Khagrachhari. Small green hills, rhymes coming down the hill, wildflowers blooming next to the rhymes, unnamed birds – all these will fascinate. Khagrachhari Hill Agricultural Research Center is located next to Thanda Chhara. You can also spend some time there.
The way to get Thanda Chora
You can take different buses from Dhaka's Kalabagan, Kalyanpur, Fakirapul, Gabtali, Kamalapur to Khagrachhari. Among them, Shanti Paribahan, Shyamoli, Hanif, and other transport buses can go to Khagrachhari. The rent will be 520 Tk. AC buses of BRTC and St. Martin Transport also go to Khagrachhari. When you reach Khagrachhari, you will go down to Shapla Chattar of the city. From here go to the Dharmaghar area by CNG or battery-powered tomtom via Dighinala Upazila road. You have to cross a hilly path of about three kilometers. From here you can reach the cold spread on foot. If you ask a local in the shrine, he will show you the way to the rhyme. Apart from this, you can also come to Khagrachhari from the Oxygen area of ​​Chittagong.
Where to stay
There are various quality hotels including tourist motels in Khagrachari. Tourist Motel: It will be worn as soon as you cross the Chengi River as soon as you enter the city. All the rooms in the motel have 2 beds. Rent: AC 2100 Tks, non-AC 1300 Tks. AC Suite Room 3,100 Tks. Inside the motel, there is a map of Bangladesh on the ground. However, the AC rooms are being rented as non-AC due to voltage fluctuations due to electrical disturbances in the entire Khagrachhari district. Contact: 0371-6208485
Hotel Eco Chhari Inn: Located in a hilly environment next to Khagrapur Canterment. This is a resort-type hotel. Contact: 0371-62625, 3743225
Hotel Shail Subarna: 0371-61436, 01190776812
Hotel Jerin: 0371-61071
Hotel Lobiyat: 0371-61220, 01556575746 01199244730
Hotel Shilpi: 0371-61795
Where to eat
Traditional System Restaurant is located at Pankhai Para near Khagrachhari town. Here you can eat the traditional food of Khagrachari. Contact: 0371-62634, 01556773493, 01732906322.
Read More: Alutila Cave