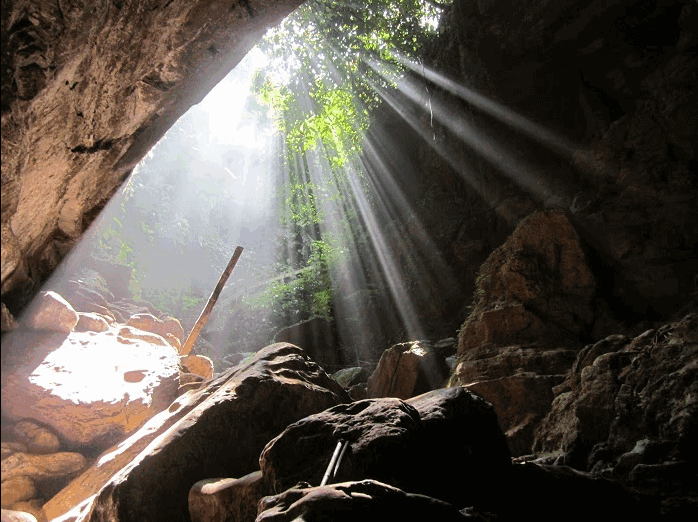 Alutila Cave is a natural cave located in the Khagrachhari district of Bangladesh. Alutila Cave is located in the Alutila or Arbari Hills at an altitude of 3,000 feet above sea level, 7 km west of the main town in Matiranga Upazila of Khagrachhari district.
The locals call it Matai Hakar or the cave of the gods. This cave is very dark and cool. The small bash torch in your hand is the only source of light in the cave. The bottom of the tunnel is slippery and rocky and a fountain flowing at its bottom.
The cave looks a lot like an underground tunnel which is about 350 feet long. It takes about 10 to 15 minutes to get in and out of the cave. The height of the cave is sometimes very low so you have to crawl at one stage.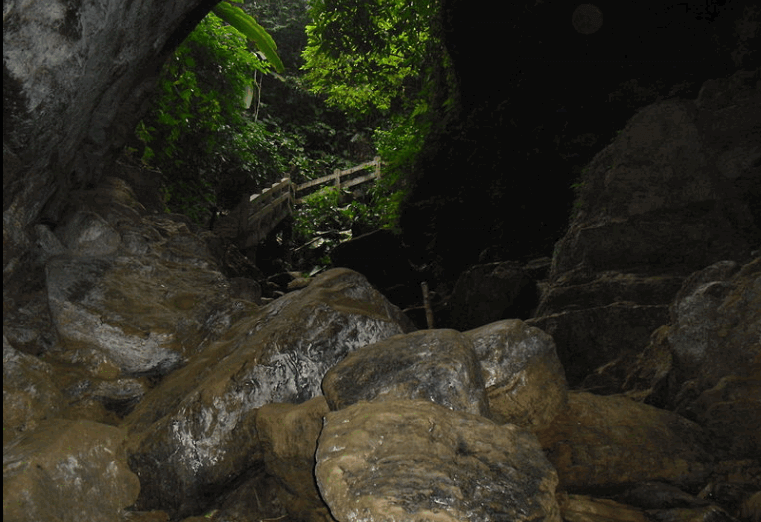 The main attraction of the Alutila tourist center is its mysterious tunnel. The location of this mysterious tunnel is built at the foot of Alutila hill under 266 steps from the top of the hill. The diameter of the cave mouth is about 18 feet. If you want to go to Alutila cave, first you have to buy a ticket from the main gate.
Then you have to buy a torch. After entering through the main gate, you will find a number of mountain trails in Peru. Sandals or shoes that make your feet slippery cannot be worn because cave stones are slippery.
With an extra torch, you can carry a mobile torch or torchlight. Those who are thirsty for adventure and travel should visit this cave at least once in their life. Risang Jharna is located very close to Alutila Cave.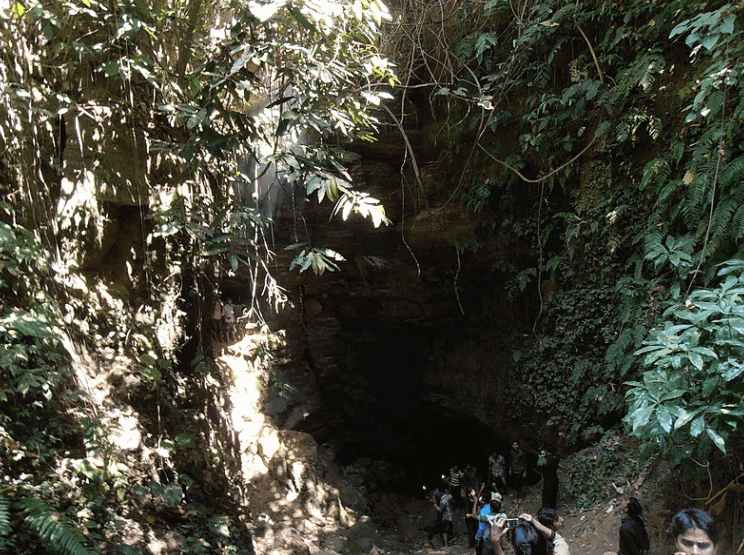 How To Go there (Alutila Cave)
From Dhaka, you can take Shanti, Shyamoli, Hanif, and other transport buses to Khagrachari. The rent will be 520 Tk. AC buses of BRTC and St. Martin Transport also go to Khagrachhari.
Contact:
Saint Martin Paribahan – Arambagh: 01762691341, 01762691340. Khagrachhari: 01762691358.
Shyamoli Paribahan – Arambagh: 02-7194291. Kalyanpur: 9003331, 8034275. Asadgate: 8124881, 912454. Dampara (Chittagong) 01711371405, 01711377249.
Shanti Paribahan – Arambagh (Dhaka) – 01190994007. Oxygen (Chittagong) 01817715552. You can also go to Khagrachhari from Chittagong.
BRTC AC Bus (Chittagong) Kadamtali: 01682385125. Khagrachhari: 01557402507.
From Khagrachhari city you can go to New Zealand by CNG or auto, the fare will be around 10 rupees. So if you plan a trip to Sajek, you can visit the New Zealand neighborhood in a short time. You can also see the Hazachara fountain.
From Khagrachhari city, you have to take a moon car or local bus to Alutila tourist center. Or you can go by CNG. So if you plan a trip to Sajak, you can visit the New Zealand neighborhood in a short time with Alutila Cave. You can also see the Hazachara fountain.
Where to Eat In Traveling Time
Traditional System Restaurant is located at Pankhai Para near Khagrachhari town. Here you can eat the traditional food of Khagrachari. Contact: 0371-62634, 01556773493, 01732906322.
Where to stay At Khagrachari
Khagrachari has various quality hotels including tourist motels. Tourist Motel: It will be worn as soon as you cross the Chengi River as soon as you enter the city. All the rooms in the motel have 2 beds. Rent: AC 2100 Tk, non AC 1300Tk. AC Suite Room 3,100 rTk. Inside the motel, there is a map of Bangladesh on the ground.
However, the AC rooms are being rented as non-AC due to voltage fluctuations due to electrical disturbances in the entire Khagrachhari district.
Contact: 0371-6208485. Hotel Eco Chhari Inn: Located in a hilly environment next to Khagrapur Canterment. This is a resort type hotel.
Contact: 0371-62625, 3743225.
Hotel Shail Subarna: 0371-61436, 0119077612.
Hotel Jerin: 0371-61071.
Hotel lobbyot: 0371-61220, 01556575746, 01199244730.
Hotel artist: 0371-61795.
More Traveling Places:
Frequently Asked Question:
Alutila cave history
Cave in Bangladesh
Alutila cave Mirpur
Alutila tourist spot khagrachhari
Mp of khagrachari
Richhang waterfall
Vengi valley in Bangladesh