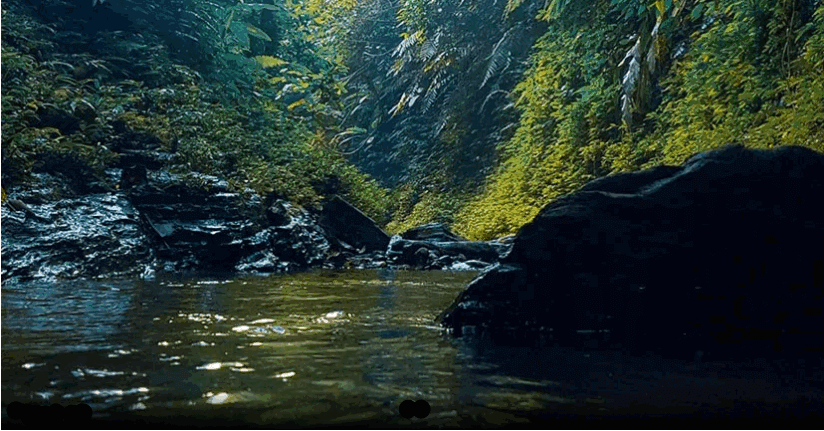 Lasubon Canyon is an ancient canyon located about 25 km from the headquarters of Srimangal Upazila in the Moulvibazar district. It is a densely forested hilly area in the Sindurkhan Union bordering the Indian state of Tripura. In the Khasi language, the word lasuban means mountain flower or wildflower. Although Lasuban Gorge is the official name, the locals know it more as Srimangal Gorge. There are many rock rhymes, big and small, in this gorge. The three largest canyons in the area are already in the spotlight. In the local Khasi language, the three major canyons, Krem Clue, Krem Kerry, and Krem Ulka, maybe the main attractions for tourists. Which of the Lasuban canyons is one kilometer, which is less than that. There is a risk of going to these canyons. If water suddenly falls from above, there is no way to go up.
Some places have steep rocky hills. And it can cause accidents. The gorge area falls within the local Nahar Khasia capital. The whole area can be explored by a hill rhyme called Langulia rhyme. This Langulia rhyme came down from Tripura in India and entered Bangladesh. About 25 km of road is mixed with the luxury of Srimangal. Hundreds of other small and large rock rhymes are mixed with snake-like crooked rhymes. There are a few canyons in it. One hundred and fifty feet below the hill, these canyons are somewhere big and somewhere narrow. There is no rain, but big drops of water are constantly falling from the rocks. Sunlight lurks here.
There is absolutely no chance of sunlight reaching the lower or inner part. The locals call it a meteor. There is the sound of endless water in small streams. However, during the rainy season, the flow of water is more in these small streams that come down the mountain.
Ways to go to Lasuban Girikhat
If you want to go to Lasuban Gorge, first you have to go to Srimangal from Dhaka. Srimangal can be reached directly from Dhaka by rail or road.
Train from Dhaka to Srimangal
Dhaka Kamalapur Railway Station to Sylhet-bound Parabat Express at 6.40 am every day except Tuesday, Jayantika Express at 12 noon every day, Kalni Express at 4 pm every day except Friday, Upaban Express at 9.50 pm every Wednesday except Wednesday Goes. The fare from Dhaka to Srimangal is Tk. Elegant chair 240 Tks, first chair 320 Tks, first-class berth 480 Tks, soft seat 460 Tks, AC seat 552 Tks, AC berth 828 Tks.
Srimangal by train from Chittagong
You can also take a direct train from Chittagong to Srimangal or Kulaura in Maulvi Bazar. The Sylhet-bound Paharika Express can get off at Chittagong Railway Station at 8:45 am every day except Monday and the Udayan Express at 9:45 pm every day except Saturday. The Paharika Express leaves Srimangal at 12:58 pm every day except Saturday and the Udayan Express at 11:24 pm every day except Sunday.
Srimangal by bus from Dhaka
Non-AC buses from Dhaka's Fakirapul and Saidabad by Hanif Enterprise, Shyamoli Paribahan, Sylhet Express etc. The rent is 300 to 400 rupees.
From Srimangal to Lasuban Girikhat
You have to go to Sindurkhan by jeep or motorcycle first from Srimangal. When you reach Sindurkhan, go to Harinchhara Tea Garden and if you ask a local, he will show you the way. If you want you can take someone with you as a guide. Then you have to walk a few kilometers. This walking path is completely surrounded by hilly rhymes and steep hills.
Where to stay
With Srimangal Tea Museum, there is a tea resort with modern facilities. And if you want to stay in Srimangal other than T-Resort, then the best quality place to stay is T-Resort on Bhanugachha Road (Phone: 01712916001).
Other accommodations include –
Hotel Grand Sultan (five stars) – 01552-683454
Rain Forest Resort (01938-305706) T Town Rest House,
Hotel Plaza (8626525, 01711-332605)
BTRI-08626-71225. Etc.
The rent of these hotels and resorts is from Tk 500 to Tk 5,500. Apart from this, Nisarg Nirab Eco Resort (01715041207) and Nisarg Lichibari Eco Resort (01716939540) are two excellent resorts in Radhanagar, Srimangal. There are hotels.
Read More: Shitesh Babus Zoo