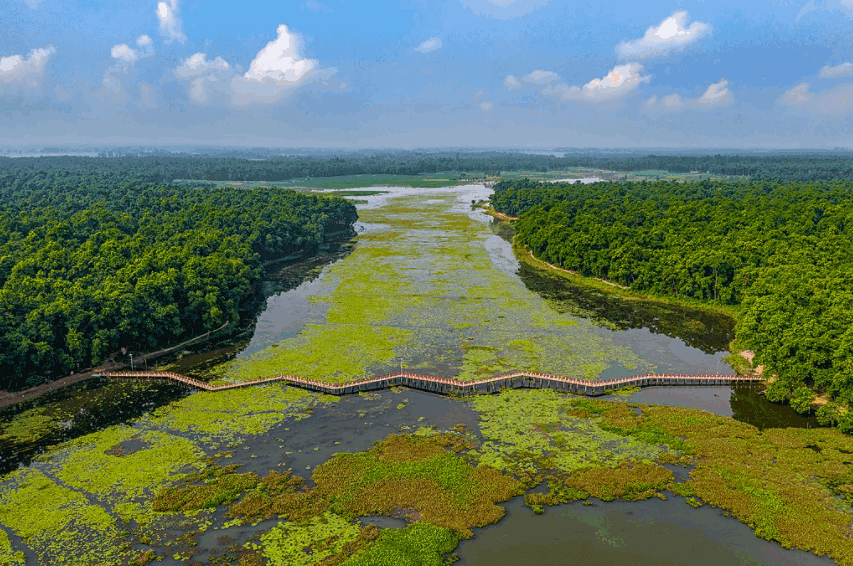 Nawabganj National Park is a 517.61-hectare forest reserve in Nawabganj Upazila of Dinajpur district, also known locally as Panchabati forest. Nawabganj National Park consists of Jagannathpur, Harilakhur, Bara Jalalpur, Alokdhuti, Tarpanghat, Rasulpur, and Khatkhatia Kristpur Mouzas of Nawabganj forest. This national park is actually a sal forest. On October 24, 2010, the area was declared a national park and renamed Sheikh Russel National Park. In addition to teak, there are about 20 to 30 species of trees including gamma, Kadai, and jam in Nawabganj National Park. Among the wildlife, there are wild cats, foxes, fish tigers, different species of birds, and different species of snakes.
However, at present, the giraffe is seen more after dusk. Surrounded by greenery, in the middle of the two forests is the Ashura beel, spread over an area of ​​about 600 acres, known as the native fish sanctuary. The water lilies and lotus flowers in the water of the bill fascinate the visitors. The largest wooden bridge in North Bengal has been built on the Ashura beel which has further enhanced the beauty of Nawabganj National Park. There are 5 branches of the forest of Nawabganj National Park up to Kushdaha, Parbatipur, Phulbari, Birampur, and Ghoraghat. So another name for it is Panchabati. It is said that the robber Ratnakar achieved fame in this forest as Balmiki Muni. This garden contains the historical archeological monuments of Sita's Kot Buddhist monastery which contains the legends of Shiva's Kailashbas and Sita's Banbas.
Nawabganj Wooden Bridge Nawabganj Wooden Bridge is 900 meters long and is made of shawl wood. The construction of this wooden bridge in Nawabganj has cost around Tk 12 lakh and it took about two months. The bridge is built on the east-west side and is named Bangamata Sheikh Fazilatunnesa Mujib Wooden Bridge. The bridge is shaped like the English letter Z which has been painted in several places on the bridge. Khatkhatia Krishnapur on the west of the bridge and Nawabganj on the east. As a result, the residents of these two parts can also use the bridge. The bridge was inaugurated on June 1, 2019.
To reach the main wooden bridge of Nawabganj Udyan, one has to take a narrow road through the middle of the forest. If you want, you can take a bike or a car. The parking lot in the park is much smaller. If you take a little time, you will be able to visit the dreamy picnic spot at the same time. Swapnapuri has located just 18 km from Nawabganj National Park.
Way to go to Nawabganj National Park
By bus from Dhaka to Dinajpur
By bus and train from Dhaka. Buses from Dhaka to Dinajpur usually leave from Gabtali and Kalyanpur. Nabil Paribahan's AC bus runs on this route. Rent 900 Tks. Non-AC buses of Hanif Enterprise, SR Travels, Keya Paribahan, SA Paribahan, Shyamoli Paribahan, Nabil Paribahan also ply on this route. Rent 500-550 Tks. From Dhaka to Asadgate, College gate, Shyamoli, Kalyanpur, Technical Junction or Gabtali to Nabil, or directly to Dinajpur by chair coach of Bablu Enterprise. The cars leave for about 30 minutes or 1 hour in a row throughout the day. Apart from that, some transport goes to Dinajpur from Uttara.
Train from Dhaka to Dinajpur
Dhaka Kamalapur Railway Station intercity train express train departs at 7:40 pm. The intercity Ekota Express leaves at 9:50 am. Ekota and Drutayan Express from Dhaka are closed on Tuesdays and Wednesdays respectively. Rent of elegant seats is 185 Tks, elegant chairs are 250 Tks, first-class chairs are 350 Tks, first-class berths are 535 Tks, AC chairs are 618 Tks, AC berths are 897 Tks Nawabganj can be easily reached by bus from Dinajpur. Nawabganj National Park is only 3 km away from Nawabganj Upazila. Calling someone a wooden bridge will show the way.
Where to stay
The best quality hotel to stay in in Dinajpur is the tourist motel (0531-64718). Apart from this, you can also book this motel from the head office of tourism in Dhaka. Phone – 9899288-91 AC Twin Bed 1500 Taka and AC Twin Bed Deluxe Room 1800 Taka in Dinajpur Tourist Motel. Apart from this, other standard hotels in Dinajpur have accommodation for 100-1200 Tks. Some of the standard hotels are
Hotel Diamond (0531-64629) in Maldaha Patti,
Hotel Al Rashid (0531-64251) on the ground floor,
Hotel Naveen (0531-64178),
Hotel Rehana (0531-64414),
New Hotel (0531-68122).
You can also stay in a bungalow inside Ramsagar if you want. If you want to stay here, you have to get permission from the local forest department. The one-storey building has three common and one air-conditioned room. The rent for each common room is Tk.500 per night and the rent for an air-conditioned room is Tk 1000. They have to arrange their own food. It will be a great opportunity to spend a wonderful night on the banks of Ramsagar Dighi at night.
Read More: Shopnopuri Picnic Spot