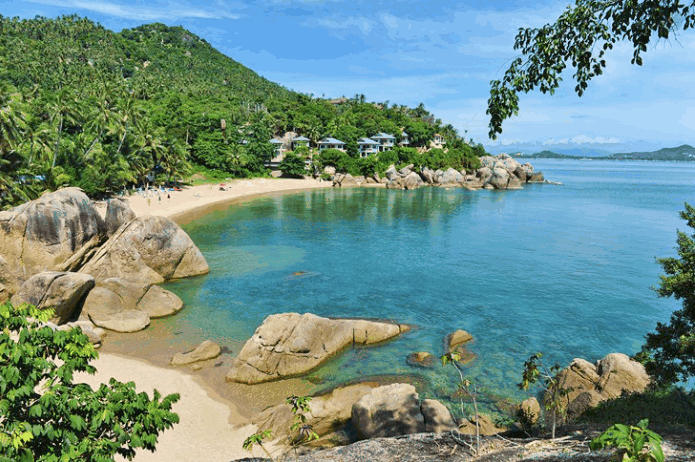 Koh Samui is the pride of this picturesque place through its stunning beaches and rich history and culture. Samui Island is the third largest island in Thailand. Koh Samui Island has located 63 km from Bangkok in the province of Suratthani in Thailand. The total area of ​​the island is 226 sq km. The island has a 45-kilometer marine drive around it. You can rent a bike and enjoy the beauty of the whole island if you wish. Mini-buses usually ply on the main roads. Tourists generally prefer to stay at Lamai and Cheng Beach. Because it is a very happening place and the most beautiful beach. It has a mountain range that stretches from east to west. In addition to fish resources, there are coconuts.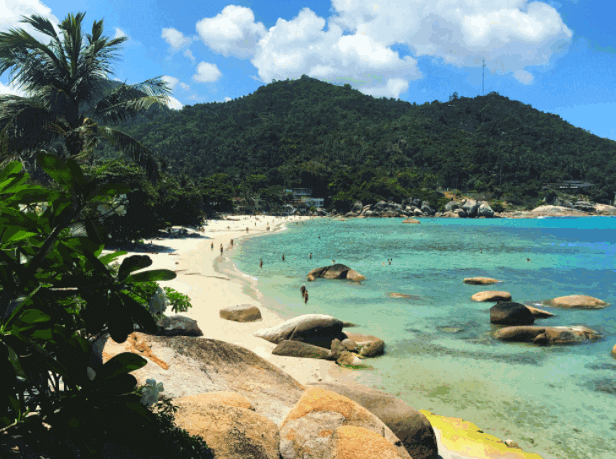 Two million coconuts are sent to the bank every month. Coconut is one of the best in the country. Occasionally staff train monkeys to collect coconuts from coconut trees. Samui will give you simple nature that is different from others. Its beach is made up of white sand which is clear and transparent. Apart from coconut, paddy is also cultivated on this island. If you look at the beach, you will see rows of palm trees all over the beach. The beach is clean and dreamy. Chayeong and Lamai are the most visited places. The sunrise here is the most beautiful. The ideal is to lie down lazily without doing anything to make yourself tan. Those who want to be more active can do things like windsurfing and snorkeling. The water here is extremely clear, you can see the beautiful life under the water effortlessly.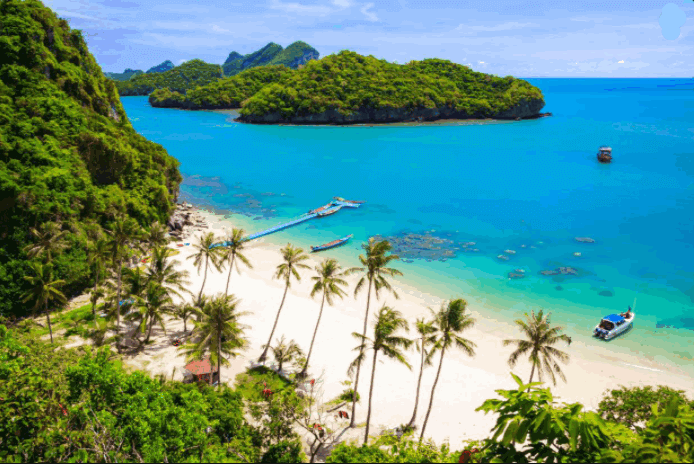 Places of interest Sights
If you want to enjoy something other than swimming and sunbathing, you can go to another island nearby. Rent a boat and go to Koh Fanggan to join the legendary full moon part. This is the nearest and largest island where there are many affordable bungalows. You will see beautiful waterfalls and lovely beaches here. You can also visit one of the smaller islands, both Ko Tao and Ko Nang Yuan. In the nice water, you can snorkel and see all the beauty under the water. For those who are adventurous, there is Aung Thong Marine National Park. It's a day trip. Here you can see limestone caves, blue lagoons, and beaches. You can rent a bungalow at the headquarters of Ko Ua Ta Lape Park.
Guided tours are available in Samui. If you want to stay on the island and know better then you can go to Surat Thani. It is a center for fishing and shipbuilding. Here you can walk to see the Tapi River. Surat Thani is well known for oyster farming where giant oysters are cultivated. Another place to visit is Chaiya. It is a 45-minute walk north. You can go to see this historic place. Many scholars think that Srivijaya was the capital of the kingdom here. There may be controversy over this but many ancient temples exist here. There is a 1,300-year-old monument at Wat Fra Boromahat Chair. The other three temples are Wat Wiang, Wat Long, and Wat Kaeng. If you want a few km from Chaiya. If you visit Wat Suan Mock, known as the monastery of flowing water, you will see a meditation center here.
Lastly, you can visit Khao Sok National Park. It is full of tropical views and you can also rent a bungalow here. If you do not want to rent a bungalow, you can stay in a guest house perched on a tree.
Where to stay
There are several first-class hotels to stay in on Koh Island. Bungalows are usually found on the beaches of Koh Samui such as Chali Bungalow, Coral Cove Chalet, etc. These bungalows are made of palm tree straw. These are both standard and air-conditioned and uncontrolled. You will find everything you need here. If you prefer a luxurious place to stay in Koh Samui then you can choose Beachcomber Hotel Koh Samui, Central Samui Beach Resort Koh Samui, Chaeing Regent Resort Koh Samui, etc.
The bungalow has its own restaurant and you can go to other places for your favorite food. There is room for delicious seafood and the fruits are fresh and local. You can also choose spicy foods that are included in Thai food.
How to get there
It is better to go directly by plane from Bangkok. There is another way to reduce cost. Suratthani by plane from Bangkok's Donmuiyang Airport. Koh Samui by ship or ferry from Suratthani.
Read More: Krabi