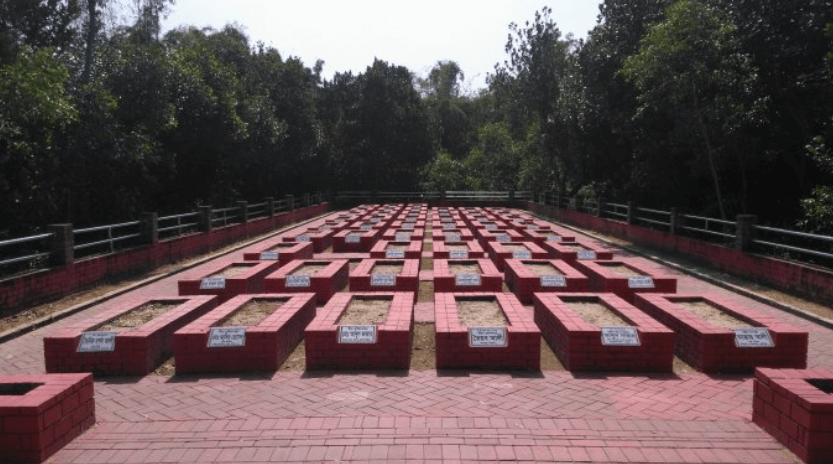 Brahmanbaria is one of the leading districts in the country in terms of industry, education, culture, and heritage. This district is also especially involved in the freedom struggle of Bangladesh. Kullapathar Shaheed Memorial is one of the historical places associated with the history of the Liberation War in this region.
Kullapathar Shaheed Memorial is also known as Kollapathar. Kullapathar Memorial is located in Kasba Upazila of Brahmanbaria district. The Kullapathar Memorial is the burial place of 48 martyrs who were martyred by the Pakistani aggressors in the war of liberation. Many refugees took refuge in India during the war of liberation by crossing the Salda river which flows past Kasba Upazila. Agartala in India is next to Kasba. Due to the presence of the freedom fighters' camp at Agartala, the Pakistani aggressors were keeping a close eye on the area and fighting was frequent here.
The bodies of the freedom fighters who were martyred in the war of liberation used to lie in the river or here and there. They were not even buried in the aftermath of the war. Abdul Mannan, a resident of Kasba, brought the bodies of these unidentified freedom fighters and started burying them on his land. With the help of his family and villagers, he used to bathe the corpses in the manner of Islam, perform janaza and bury them here.
This graveyard of the freedom fighters was preserved in 1972 with the help of the Deputy Commissioner and the locals. After the preservation, the memorial is decorated with names, inscriptions, walls, and paved roads. All the graves are paved with red bricks in the same pattern. Mosques, rest houses, and ponds were also built. People from different places regularly come here to pay their respects to the unknown freedom fighters who are lying in this quiet environment surrounded by trees.
Read More: Kalvairab Temple