Kumira Ghat is one of the most beautiful places in the port city of Chittagong which is located in the Kumira Ghat house of Sitakunda. Kumiraghat is a great place to spend time on the beach. From late afternoon to evening, beautiful views of nature can be observed here. It is basically a crossing ghat but there is a huge bridge here. It would seem that the other end of the sea.
This Kumira Ghatghar Bridge can be visited any day. The natural appearance of this place takes two forms at high tide and low tide. The afternoon at Kumir Ghat is quite great. The sunrise view here is quite enjoyable. The roar of the sea is accompanied by the cool breeze of the sea. Standing at the end of the bridge at high tide will make you feel as if you are standing in the middle of the sea.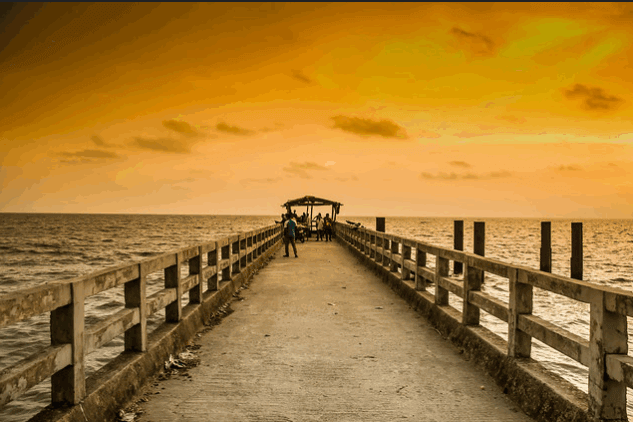 Kumir Ghat Sandwip Ship Ghat
Boats are available from the very end of this bridge at Kumira Ghat, with which you can turn around from the middle of the sea. The rent will be 20 rupees per person. This bridge is one of the routes to Sandwip. Most people choose this route to Sandwip. When the tide goes out, it will feel like you are walking on the bridge over the sea.
This ferry ghat in Kumiraghat is also known to the locals as Kumira-Sandwip Ferry Ghat, Ghatghar Bridge, and Kumira Bridge. From Kumira Bridge, huge ships can be seen standing in the middle of the sea in the ship breaking yard. You will also see the busyness of the fishermen in the sea-going fishing boats.
From Kumira Ghat, you can cross the Sandwip Channel in 30 minutes by speedboat for 250-300 TK per person. It feels great when the sodium lights in the shipping yard light up as evening falls. Those who visit Sitakunda and Mirersarai in Chittagong can visit Kumiraghat along with various trails as well as Sitakunda Chandranath Hills, Eco-Park, Bashbaria, Guliyakhali.
Way To Go Kumira Ghat
If you want to go from Chittagong, you have to go down to Kumir Ghat. If you want, you can reserve CNG from Chhota Kumira Bazar to Ekdam Ghat or by local car from there at the head of Ghatghar Road to Kumira Ghat by auto. Besides, if you take a direct bus from Dhaka to Sitakunda, Kumira Ghatghar will drop you off at Ghatghar Bridge. The rent will be 480 rupees. Kumiraghat auto or CNG will be rented from a small Kumira market for 10 TK.
Visit Also:
Frequently Asked Question:
Travelling Chittagong/Chattogram to Sandwip
Kumira ghat to Sandwip ghat, Chittagong
কুমিরা ঘাট । যাওয়ার উপায় । Sandwip Ship Ghat
Sandwip Ship Ghat