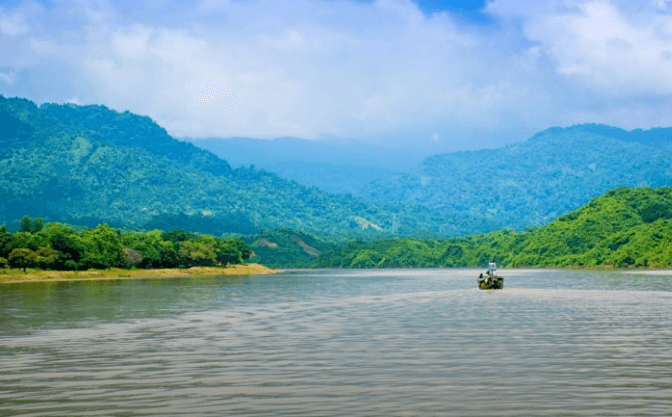 Lovachora is a lake view place with hills in Sylhet. Today we talk about Lovachora Travel Matter and all traveling information. At the foot of the Khasia-Jainta hills in the northeastern border area of ​​Bangladesh in the Kanaighat Upazila of Sylhet, there are several sandy clear water rivers. One of them is the Lobachhara river. Here you will see green hills and the extraordinarily clear water of Lobha river and you will want to go there again and again.
In addition, the village of Khasia here with many old hanging bridges of the Lobachhara tea garden. Lobachhara is located in Kanaighat Upazila on the northeastern border of the country, surrounded by tea gardens and other places of interest. Lovachora is a place full of natural beauty surrounded by small and big hills, hills, rivers, and canals. Meghalaya, a hill state in India, is not far from Lobachhara. If you climb any high hill here, you can see the Khasia Jaintia hills of Meghalaya very closely.
Lovachora Traveling Guide At Sylhet
In the early morning, deer, rabbits, and forest roosters can be seen in the Lobachhara garden. Lobachhara tea-garden is also a sanctuary for wildlife. The garden authorities have a huge pet elephant, which always moves freely in the garden. Although there is no good accommodation for tourists in Lobachhara, there are 4 bungalows for garden owners. The exterior views of the bungalows are also quite aesthetic.
Every day thousands of workers lift stones from the river Lova flowing by the side of the Lobachhara garden. The rocks and sand of this river spread to different parts of the country. Among the sights here are the tea gardens, natural lakes and fountains, the hanging bridge, the shrine of Miraping Shah, the antiquities of the Mughal kings and queens, the ancient lakes, the stone quarries, and the social forestry of the forest department.
One of the most interesting installations in Lobachhara is the suspension bridge. On the way to Lobachhara, you can find this suspension bridge built during the British period, locally known as 'Latkni's Pool'. It is known that in 1925, the English built the bridge to travel to Lobachhara.
Attractions Of Lovachora Lake & Hills
It is really wonderful to stand on this attractive bridge and enjoy the beauty of Lobachhara. On the south side of Lobachhara, on a hillock on the east side of Mulagul Bazar on the banks of the river Surma, is the shrine of Hazrat Miraping Shah (RA), one of the 360 ​​auliyas who accompanied Hazrat Shahjalal (RA). Many devotees come here every day to visit the shrine. The whiteness of the devotees' love spread to the area adjacent to the shrine.
There are many antiquities of the kings and queens of the Mughal Empire on the Lobachhara border. At the foot of a hill called Chokhatila, there are two ancient stones next to a fountain. The kings and queens used to sit on these two stones and play. The kings and queens used to sit on the rocks and observe the beauty of Lobachhara. There is a huge lake next to the tea garden.
At one time many miraculous items such as dishes, silver coins, etc. were floating in the lake, so various delicious stories are being spread among the people. On the eastern bank of the Surma river, there is a huge stone quarry called the Lova stone quarry. Thousands of workers lift stones from here every day. The stones extracted from here are supplied all over the country.
There are many interesting views to be enjoyed on the way to the quarry here. After boarding the boat, the hills, gardens, and the green forest takes away the sight and mind of the boat rider. It can be seen from the bottom of the river to the bottom of the river.
When You Should Go To Lobachhara
You can go around in any season without greed. However, the entire green Lobachhara tea garden takes on a unique look in the rainy season. Jumping on the green chest of Lobachhara on a rainy day or playing with the sun in the foggy hills and gardens from side to side in winter will win the heart of any tourist.
How To Go Lobachhara By Bus From Sylhet
Buses from Dhaka to Sylhet leave from Gabtali and Sayedabad bus terminals. Buses leave from Fakirapul, Saidabad, and Mohakhali bus stations in Dhaka from morning till 12.45 pm. AC buses of Green Line Paribahan, Saudia S Alam Paribahan, Shyamli Paribahan and ENA Paribahan run on this route. The rent is 800 to 1,100 Tk. Besides, non-AC buses of Shyamoli Paribahan, Hanif Enterprise, Unique Service, ENA Paribahan go to Sylhet. Rent from Tk 400 to Tk 450 The buses of ENA Paribahan leave Mohakhali and go to Sylhet via Tongi Ghorashal.
Train from Dhaka to Sylhet:
The intercity train Parabat Express leaves Dhaka's Kamalapur railway station at 6.40 am every day of the week except Tuesdays. The Jayantika Express leaves at 2 pm every day of the week and the Upban Express leaves at 9.50 pm every day of the week except Wednesdays.
The Kalni Express leaves at 4 pm every day except Friday. Rent from 150 to 1 thousand 18 Tks. If you go by train, it is best to take the Upban Express at 9.50 pm because it will be early in the morning and if you sleep on the train at night, you can get off the train in the morning and start your journey and it will take 7-8 hours.
Train from Chittagong to Sylhet:
The Paharika Express leaves Chittagong at 8.15 am every day except Monday and the Udayan Express at 9.45 pm every day except Saturday. Fare from 145 to 1 thousand 191 Tks. Train ticket price: AC berth 698 Tks, AC seat 460 Tks, first-class berth 425 Tks, first-class seat 270 Tks. Snigdha 460 Tks, elegant chair 180 Tks, elegant 150 Tk, cheap 95 Tks.
Sylhet by Air / Plane:
Biman Bangladesh, United Air, Regent Air, Novo Air, and US Bangla Air fly daily from Sylhet Shahjalal International Airport in Sylhet to Osmani Airport in Sylhet. Biman Bangladesh Airlines Domestic Route Dhaka-Sylhet
Ticket Price:
Super Saver: 3200 Taka
Economy Saver: 3700 Taka
Economy Flexible: 4200 Taka
Business Saver: 5900 Taka
Business Flexible: 6900 Taka
Lovachora To Sylhet:
There are three roads from Sylhet to Lobachhara to reach Kanaighat Sadar. You can go directly to Kanaighat Sadar by bus or CNG-Autorickshaw. On the other hand, Kanaighat can be reached through Zakiganj road via Golapganj-Charkhai-Shahbag. Besides, there is an opportunity to reach Kanaighat Sadar via Sylhet-Gachbari road through Gazi Burhan Uddin road.
The maximum bus fare from Sylhet city to Kanaighat Sadar is Tk 60 and the CNG-autorickshaw fare is Tk 100 maximum. Reserve CNG will be Tk 500 to Tk 700 There are three ways to reach Kanaighat by CNG. The distance from Kanaighat Upazila Sadar to Lobachhara is only 9 km.
Lobachhara can be reached by road and river from Upazila Sadar. More than half of the road in Lobachhara is rough and it is very difficult to reach there. So it is easy to go to Lobachhara by the river. And it will take about 3 to 4 hours to go around Lobachhara.
Where To Stay At Night
You don't have to worry about staying because you don't have time to come and go. There are many hotels to stay in Sylhet, you can find any type of hotel according to your needs and affordability. Some of the well-known hotels are
Hotel Hill Town
Gulshan
Dargah Gate
Surma
Kaikobad, etc.
There are many quality rest houses at low rent in Lala Bazar area Hotel Anurag – A single room 400 Tks (two people can stay comfortably), three-bedroom 500 Tks (normally 4 people can stay). There are various quality residential hotels on Dargah Road for overnight stays. Room rent from Tk500 / – to Tk5000 / -.
Hotel Rose View (0821-721439) in the Shahjalal suburb of the city.
Hotel Star Pacific at Dargah Gate (0821-727945).
Hotel Hilltown on VIP Road (0821-716077).
Ho821-721143) in Bandarbazar.
Hotel Fortune Garden (0821-715590) in Nairobi.
Hotel Dallas on Jail Road (0821-720945).
Hotel Garden Inn on Link Road (0821-814507).
Hotel Palash in Amber Khana (0821-718309).
Hotel Dargahgate in the Dargah area (0821-717066).
Hotel Urmi (0821-714563).
Hotel Moon Light in Zindabazar (0821-714850).
Gulshan Center at Taltala (0821-710018) etc.
There are several resorts towards Tamabil / Jaintapur. If your accommodation is somewhere this way, then you have to come to Goainghat from Hadarpar as before. You have to go from Goain Ghat to Sari Ghat. You can go by CNG / Laguna. The rent is 60 Tks per person.
Read More Traveling Place:
Frequently Asked Question:
Jaflong Tamabil
Sreemangal to Volagonj distance
A place I visit
Lalakhal boat fare
Favorite place to visit Jaflong
Volagonj to Ratargul
Bholagonj
লোভাছড়া, কানাইঘাট, সিলেট