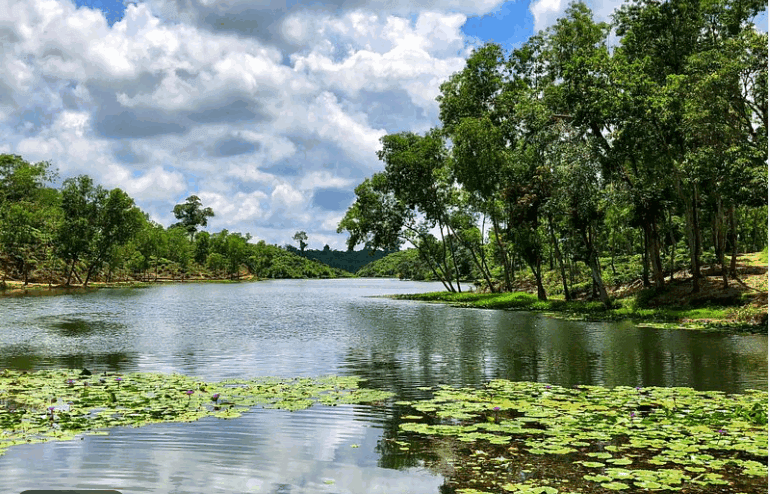 Madhabpur Lake, situated in the middle of high hills, is truly magnificent. It is located 40 km south of Moulvibazar town and 10 km east of Srimangal. The sparkling water of the lake, the shady environment, the presence of water lilies make it even more captivating. The slower you move forward, the better. The smell of green leaves will invigorate anyone's mind as soon as you reach Madhabpur Lake. Green hills all around. As well as high elevated hills. Rows of trees in the flat tea garden. Madhabpur Lake is like a magical natural scene painted by nature itself. The blue sky and the dark green hills, like a picture painted by an artist, will take you to a different world.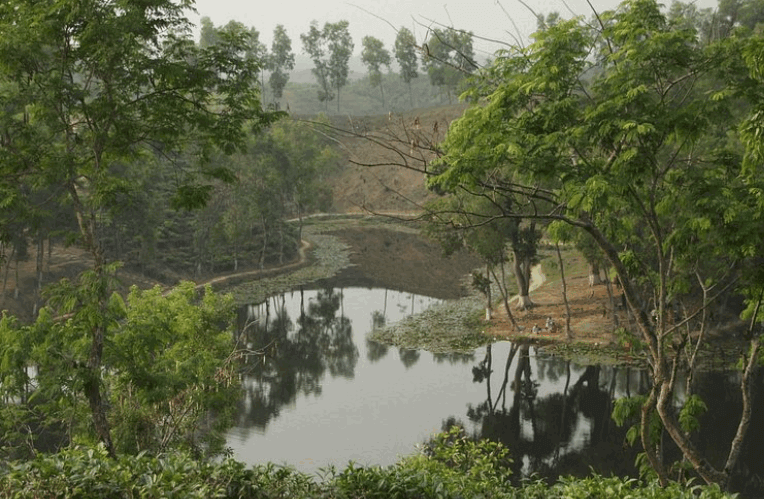 Madhabpur Lake is located in Patrakhla Tea Garden in Madhabpur Union of Kamalganj Upazila. You have to go to this lake through the road of tea garden filled with ditches. The sparkling waters of Madhabpur Lake, the shady surroundings, the presence of water lilies create a captivating feeling. His walk through the hills with ten turns. In winter the flock of guest birds comes to this lake. There are blue water lilies in the water of the lake. Tea trees scattered on both sides of the lake.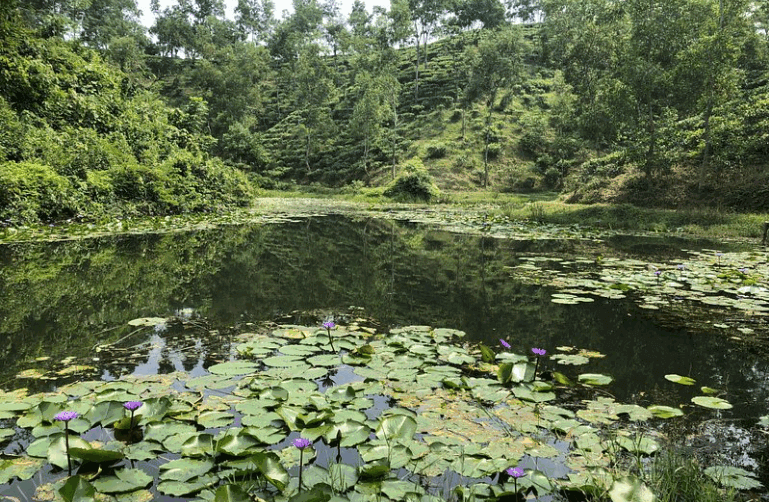 The tea-garden authorities have made a narrow path for walking along the shores of the lake below the tea-garden tiller. There is a tent made of straw on the hill. Madhabpur Lake has a wild solitude of water, hills, tea gardens together. But you have to get out of that place before six in the evening. That is the instruction of Madhabpur Tea Garden Authority. The distance of the memorial of Hamidur Rahman, the greatest sepoy, is about five-six kilometers from Madhabpur lake.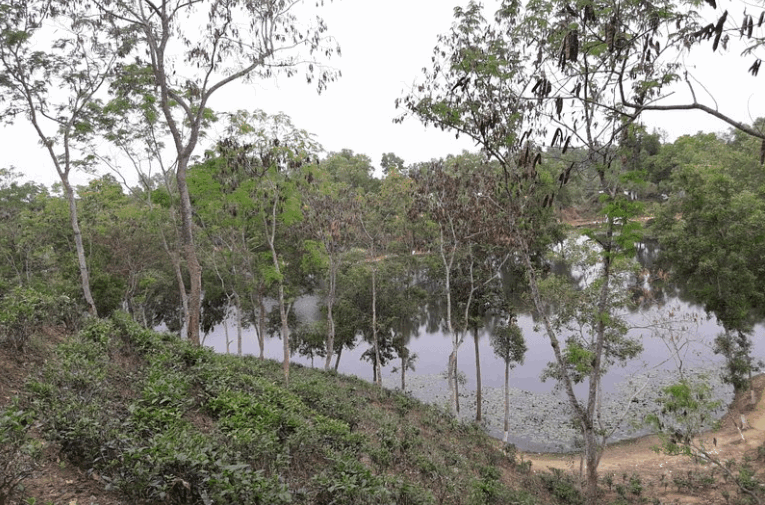 How To Go To Lake
You have to come to Srimangal or Kamalganj by train or bus first. Srimangal can be reached by rail and road from Dhaka. The intercity train Parabat Express leaves from Kamalapur in Dhaka at 6.40 am every day of the week except Tuesday. Jayantika Express leaves daily at 2 pm. The Upban Express leaves at 10 pm every day of the week except Wednesdays. Rent from 115 to 765 Tk. Besides, Paharika Express leaves Chittagong every morning except Monday at 8:15 am. Udayan Express leaves at 9 pm every day except Saturday. Rent from 140 Taka to 943 Taka.
From Dhaka's Sayedabad, Kamalapur, Arambagh to Hanif, Shyamoli, Mamun, Unique, etc., or from Kamalapur railway station to Sylhet by train to Srimangal. Shyamoli Paribahan-02-7540993,027550071. Sohag Paribahan-02-9344477, 01711-612433. Saudia-01919-654858,01919-654861.
You can go by CNG from Srimangal. The total number of coming and going hours is not less than 600.
It would be better to go down to Srimangal and take it to the hotel. If you come by car at night, you will have breakfast from Srimangal and leave by 9 o'clock. And if you go by car during the day, you will leave the hotel in the morning at night and have breakfast at Kurma Bazaar on the way. You will find a lot of CNG in the vicinity of Srimangal Hotel, you have to go from Srimangal to Kalaban Para, they have to go to Hamham. Up and down will take about 1500 Tk. After reaching Kalaban Para, the tea worker goes there as a guide, Gaud will take 200/300 Tk. You have to walk for about two and a half hours in the deep and hilly forest, about 7 and a half kilos in the forest. You have to climb high mountains, so be careful. You must take a stick from there, take 5 Tk. Take salt or roses for jokes. You have to walk for about 5 hours to come and go.
Contact:
Tuku Bhai – 01710383561. If you go by jeep, the fare is higher. Contact: Afzal – 0174108969 If you want to go by bus, take a rickshaw to Bhanugachha Road bus stand, from there the bus fare is 10 Tk.
Where to stay
There is 1 forest rest house to stay in Lauachhara, with the permission of the forest you can stay in Lauachhara rest house. Besides, the best quality place to stay in Srimangal is T-Resort on Bhanugachha Road (Phone: 01712-916001). Other accommodations include:
Hotel Grand Sultan (five stars) – 01552-683454,
Rain Forest Resort (01938-305706),
T Town Rest House, Hotel Plaza (8626525, 01711-332605),
B.T.R.I. 08626-71225, etc.
The rent of these hotels and resorts is from Tk 500 to Tk 5,500.
The rent of these hotels and resorts is from Tk 500 to Tk 5,500.
Apart from this, Nisarg Nirab Eco Resort (01715041207) and Nisarg Lichibari Eco Resort (01716939540) are two excellent resorts in Radhanagar, Srimangal.
There are also some cheap hotels where you can stay, the cost will be 500/800 Taka. If you camp for food and drink, you have to take rice and pulses with you, there is no good market around.
Read More: Sipahi Hamidur Rahman