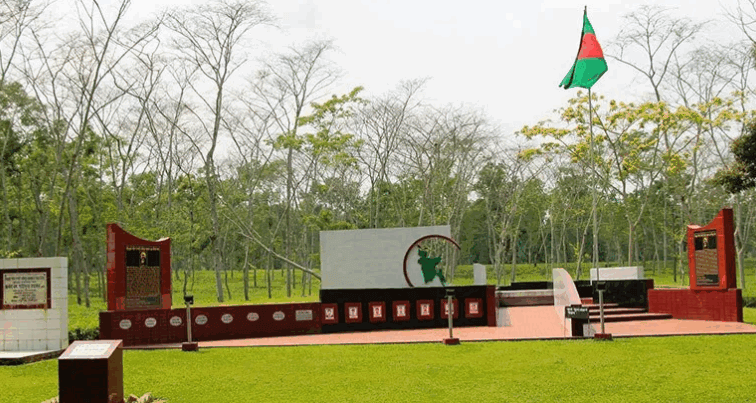 Hamidur Rahman, the greatest sepoy, was born on 2 February 1953 in the village of Khorda Khalishpur in Maheshpur Upazila of Jhenaidah district. His father Mr. Akkas Ali is a poor farmer and his mother is a housewife Kayasunnesa. Hamidur Rahman, a valiant sepoy, served in the Ansar for a short time in 1971 and joined the traditional 1st East Bengal Regiment on 2 February 1971 as a soldier in the then army. This brave soldier actively participated in the war of independence of the motherland and achieved great success against the Pak aggressors in various operations. In late October 1971, he and his comrades-in-arms launched an armed attack on the Dhalai border post in the tea garden area of ​​Kamalganj Upazila in Moulvibazar district to defeat the invading Pakistani army. In the battle in front of the enemy army outpost at the Dhalai border, Amit reached within 50 yards of the outpost with great courage and fought valiantly and liberated the border outpost and adjoining area and was martyred by the bullets of the enemy army. In recognition of the contribution of this heroic fighter in independent Bangladesh, he was awarded the title of Bir Shrestha. Hamidur Rahman, the greatest sepoy, was buried in the village of Ambasa in the Kamalpur district of the neighboring Indian state of Tripura. His body has recently been brought back to the country and buried with due state dignity at the Martyred Intellectuals Cemetery in Dhaka.
Many of us have Madhabpur Lake on our list when we visit Srimangal. From Madhabpur Lake, take the same road and go 10/12 km further south through Dhalai Tea Estate to Dhalai Border. The Birshreshtha Sepoy Hamidur Rahman Memorial has been set up at the BGB camp on the Dhalai border.
This beautiful memorial can be seen on the right-hand side of the entrance to the BGB camp. On the opposite side is a museum, which displays his biography and various photographs. The place of his martyrdom is marked with due dignity along with the 'No Man's Land' on the very edge of the pond next to the camp.
Way To Go At Memorial
CNG can be added from Srimangal town. If you have less time, you can make the Lauyachhara forest, Madhabpur lake, and Dhalai border a one day route. Seeing the Lauyachhara forest, visiting Madhabpur Lake through Bhanugachha Bazaar, the Dhalai border is on that road. However, the 2/3 km road through Dhalai tea garden is a bit bad but the beauty of the tea gardens on both sides of the road will not make you feel this bad. If you stand in front of the monument of Bir Shrestha in the beautiful surroundings, your chest will be filled with pride.
Visit Also: shangkor Pasha Shahi Masjid