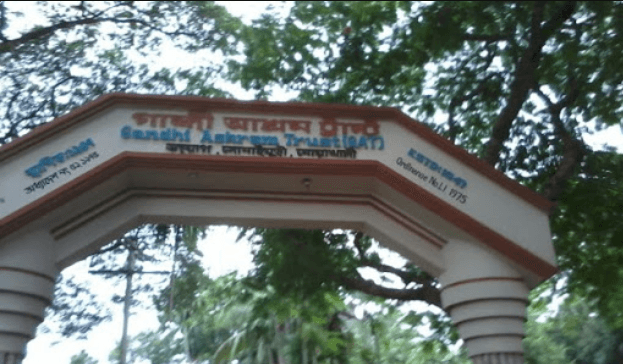 After the riots in 1946, Mahatma Gandhi visited Begumganj Upazila of Noakhali district. He visited a place called Jayag in the present Sonaimuri municipality. And established an ashram named Gandhiji. The trust was initially registered as the Ambika Kaliganga Charitable Trust, but in 1975 it was renamed the Gandhi Ashram Trust. The Gandhi Ashram also has a museum named after Gandhiji which preserves more than one hundred pictures of Gandhiji's visit to Noakhali at that time and used items and published writings. At present, the ashram is working as a trust for rural development.
Gandhi Ashram is a spectacular historical monument in Noakhali. It is located about 25 km north of Noakhali District Sadar Maijdi Court on the side of the road adjacent to Jayag Bazar in Sonamuri Upazila. The Gandhi Ashram was established in the house of the late Barrister Hemant Kumar Ghosh, the then zamindar.
Ashram of Mahatma Gandhi
At present Gandhi Ashram has gained a nationwide reputation as a service organization in Noakhali. As far as the brief history of this exceptional organization is concerned, the poison of communalism spread all over India in late 1946. Then the effects of the communal riots in West Bengal came to Noakhali. Especially in Ramganj police station of Laxmipur district, communal violence broke out. Many arranged families are burnt in the torch fire, the green soil turns red in the blood flood of communal riots.
Mahatma Gandhi, the forerunner of the non-cooperation and non-violence movement, rushed to Noakhali as a pioneer of the peace mission. Mahatma Gandhi first stepped on the ground of Noakhali at the Chaumuhani railway station on 7 November 1946. The then MLA The first public meeting of Noakhali was held at Chaumuhani on the initiative of Shri Haran Ghosh Chowdhury. Mahatma Gandhi was the first to address that public meeting. Then he held a public meeting in Dattapara village. His ordeal continued continuously. Thus, on January 29, 1947, he reached the village of Jayag. On the same day, Hemant Kumar Ghosh, the first son of Barrister Jayag of the Inakhali district, dedicated the movable and immovable property of his zamindari in the name of Mahatma Gandhi for the purpose of of public welfare. The management of the ashram was entrusted to Gandhiji's beloved, public servant novice, Chirkumar Shriyukta Charu Chowdhury Mahasaya. From then on, the development of the fortunes of the locals started through the utilization of the said property. At present Mrs. Jharna Dhara Chowdhury is working as the Secretary of Gandhi Ashram Trust.
Read More: Nijhum Dip