Mainamati Museum is next to Shalban Bihar. Many valuable antiquities were found during the excavations of Srivadava's Mahavihara, Kotila Mura, Charpatra Mura, Rupbanmura, Itakhola Mura, Ananda Bihar, Rani's Bangla, and Bhoj Raja's Bari Bihar. To preserve and display these antiquities, a west-facing museum was set up in 1965 in front of Shalban Bihar on the south side of Shalban Bihar in Comilla Kotbari. To the left of the entrance to the museum is a huge bronze statue of Buddha.
Then there is the statue of Buddha standing on the sandstone. It was built in the 7th century. There are two copper reigns of the 12th-13th centuries. Other notable items include a huge bronze bell, (weight 370 kg) black stone Shiva's vehicle, and a Burmese manuscript of palm leaves. The museum's main building did not have enough space to display important artifacts, so the south side was extended in 1970-71, giving the building an English 'T' shape.
Mainamati Museum At Comilla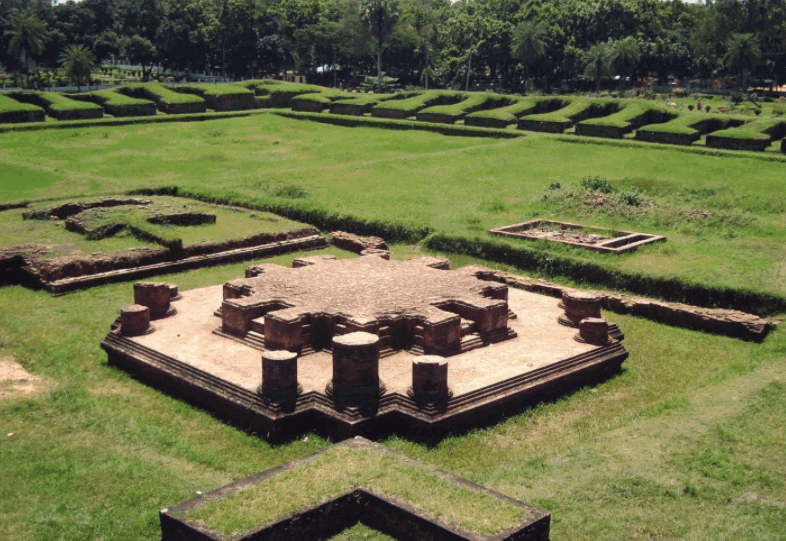 The entire museum building has a total of 42 reservoirs. So that antiques are being displayed. Exhibition No. 1 starts from the left side of the entrance of the museum and ends in base 42 on the right side of the entrance. Archaeological excavations at the exhibits include archeological excavations, metal inscriptions, antique coins, earthenware, burnt clay tablets, bronze statues, stone sculptures, iron nails, stone beads, and carvings. . In addition, some stone and bronze statues have been placed on the floor of the museum in different places. Some of these statues are collected from different parts of the ancient Samatata.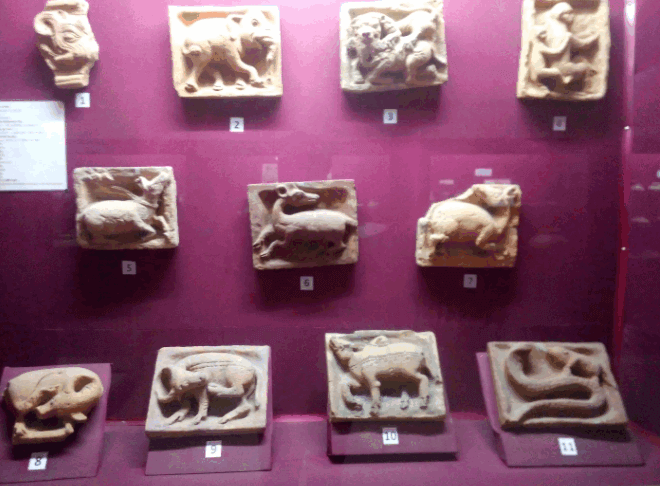 Notable stone and bronze statues on display in the museum are various types of stone standing Lokottara Buddha statues, Tri Vikram Vishnu statues, Tara statues, Marichi statues, Manjur statues, Parvati statues, Hargaurimurti statues, Nandi statues, Mahishmardini statues, Manur statues, And a bronze lightning statue. There are also more large and small bronze statues.
The museum has a giant bronze clock. Which weighs 500 kg. The gold and silver coins found in Mainamati are preserved at the base of this museum. Terracotta slabs. Materials made of bronze and copper. Materials made of iron. Different types of toys are made of clay. Patterns of the woodwork. Manuscript of an ancient manuscript written on tulle paper. Pottery of different specimens etc.
Ticket Price Of Mainamati Museum
There is a ticket counter next to the gate of the museum, tickets cost twenty Taka per person, but no child under the age of five needs a ticket. However, the entrance fee for secondary level children and adolescents has been fixed at 5 Tk. The ticket price for SAARC foreign visitors is one hundred Tk and for other foreign visitors, it is two hundred Tk.
Closing-Opening Schedule Of Museum
In summer, Mainamati Museum is open from 10 am to 6 pm. In the middle, it is closed for half an hour from 1 pm to 1.30 pm. In winter, the Mainamati Museum is open from 9 am to 5 pm. Even in winter, it is closed from 1 pm to 1.30 pm. And forever, the Mainamati Museum is closed for Friday prayers from 12:30 pm to 3:00 pm. Sunday is a public holiday and Mondays are open from 2.00 pm. The Mainamati Museum is also closed on any official day.
How to Go There Mainamati
The road distance from Dhaka to Comilla is only 2 hours and 30 minutes. Tisha and Asia line ahead in terms of bus service. You can ride anyone on the way to Comilla. Prince Saudia bus would be good for those who want to come from Chittagong. However, the interesting thing is that the train from Chittagong to Comilla takes less time than the bus, only 3 hours and 30 minutes.
The bus takes 4 hours and 30 minutes. Come to Comilla and leave at Tomcham Bridge bus stand. You will find a CNG stand there. If you go locally it will cost 10 Tk and if you want to go reserve a maximum of 60 Tk. You will be dropped off at Kotbari with CNG. From there you have to take an autorickshaw to Shalban Bihar. The rent will be 5 Tk. The Mainamati Museum is next to the Shalban Buddhist Monastery. Don't forget to visit Mainamati War Cemetery on the way.
Where to Stay At Night
There are several hotels and guest houses including Comilla Club, Comilla City Club. There are all types of AC or non-AC systems. The cost of living in a room for two will be 1 thousand to 3 thousand Tk per night. Besides, there are Hotel Chandrima, Hotel Sonali, Hotel, Shalban, Hotel, Nidrabagh, Ashiq Rest House, etc. to stay. The rent is between 200 to 600 Tk.
Read More:
People Search More About:
history of mainamati
mainamati excavation
mainamati history in bangla
mainamati architecture
mainamati paragraph
comilla mainamati location