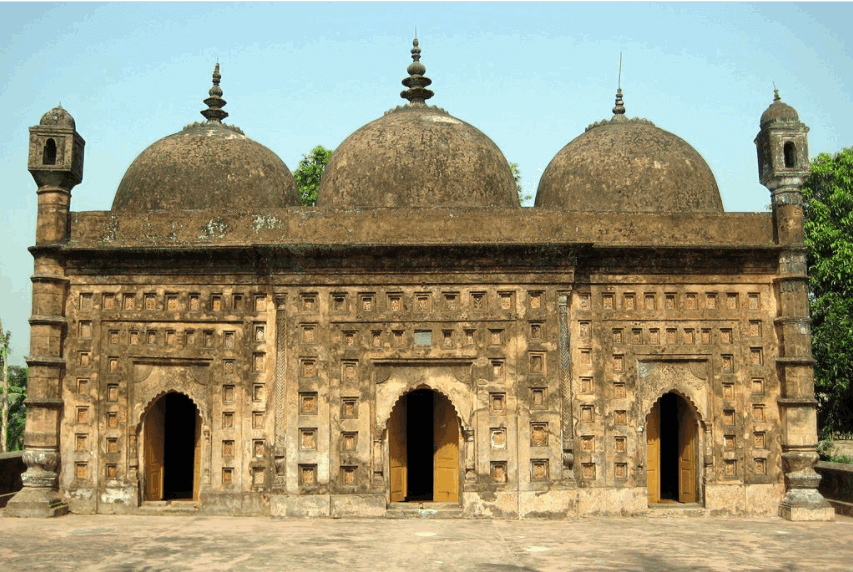 Nayabad Mosque is located at Nayabad village in Kaharol Upazila, about 20 km from Dinajpur city in Bangladesh. This mosque has been built on 1.15 bighas of land. The plaque on the main entrance of the mosque is said to have been erected during the reign of Emperor Shah Alam II in 2 Jaistha, 1200 BS (in 1793). Raja Vaidyanatha was the zamindar at that time. Who was the last descendant of the Dinajpur royal family? It is known from the locals that the mosque was built by Muslim architects and workers who came to build the Kantnagar temple in the middle of the 18th century. They came from a western country and settled in Nayabad and built this mosque for their own use. The three-domed mosque has four octagonal minarets measuring 12.45 m x 5.5 m at the four corners.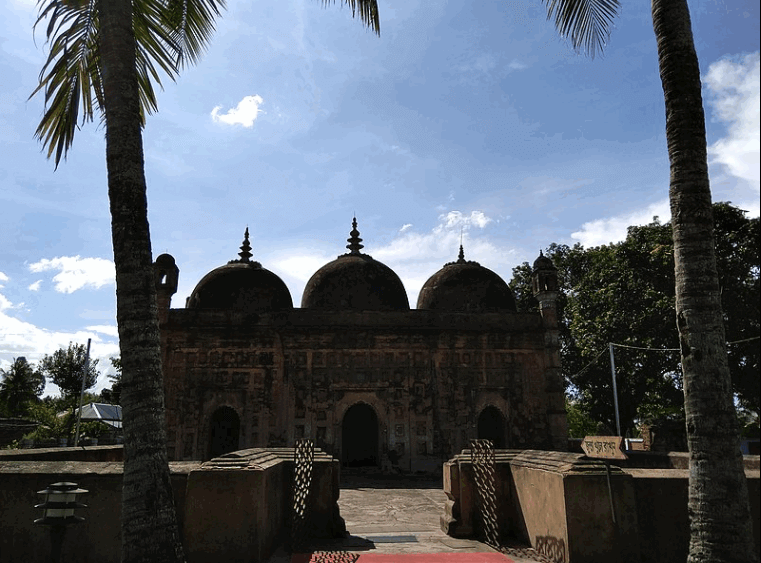 The thickness of the walls is 1.10 m. There is a window on the north and south walls. The west side wall has a total of three mimbars which have been built along with the three entrance doors of the mosque. The middle pulpit is large in size (230 m in height and 1.08 m in width) and the other two pulpits are the same size. Most of the terracotta or terracotta carvings that were used during the construction of the mosque are no more and the ones that are there are not completely intact. There are currently a total of 104 terracotta remains. They are rectangular and 0.40 m x 0.30 m in size. There is a tomb next to the mosque. However, no information about it is given in any part of the grave or mosque. However, it is said that this is the grave of a construction worker of the mosque.
How to go To Mosque
There are two ways to go from Dhaka by bus and train. Buses from Dhaka to Dinajpur usually depart from Gabtali and Kalyanpur. Nabil Paribahan's AC bus runs on this route. Rent 900 Tk. Besides, Hanif Enterprise – 8013714, 8015368, SR Travels – 8013793, 8019312, Keya Paribahan – 9000812, SA Paribahan – 9332052, Shyamli Paribahan – 900331, Nabil Paribahan. Rent 500-550 Tk. From Dhaka to Asadgate, College gate, Shyamoli, Kalyanpur, Technical Junction or Gabtali to Nabil, or Bablu Enterprise by chair coach directly to Dinajpur. The cars leave for about 30 minutes or 1 hour in a row throughout the day. Apart from that, some transport also goes to Dinajpur from Uttara.
The intercity train express leaves Dhaka's Kamalapur railway station at 7.40 pm. The intercity Ekta Express leaves at 9:50 am. Ekta and Drutayan Express from Dhaka are closed on Tuesdays and Wednesdays respectively. The rent of elegant seats is 185 Taka, elegant chairs are 250 Taka, first-class chairs are 350 Taka, first-class berths are 535 Taka, AC chairs are 618 Taka, AC berths are 897 Taka. The palace can be reached by autorickshaw from Dinajpur city.
You can reach Nayabad Mosque by autorickshaw from Dinajpur city.
Where to stay
Tourist Motel (0531-64718) is a good quality hotel to stay in Dinajpur city. Apart from this, you can also book this motel from the head office of tourism in Dhaka. Phone: 9899288-91.
Dinajpur tourist motel AC twin bed 1500 Tk and AC twin bed deluxe room 1800 rupees. Apart from this, other standard hotels in Dinajpur have accommodation for 100-1200 Tk. Some of the standard hotels are:
Hotel Diamond (0531-64629) in Maldaha Patti,
Hotel Al Rashid (0531-64251) on the ground floor,
Hotel Naveen (0531-64178),
Hotel Rehana (0531-64414),
New Hotel (0531-68122).
You can also stay in a bungalow inside Ramsagar if you want. If you want to stay here, you have to get permission from the local forest department. The one-story building has three common and one air-conditioned room. The rent for each common room is Tk 500 per night and the rent for an air-conditioned room is Tk 1000. They have to arrange their own food. It will be a great opportunity to spend a wonderful night on the banks of Ramsagar Dighi at night.
Read More: Dinajpur Rajbari