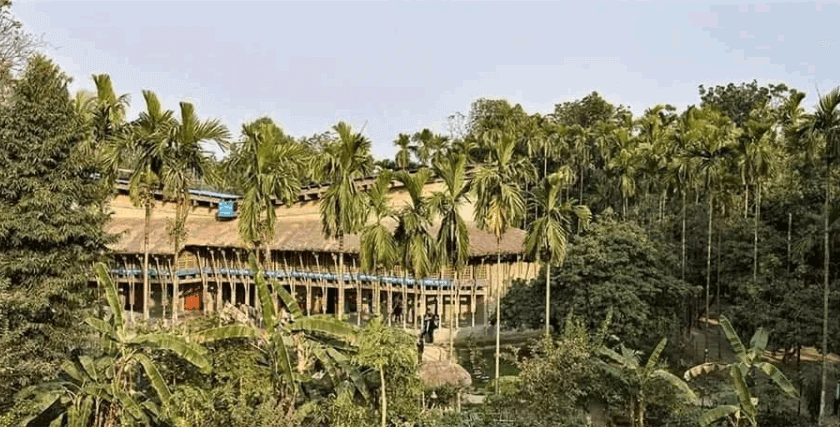 Dipshikha Meti School is located in Rudrapur village of Mongalpur union in Biral Upazila of Dinajpur. On September 1, 1999, a voluntary organization called 'Deepshikha' formed 'Meti School' to enlighten the children and adolescents of the backward Rudrapur village in the light of education. However, the construction of this facility started in September 2005. The main purpose of the school is to teach through joy, to create a lasting and positive attitude towards education, to develop rational thinking, and to learn in groups. Here students are taught dance-song-acting-painting, group discussion, and conversation-based English as well as various types of handicrafts. At present this school offers education from children's class to tenth class. Meti is basically the name of an organization. The full name is Modern Education and Training Institute (METI).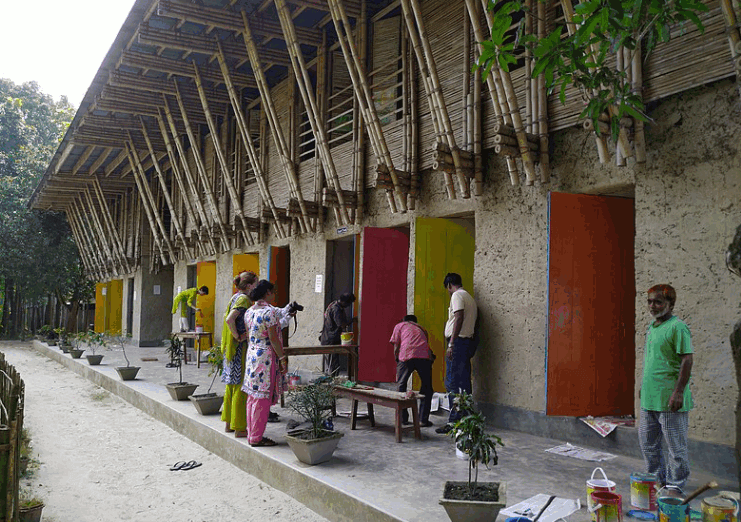 Deepshikha Meti School is famous for its diverse architectural style. Soil, straw, sand and bamboo, rope, straw, wood, etc. were mainly used in its construction. Its walls are made of mud mixed with soil and straw. There is no use of bricks anywhere other than the foundation. Moisture insulation has been provided on the foundation of the walls. Soil and sand have been used in the plaster of the walls. Palmwell and soap paste has been used in the floor plaster, which is generally waterproof. The first floor at a height of 9 feet has been covered with bamboo and covered with bamboo mats. Tin has been given for rainwater above. Meti School is a two-storey building made of mud with six rooms. Its area is 6 thousand square feet. The construction of the building has cost 17 lakh Tk.
The feature of this two-storey school is that the students in the room do not feel hot and cold intensely. The arrival of light and air is good for health and the rooms are also environmentally friendly. The school is made up of 10 German and Austrian students and 19 specially trained local workers. In 2006, Deepshikha Meti School was awarded the Aga Khan Architecture Award. Deepshikha was given 13 thousand 700 US dollars as a prize. Architect Anna Hearringer was paid 16,500 and architect IK Roseberg 8200 us dollars.
The way to Deepshikha School
By bus and train from Dhaka. Buses from Dhaka to Dinajpur usually leave from Gabtali and Kalyanpur. Buses of Hanif Enterprise, SR Travels, Keya Paribahan, SA Paribahan, Shyamoli Paribahan, and Nabil Paribahan run on this route. From Dhaka to Asadgate, College gate, Shyamoli, Kalyanpur, Technical Junction, or from Gabtali by Nabil or Bablu Enterprise chair coach directly to Dinajpur. The cars leave every 30 minutes or 1 hour. Apart from that, some transport goes to Dinajpur from Uttara. The intercity train express leaves Dhaka's Kamalapur railway station at 7.40 pm. The intercity Ekta Express leaves at 9:50 am. Ekta and Drutayan Express from Dhaka are closed on Tuesdays and Wednesdays respectively. Rent of elegant seats is 185 Tk, elegant chairs are 250 Tk, first-class chairs are 350 Tk, first-class berths are 535 Tk, AC chairs are 618 Tk, AC berths are 897 Tk.
After getting off at Dinajpur, you can take a Bochaganj Upazila bound bus from the technical junction of the city, get off at Mangalpur and go to Meti School by auto.
Where to stay
The best quality hotel to stay in in Dinajpur is the tourist motel (0531-64718). Apart from this, you can also book this motel from the head office of tourism in Dhaka. Phone: 9899288-91. Dinajpur Tourist Motel has AC Twin Bed at Tk1500 AC Twin Bed Delux Tk 1800 Apart from this, other standard hotels in Dinajpur have accommodation for 100-1200 Tk. Some of the standard hotels are Hotel Diamond (0531-64629) in Maldaha Patti, Hotel Al Rashid (0531-64251) on the ground floor, Hotel Naveen (0531-64178), Hotel Rehana (0531-64414), New Hotel (0531-68122).
Read More: Lichi Bagan