Dighi of Rajajhi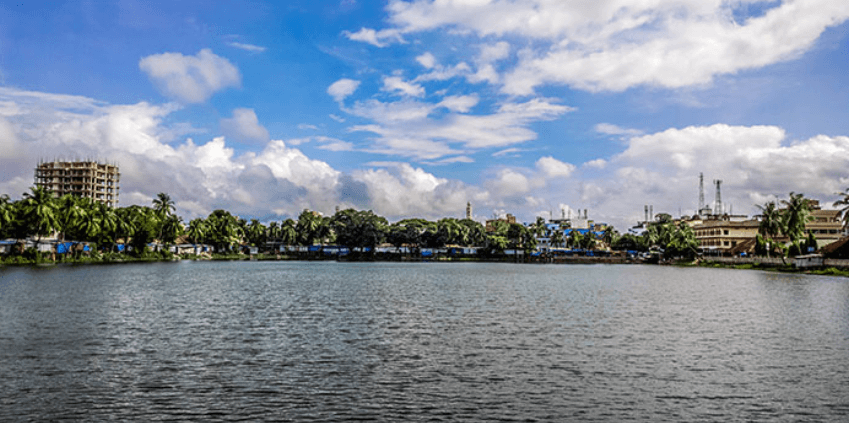 Dighi Jora Dighi is one of the aspects of the beauty of Anabil village-Bangla of our country. The vast lakes have added a different dimension of beauty to the form of ancient Bengal. Just as this Bengal has a treasure trove of impeccable natural beauty and ancient installations, so to they are surrounded by innumerable legends, folktales, and myths.
Similarly, there are various folk tales and fables surrounding the dighis of different districts. And the beauty of the lakes is also very eye-catching. Who doesn't like to be immersed in the cool waters of these beautiful lakes? And such a beautiful dighi is the traditional rajajhi dighi of Feni.
Rajajhi Dighi is located at the junction of Feni Road and Feni Trunk Road at Zero Point in Feni district. As much as this lake is surrounded by beauty, it is also associated with history and tradition. Another name for Rajajhi Dighi is Rajanandini Dighi.
History of Rajajhi Dighi
It is one of the traditional lakes of Feni. Folklore has it that an influential king of the Maharaja of Tripura dug this lake about five to seven hundred years ago with the intention of eradicating the blindness of his daughter. In the local language, Kanya is called Ji. That is why the lake is named Rajajhi Dighi.
The administrative offices built on the banks of this lake about one and a half years ago were shifted to another place after Feni became a district in 1984. However, some buildings are now abandoned.
When the Feni subdivision was established in 1855, its headquarters was built on the banks of this lake. Now Feni Sadar Thana, Feni Court Mosque, Officers Club, Feni Reports Club, National Park, and National Heart Foundation have been formed on the banks of the lake. This lake contains the centuries-old history and tradition of Feni.
The clear water of the lake and the surrounding pure beauty have been maintained for centuries. The city dwellers rushed to the bank of the lake to breathe in the fresh air out of the concrete rubbish. Anagona of people of all ages can be seen here.
There is a paved staircase on the east-south side of the tank for the visitors to sit on. Both sides of the lake (north and west) have been kept slightly open for traffic. Five steps have been built on three sides of the lake so that everyone can go down.
How to get there:
You can take a bus to Feni from anywhere in the country and get off at Mahipal bus stand. From there you can reach Rajajhi Dighi by rickshaw or CNG. You can also reach by train from the railway station by rickshaw.
Where to stay:
There are government rest houses and bungalows in Feni for accommodation. You have to contact me in advance to stay in these. There are also several hotels in Feni where you can stay.
1. Feni Circuit House: Located on the banks of Vijay Singh Dighi near Feni town.
2. LGED Rest House: Next to Feni Comilla Road in Feni town.
3. The rest house of the Water Development Board is on the way from Mahipal to Feni town on the side of Shaheed Shahidullah Kaiser Road.
4. Palli Bidyut Samiti's rest house is located about 1.5 km south of Mahipal junction on the side of Dhaka-Chittagong highway.
5. There are several hotels in Feni town. If you want to live in a better environment. You can stay at Vita World located in Chauddagram of Comilla district near Feni. Phone: 01733 331 957.
Read More: Shiluar Rocks