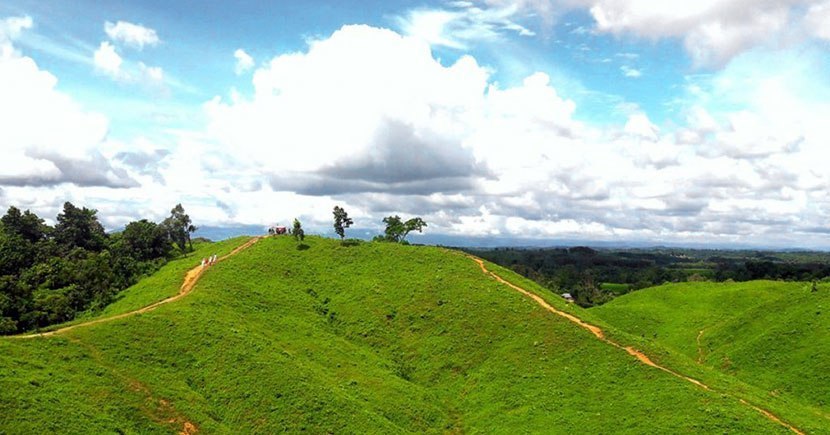 Bangladesh is the land of beauty. The beauty of this country attracts the tourist all the time. Here have lots of beautiful places which are very popular and most attractive. For the adventurous people, here have some big hills. Rajar pahar is one of them.
Rajar Pahar Of Sherpur
A Rumor has, it that in ancient times there was an independent kingdom. Whose king was extremely majestic. Later, the hill was named after him, the king's hill. Besides, mango, jackfruit, litchi, and banana orchards can be seen in different corners of Raja hill.
According to the locals, a long time ago, a man named Pagla Daroga went to the top of Raja's hill and started living there. His sons and daughters are still in the area. They planted various orchards in the corner of the hill. Later, the local tribals also started cultivating these fruits.
Next to the hill is the tribal town of Babelakona. Surrounded by numerous high hills, this unique village stands with the desolate beauty of nature. The culture of the Garo, Hajong, and Koch indigenous peoples in Babelakona has a diverse way of life.
This town seems to be a rare example of the ongoing life struggle of different indigenous communities. Babelakena Cultural Academy, Museum, Library, Research Department, and Auditorium are the centers of culture, preservation and practice of the indigenous people. A lot can be learned about the tribals from here.
How To Go Rajar Pahar
Road communication from Dhaka to Sherpur is very good. From Dhaka Mohakhali, you can come to Sherpur by bus of Sonar Bangla, Sadika, Sherpur Tennis Club, the fare is 300-500 tk. Buses from Sherpur city, CNG will have to come to Sreevardi, fare 25-45 tk. CNG to Karnajhora / Balijhuri Bazar from Sreevardi, fare 40-50 Tk.
At a distance of 3/4 km between these two markets, Karnjhora and Balijhuri, in Rajar Pahar, reserve auto will take 200-500 tk.
Two buses goes daily from Karnajhora Bazar and Balijhuri Bazar to Dhaka in the morning and evening. There is also a direct bus service to Dhaka from Sreevardi Upazila almost all day long. The 1 km road from the border road to Rajar Pahar is raw and friendly, which is a bit of a problem during the rainy season.
Related Topic Like Rajar Pahar:
Frequently Asked Question With Related Search:
Karnajhora Raja pahar (hazrat nagar)
রাজার পাহাড়, শেরপুর – ভ্রমণ গাইড
ঘুরতে গেলে রাজার পাহাড়, শেরপুর