Sheikh Mahmud Shah Mosque is an ancient mosque located in Pakundia Upazila of Kishoreganj district in Bangladesh. According to sources, the mosque was built in 1806 in the style of Mughal architecture by the merchant Sheikh Mahmud. Although the original name of this mosque is Shah Mahmud Mosque, it has been referred to as "Shah Mohammad Mosque" in the catalogue of Muslim architecture published by UNESCO. The mosque is located in the village of Egarasindur on the Mathkhola-Mirzapur-Pakundia road, about 11 km from the Pakundia Upazila headquarters in Kishoreganj district, 1 km from Isa Khan's fort. Sheikh Saadi Jame Mosque is a short distance from Sheikh Mahmud Shah Mosque. The mosque is simply built. The mosque is named after Shah Mahmud's brother Sheikh Saadi. According to local sources, the Sheikh Saadi Mosque was built 20 years before the Shah Mahmud Mosque. Shah Mahmud and Sheikh Saadi were two brothers and both were businessmen.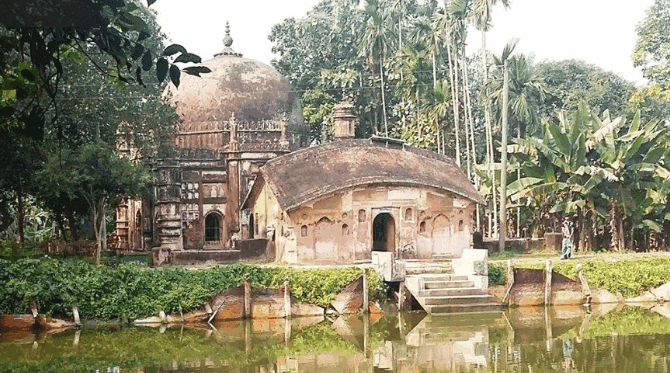 Built-in 160 on a high platform surrounded by two and a half feet of walls, the mosque has a masterful combination of Mughal art and local art. This one-domed square mosque is 32 feet in length on each side, with eight angular towers at the four corners. Inside and outside the mosque there is a terracotta plaque and on the east wall, there is a very attractive two-storied dochala building with 3 doors and a hut. Long ago there were four precious stone slabs in the four corners of the mosque which are now looted.
Way To Go
There are two bus services from Dhaka's Mohakhali bus terminal named Ananya and Ananya Classic. The first is local, the second is seating service. The fare from Dhaka to Kishoreganj's Pakundia Thanaghat junction is 150 TK per person. Ananya's rent is 100 TK. Every 15 to 20 minutes the car leaves. Sheikh Mahmud Shah Mosque will take you to any autorickshaw if you go down the ghat corner of Pakundia police station
Besides, those who want to go from Kishoreganj Sadar, they will go to Pakundia Bazar from Nagua CNG stand in Kishoreganj by adding CNG or auto car for 30 TK. Here you can change the CNG and go to the mosque with the addition of new CNG or autorickshaw. In this case, also the rent will be 30 TK.
Where Will Stay
There are residential hotels of different standards and prices in Kishoreganj city. Luxury hotels include Castle Salam and Ujan Bhati. The rent for a double bed in an upstairs AC room is TK. 1,200 per night. Non-AC fare is 600 TK. There are also various residential hotels including Gangchil, Riverview, Nirala, Al Mubarak. The minimum cost for a single bed in these hotels is Tk 250 and for a double bed, it is Tk 350.
Visit Also: Sonarong Jora Mosque