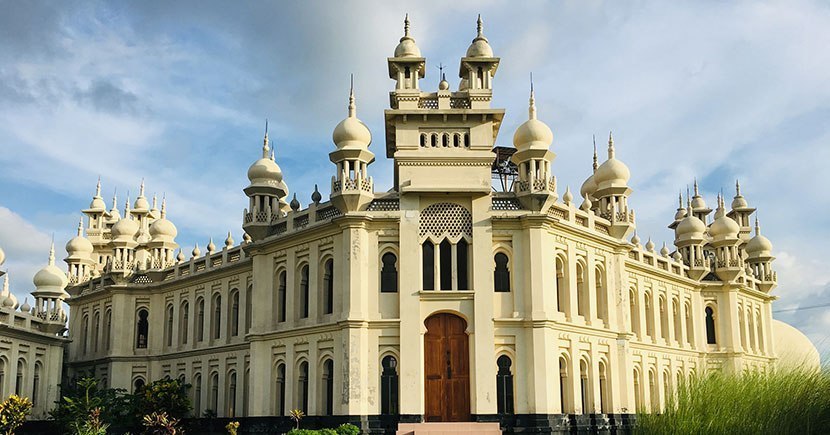 South Town Masjid is located in the South Town residential project in Keraniganj, near Dhaka. Due to its aesthetic structure and exquisite architectural style, this mosque has already captured the attention of the people. The mosques are mainly places of worship for devout people and some mosques are overlooked.
South Town Masjid In South keraniganj
The construction of mosques with their aesthetic structure and unique architectural style has been going on in the subcontinent since the beginning of the spread of Islam. One such architectural mosque is the South Town Mosque.
It took about two years to build the South Town Mosque In this mosque about 600 people can perform prayers together It has three main gates. There are two more doors on either side. Lots of two-tiered windows have been built around it to allow light to enter.
Anyone who sees the place from a distance will think it is like a palace in heaven or a newly built building of a king or a zamindar. Surrounded by a mixture of stunning beauty and dazzling designs, this mosque is enough to impress everyone.
How To Go South Town Jame Masjid
You have to come to Jatrabari first from anywhere in Dhaka. From Jatrabari you have to go to Postogola by bus or laguna. It cost 10 Tk. There is CNG for crossing the Postogola Bridge. The rent is 10 Tk. After crossing the Postogola Bridge on CNG, there is Laguna from there.
Go down to Keraniganj Central Jail Gate in Laguna. The rent will be 25 Tk. Then 4/5 minutes walk from there, South Town residential project will fall on the right-hand side. After entering the gate and walking for 4-5 minutes, you will find this beautiful mosque.
Visit More Places:
Also Read:
Frequently Asked Question About:
South Town Jame Masjid
সাউথ টাউন জামে মসজিদ (ভ্রমণ গাইড)