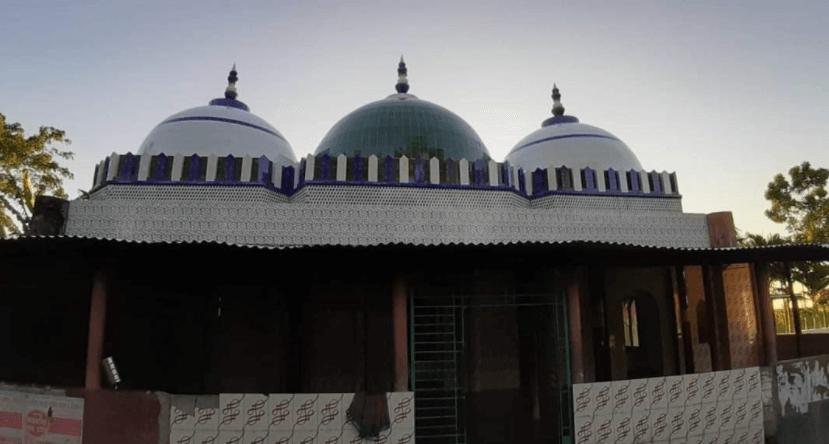 Chandpur is famous for its historical and archeological sites. Let's find out today about the sights of Chandpur with three domed mosques and ancient tombs. Three-domed mosque and ancient tomb, Vingulia, Haimchar, Chandpur. The Mallik house in the village of Vingulia has a three-domed mosque and some paved ancient tombs in the courtyard of the mosque.
This 3 domed dome mosque is five hundred years old. There is a huge unfinished tank here. Not far from the mosque are two ancient tombs. The mosque was built during the reign of Isa Khan by a ruler of Mallick in Jalalpur. There are trenches dug around the house. People say Mallick is home. Mallick Bari is the title of administrator during the reign of Isa Khan. There are rumors that there was a similar three-domed mosque in the village of Hingulia, which disappeared into the Meghna. There is an inscription in Vingulia Mosque.
'The mosque has been built for the rezamandi of Chakhta Mullu. The builder of the mosque will be given a hundred paradises. '- First of all, I swear by Allah, the Most Merciful. 2. Allah: One, Muhammad (peace be upon him) is His Messenger. This Mubarak Mosque has been set up for the satisfaction of the owner of the world. 4. Those who establish a mosque will get hundreds of paradises. See above, the date of history has reached the year 1100 AH.
Way to go to Chandpur
Chandpur can be reached from Dhaka by bus, train, and launch. But it would be best if it is launched. This will increase the fun of one-day travel. Among the launches operating on the Dhaka-Chandpur route are MV Sonartari, MV Taqwa, MV Bogdadia, MV Meghna Rani, MV Al Borak, MV Eagle, MV Raffarf, MV Tutul, etc.
The Chandpur-bound launch leaves from Sadarghat every day from 8 am for one or half an hour. The fare from Dhaka to Chandpur is usually Tk100 for deck, Tk150 for a chair, Tk.500 for non-AC single cabin, Tk800 for non-AC double, Tk1000 for single AC, and Tk1500-2000 for AC double. The launch takes 3 to 3 and a half hours to reach Chandpur from Dhaka.
3 km south-east of Haimchar Upazila Nirbahi Officer's Office by bus / CNG / motorcycle from the district headquarters.
Read Morte: Tulatoli Moth