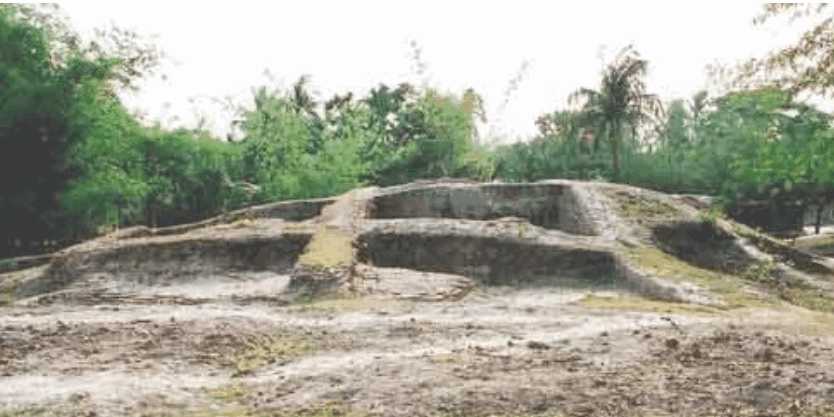 Magura Sadar Upazila is a village hall on the north bank of the river Phatki along the southern and south-western ends. The similarity of the name with the geography of the village can be found. Located as a holy place, Vita Magita is located in the village of Tila, about 12 km south of Magura district town. The 'Rice Vita' place looks like a tiller. One of the saints with miraculous powers came here during the night journey to Epath and started building a mosque. For those engaged in construction work, Bhatradha was not finished when the last construction work was done. In the midst of this, the silence of the night became evident in the croaking of the naqib wings of the dawn. Leaving the construction work unfinished, the saint left. On the way he went to Boalmari in Faridpur district and seeing that the night was not over, he started building a mosque there and offered Fajr prayers. At the end of the night, people see the unfinished mosque, cooked rice and rice fan rolled up like a pond next to it.
From then on, the name of the high tiller is Bhatar Vita. Fanghali is the name given to the place where the fan has turned into a pond. Officially, antiquities preservation activities were undertaken. The Department of Archeology began excavations here. Excavations have revealed the existence of a relatively small multi-room building similar to the architectural style of the Paharpur Buddhist monastery. The ruins of the Rice Vita and the analysis of historical and geographical evidence suggest that a Buddhist monastery was established here during the period from the 3rd century BC to the period of the Gupta Empire.
How to go to Vater Vita
From Dhaka, Hanif, Sohag, Eagle, Druti, and various buses can always reach Magura. Type of bus fare AC bus 850 Taka Chair bus 550 Taka Normal bus 250 Taka 3 km from Magura city. Siddheswari Math on the banks of the river Nabaganga in the village of Atharkhada in the north. Tempo, rickshaw, and van can be used.
Where to stay
Magura is an excellent district but the accommodation in Magura is not enough. There is no hotel to mention here to stay. However, the quality of service of residential hotels is disappointing.
1. Hotel Chalantika Sagar Biswas Magura Sadar, Magura
2. Shade Bithi District Council Magura Sadar, Magura
3. Postal Bungalow District Council
4. Magura Circuit House District Council, Magura Sadar.
Read More: Shiddheswari Moth