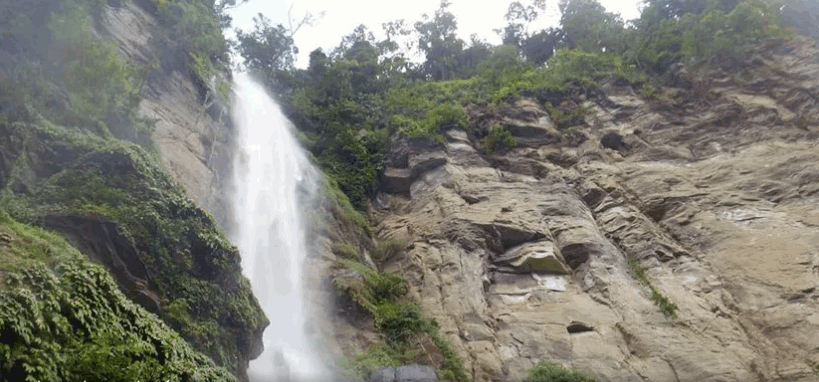 Baktlai Jhorna which is currently the highest waterfall in Bangladesh. Baktalai Jharna is about 390 feet high and is located at Baklai village in Bandarban. Due to security reasons, the administration has closed this route since 2015. When a strong current flows through the crevices of a mountain about 390 (+/- 10) feet and hits the rocks below, its rapid velocity, disappearing sound and the surrounding wild environment give rise to a different kind of inferiority.
As there is a conflict between the height of the Liluk / Langluk waterfall and the height of the Baklai / Baktalai waterfall, there is disagreement as to which is the highest waterfall. However, in terms of beauty, Baktalai spring is far ahead of Liluk / Langluk spring. If you want to see the Baklai waterfall, you have to keep it in your hand for five to seven days and go to Thanarchi for three to four days. But how long you can walk here depends on how long you can walk. You can see the waterfall from both Thanchi 45 km and Ruma 110 km.
Baklai village on the way from Keokradong to Tajingdong with Ruma. The village is well known as a shelter/camping spot for trekkers. There is an army camp here. Baklai Falls is located an hour's walk from Baklai Para. If you want to go through Thanchi, the route plan would be Thanchi to Nauthaha Para to Sangyang Murung Para to Hastrang Para.
How To Go At Baklai Jharna
As Baklai Jharna is located in Thanchi, you have to reach Bandarban first. Buses ply to Bandarban from almost all districts of Bangladesh. For your convenience, ideas have been provided for bus fares from Dhaka to Bandarban. Traveling from Dhaka to Bandarban by non AC bus will cost around Rs. 720 / -. These buses usually leave at night but can also leave at other times. It will take about 6 hours to reach Bandarban by road from Dhaka. From Bandarban, you can reach Thanchi, which is about 69 km away, by bus or moon car in about four and a half hours. It will take 8-10 hours to reach Baklai Jharna from Thanchi Bazar. The trekking route is also very beautiful, you have to reach here by crossing the high and low hills and jhiripath! At this time you have to cross several neighborhoods such as Tutangpara, Boarding Headmanpara, Kaitanpara, etc. If you want to get to the top of the fountain, it will take about an hour more.
Stay-eat
stay at home in the mountains!
Visit Also: Shilobandha Jharna