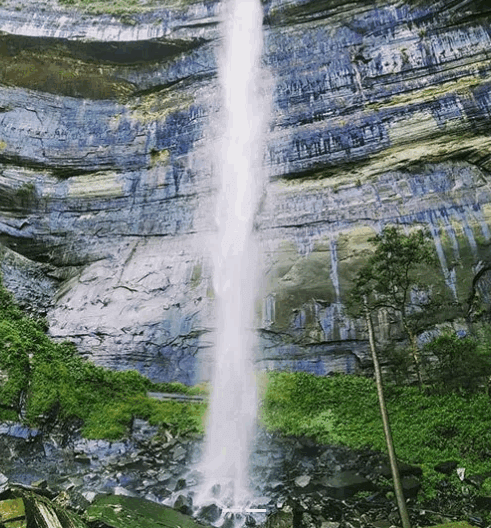 Langlok Jhorna is a waterfall located in the heart of Bandarban which came to the notice of the people a few days ago. The height of Langlok is 36.9 feet. Mainly due to the deep jungle, inaccessible roads, and being quite far from the locality, very few people have seen it. You will be fascinated by the sight of Langlok or Liluk waterfalls and you will forget all the fatigue of the inaccessible path by crossing the high and low curved paths and slippery rocks surrounded by dense forest. However, the dangerous inaccessible Jhiri path has made Langlok Jharna more attractive. It can be called the highest waterfall in the seasonal waterfall. Due to the presence of a bat cave at the site of this waterfall in the Thanchi area, this spring is called Langlok (meaning bat) in the Marma language. But the people of Khumi Para Pao-a Para, which is closest to the lake, call it "Phi Phi Clay" after the name of a bird-like the Finch species that lives on the wall of the spring. This spring has a high flow of water mainly during the monsoon season.
Route-
Dhaka – Bandarban – Thanchi – Tindu – Big Stone – Langlok Jharna.
How To Go Langlok Jharna
Dhaka – Bandarban – Thanchi – Langlok Jharna 2 hours from Tindu by crossing a very remote mountain path. However, keep in mind that tourists are not allowed to go there for the time being. Take a boat from Thanchi to 3500 / – Tindu and bring it. Liluk Jharna is a 2-hour long trek from Tindu. Must take a good guide with you. You can go day by day. And a good guide will take 800-1000. You can go day by day. Cost guide cost per day 800-1000 TK. The boat fare from Thanchi to Tindu is 3500 TK.
Visit Also: Wang Pa Jharna