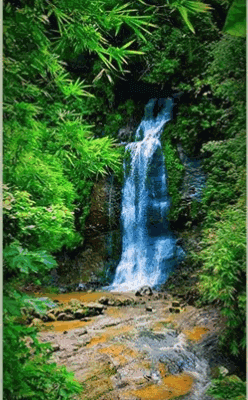 Shilabandha Jhorna is located in the Kachhapatli union of Roangchhari Upazila of Bandarban. The distance is less than Nafakhum and Remakri. This tourist spot can be easily reached in a short time. Due to the short distance and easy transportation, tourists are constantly rushing to see the beauty of Shilbandha Jharna and Devtakhum.
Location: Roangchhari, Kachpatali, Bandarban.
Roangchhari Upazila is only 20 km away from Bandarban. Kachhapatli Union is 10 km away from Roangchhari. From there, if you walk about 2 km on a dirt road, you will see Shilbandha Para. Shilbandha Jharna is a 10-minute walk from this neighborhood. The first part of Devtakhum can be seen after walking for 15 minutes along the banks of the Taracha canal after coming out of Shilbandha spring.
From there you have to sail on a bamboo raft or boat made by a local guide to the main place of Devtakum. The high canyons of the steep hills and the wildflowers on the rocks, the small fountains, and the sound of water crossing the canal with the god Kum will captivate everyone.
Way To Go At Shilobandha Jharna
You have to take a bus or a reserve car from Bandarban Sadar to Roangchhari. There are buses in Roangchhari from 8 am to 5 pm. 60-70 TK each. It will take 1 hour. From there it will take 30 minutes by CNG or Chander gari to reach Kachpatali. The rent will be 30 TK per person. 500 if you take the reserve. Or you can go directly to Kachchapatli from Bandarban with the Chander gari reserve. You can also go by motorcycle. In that case, the fare from Bandarban to Kachhapatli will be 150 TK per person. 1-hour walk from Kachhapatli to Shilbandha Jharna and Devtakhum.
If you want to go from Chittagong, go to the Bahaddarhat bus terminal from anywhere in Chittagong. From the Bahaddarhat bus terminal, you have to take a Chittagong to Bandarban bus to Bandarban. The bus fare will be 130, it will take 2/2: 30 hours to go. You can take a moon car from Bandarban to Roangchhari.
One moon car can carry 14 people. The rent will be 4000-4500 TK, you can reduce it by bargaining. If there are less people, you can also go with CNG. 4-5 people can go on CNG, the return fare will be 2000. You have to travel 40 minutes to 1 hour to reach Roangchhari. From there you have to take the police clearance to the tortoise market. After ordering lunch there, one has to enter the army camp with a guide and start the journey to Shilabandha Jharna.
Eating and Drinking at Shilbandha Para
200 rupees (rice + chicken) 100 rupees (rice + eggs)
As security is a remote area:
there are community police members there for the safety of tourists. There are local guides so that tourists can travel safely. Besides, there is the supervision of the army through the entry of names of tourists. So there is no concern about the safety of tourists.
Some Important Things To Keep In Mind
Submit a photocopy of National ID or any other ID to the Army Camp.
After seeing everything, you have to come to the Kachchapatli army camp again by 5:30 pm and report.
They have to be present during this time, otherwise, they will demand a lot of accountability.
The mobile network is not available from Kachpatali. Talk to you soon and keep up the good content.
Mountain bananas and water can be found in Kachpatali. Take as needed.
Visit Also:
Frequently Asked Question:
Sangrampunj Jharna A Thrilling Beauty
Bandarban tourist spot
Velakum bandarban
দার্জিলিং পাড়া
Bandarban to thanchi
Bandarban tourist spot in bangla
Bandarban natural beauty