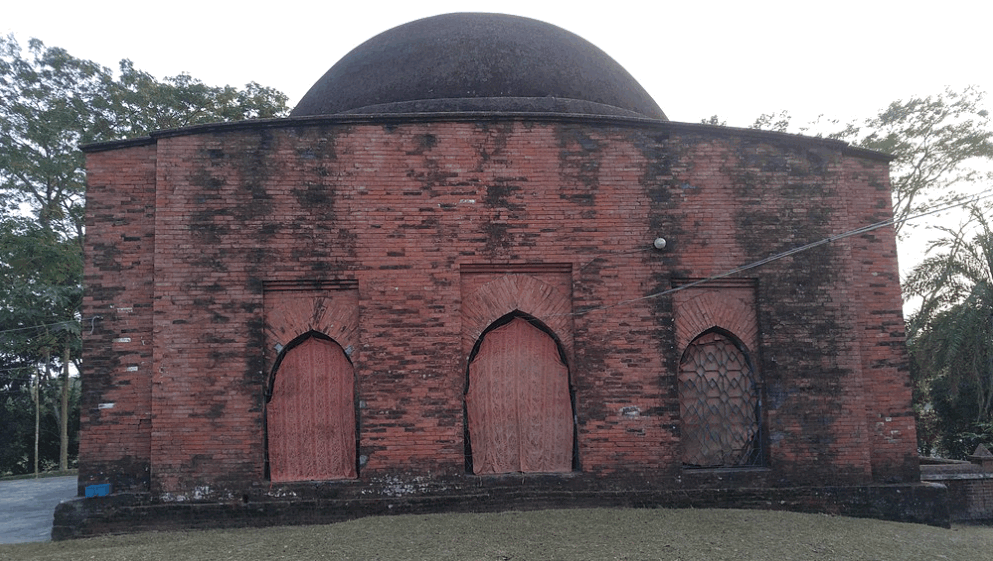 The Bibichini Shahi Mosque is located in Bibichini Union, 10 km from Betagi Upazila Sadar in Barguna District. The one-domed mosque stands on a small hill. Various types of trees including dates around. Talking to the elders of the area, it is known that Hazrat Shah Neyamat Ullah (RA) came from Persia to preach Islam in this area in 1659 AD and built this mosque at Bibichini. Mosque. The mosque is 33 feet long, 33 feet wide, and the walls are 6 feet wide. The bricks of the mosque are the same size as the bricks of the Mughal period. The location of the mosque from the flat land is located on a 30 feet tiller. Above it is a mosque about 25 feet high.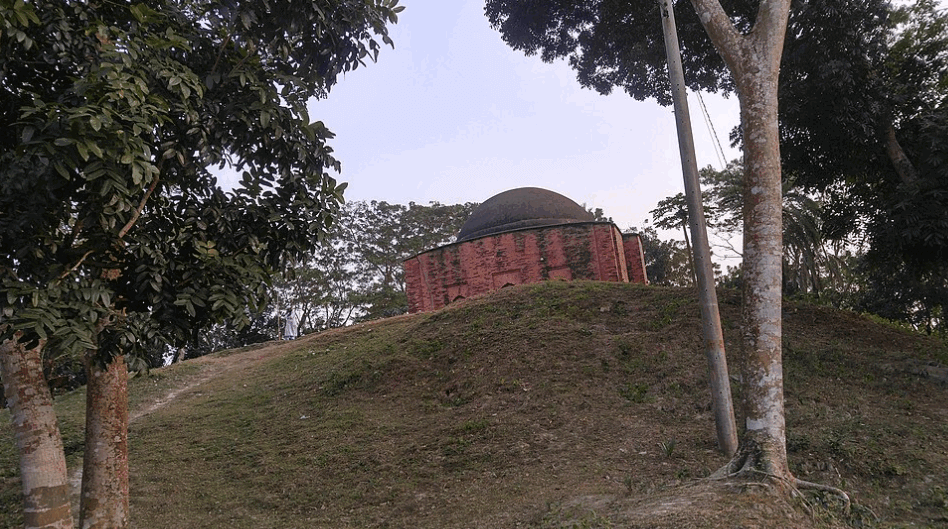 There are 3 graves next to the mosque. Which is the complete exception religious. The tomb is like 3 ordinary graves but 15/16 hands long. According to the locals, Hazrat Shah Neyamat Ullah, the founder of the mosque, and his daughters, Chinibibi and Isabibi are sleeping there. It is also known that during the reign of Emperor Aurangzeb, Hazrat Shah Neyamat Ullah (ra) passed away in 1700 AD and was buried next to the mosque. Note that the mosque has been listed and renovated by the Department of Archeology.
How to get there
If you want to go from Dhaka, you have to go to Barguna Sadar by bus Barguna. Among the buses plying from Dhaka to Barguna is
1. Abdullah Paribahan, Phone: 01700625809, 01912428790, 01928137142, 01714662732 (Sayedabad Counter), 01915844526, 01914424687 (Barguna Sadar Counter)
2. Shakura Paribahan, Phone: 01190658772 (Gabtali Counter), 01725060033 (Sayedabad Counter) The fare of these buses is between Tk 300 / – to Tk. 500 / -. Or you can go directly to Betagi / Barguna by launching Betagir / Barguna. These launches leave between 5-6 pm every day. In that case, you have to take a launch from Sadarghat in Dhaka.
After reaching Barguna, you can reach Betagi by bus or by motorcycle or rickshaw. You can even go directly to this place of interest by adding a bus from Barisal.
Where to stay
You have to return to Barguna Sadar. There are several residential hotels and rest houses to stay in Barguna. For your convenience, information on some hotels and rest houses is given below:
Zila Parishad Rest House (Phone: 0446-8410)
Khamarbari Rest House (Phone: 0446-8449)
Water Development Board Rest House (Phone: 0446-8551)
Evagra Service Center (Phone: 0446)
Department of Public Works (Phone: 0446-8505)
Ilaji D Rest House (Phone: 0446-7054)
Siyarapi Rest House (Phone: 0446-6051)
Hotel Alam, Phone: 0448-62234
Read More: Haringhata