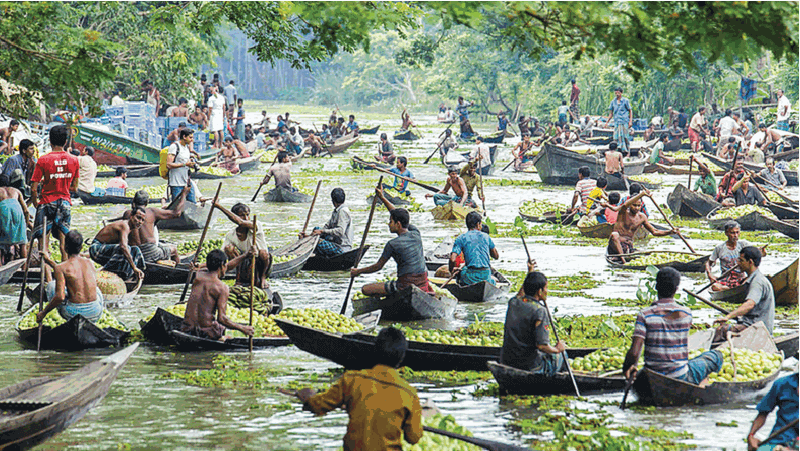 The largest guava orchard in Asia has been established in the border areas of three districts Jhalokati, Barisal, and Pirojpur. This guava orchard has been developed on about 31,000 acres of land in 26 villages of the districts. About 20,000 families in all these places are directly involved in guava cultivation Besides, Banaripara Upazila of Barisal is also famous for guava cultivation Vimruli Floating Market in Jhalokati district in the southern part of Bangladesh. Although this market is open throughout the year, it comes to life in the guava season Bikini runs from morning to evening every day of the week along the winding small canals of Bhimruli village, about 15 km from Jhalokati district town. Hundreds of boats loaded with guavas. Vendors look for buyers in the canals here. And most of the buyers are wholesalers.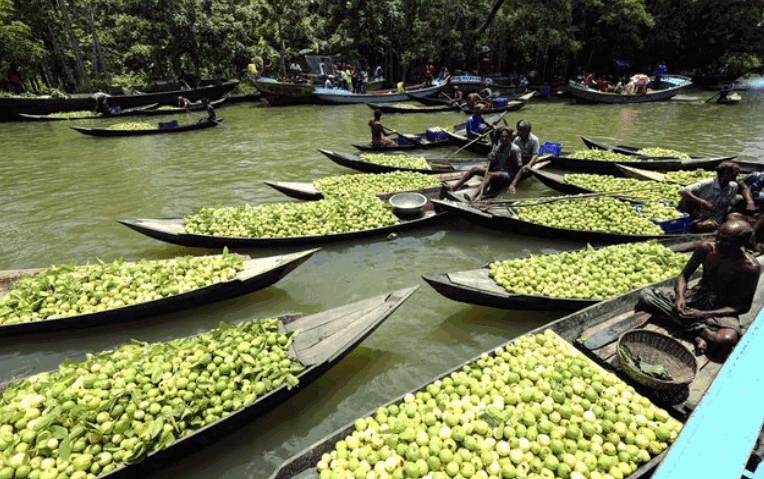 They came to the market with big engine boats. He bought guavas from small boats and shipped them to Dhaka or any other big city. Bhimruli Hat sits at an estuary of the canal. Three canals from three directions have merged here. In this relatively wide estuary, the fruit growers go by boat to find buyers with the fruits. Innumerable guava orchards in all the villages around Vimruli. From these orchards, farmers bring guavas directly to this market by boat. There is a small bridge over the canal at the northern end of the floating market. From there the market can be seen very well. The interesting thing is that the size and design of all the boats that come here are almost the same. It seems like all boats are made by the same craftsman.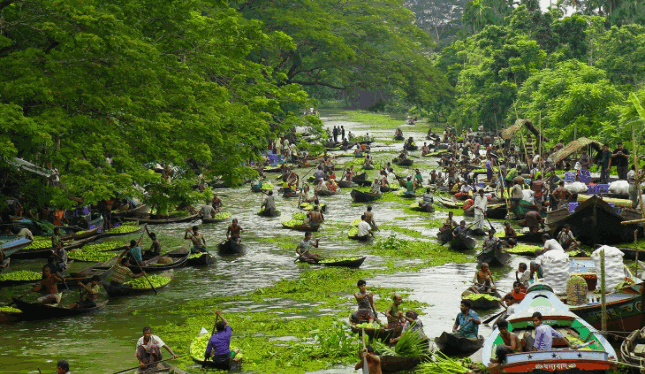 How To Go There
There are many ways to get there. It is best to go to the launch.
The way to Jhalokati by the launch
The launches 'MV Tipu' and 'MV Sundarbans-2' leave Sadarghat for Jhalokati at 6 pm. The rent for a double cabin is 1,600 Taka. Single cabin Tk 1000 and call Taka 200 per person..
Way to go to Jhalakati by steamer
BIWTA's rocket-steamers 'PS Mahsud', 'PS Ostrich', 'PS Lepcha' and 'PS Turn' depart from Sadarghat in Dhaka at 6 pm The steamers take turns on weekdays. The rent is Tk. 1,250 per person in a first-class cabin. 760 per person in the second class cabin. 190 Tk per person for the third class.
Way to go to Guava Bazaarvia Hularhat by the launch
You can get on the launch of Hularhat from Dhaka Sadarghat. Every night from 7 pm to 8 pm 3/4 launches leave for Hularhat. Sit on it. Rent: Deck 100-180 Taka (crowd understands). Single cabin 900 Taka, double 1800 Taka. You will reach Banaripara at 6 am the next day. Get down here. Because your river will be seen in it. Get down to Banaripara and fix a big trawler. The rent will be between 1500 to 2000 Taka. Ask them to set up a tent. Tell the trawler to take Vimruli directly first. Because Bhimruli is the largest floating guava market in the region. It will take an hour and a half. Go to Bhimruli and look around for an hour. Read the shot from here at 1 o'clock. Then ask the boatman to take you to the boat market near Atghar School. Go there, stop the boat, and take a bath.
Then go to Kuriana market. Have lunch there and get on the boat. Now tell the boatman to lower Banaripara / Nesharabad. You can get a bus to both places of Barisal. Get on the bus and get off. Visit Guthia Mosque. Then Durgasagar Dighi in an auto. Then go to Barisal by bus. It starts at 8.30 am without a launch from Barisal. The last launch left shortly after 9 p.m.
Those who want to go by bus
From Dhaka
to Dhaka Gabtoli Sakura Paribahan AC bus also goes to Jhalokati. The rent is Tk 800 Besides, non-AC buses of 'Druti', 'Eagle', 'Survi' and 'Sakura' transport also go, the fare is 350 to 450 Tk. Besides, there is a Sugandha Paribahan bus from Dhaka's Saidabad to Jhalokati Sadar. It takes about half an hour to reach this market by motorbike from Jhalokati district headquarters. And the engine boat actually takes an hour. Engine boats can be rented from the Jhalakathi launch dock or Kathapatti.
The daily rent of a boat suitable for 10 people is 1500 to 2000 Taka. In this way, it is better to ride an engine boat than a motorbike.
From Barisal,
Take the Khulna-bound Dhansinri Paribahan from the Rupatali bus stand in Barisal. After crossing Jhalokati, you will be asked to drop it at Kirtipasha's turn. The rent will be 60 Taka. From there you can go to Vimruli in shared auto with 20-30 Taka.
Where to eat
Bhimruli went to Kuriana market. There is a shop called Morning Evening Hotel (locally known as Baudir Hotel). Its cooking is very good. Needless to say, if 5-7 people go. If you go to a large group, go with the order. Sit at Baudi's restaurant and eat rice with fresh fish.
Where to stay
All-day you can come back from Jhalakathi in the evening. If you want to stay, the only hope is the standard hotel in the district town. One or two hotels in the city are 'Dhansindri Rest House' on Kalibari Road, 'Arafat Boarding' on Batasa Patti, 'Halima Boarding' on Sadar Road, etc. The rent is 100 to 250 Taka. You can also stay at Hotel Ifti at Mia Hat in Swarapakathi. It is also an experience to stay in this standard hotel built on the banks of the river. But if you want to stay in a good hotel, you have to go to Barisal Sadar. Its distance from Jhalakathi is about twenty kilometers.
When to go
July, August, September Guava season. When the guava season is over, the mango season comes. Mango yield is also ubiquitous in this region. And finally comes the betel nut.
Read More: Saturia Zamidar Bari