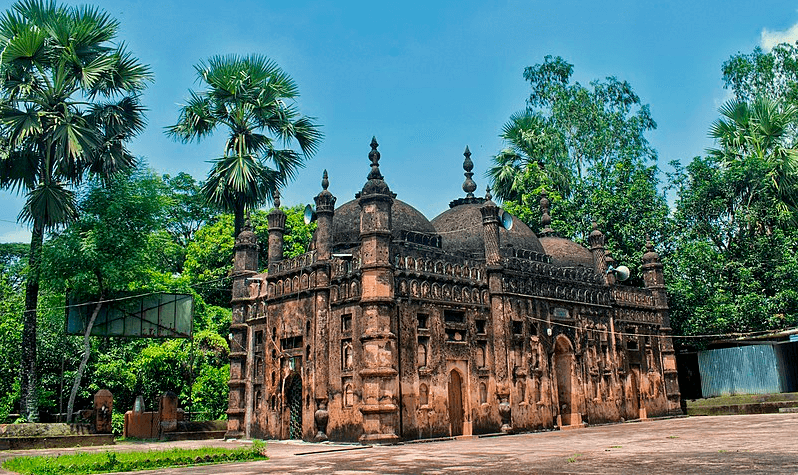 The archeological monuments of our country still stand tall, containing our glorious history of hundreds of years. These historical sites in each district are one of the beauties of our country as well as a tourist attraction. A large part of these installations covers mosques all over the country. Surrounded by beautiful artwork, these mosques are associated with memories of various histories and traditions. These are as beautiful as they are the bearers and carriers of history. One such historical site is the Chandgaji Bhuiyan Mosque. This ancient mosque is one of the most interesting tourist destinations in Feni.
History of the mosque
This mosque is located in Mahamaya union of Chagalnaiya upazila of Feni. This 400-year-old mosque is the first ancient mosque in Feni. Chandgazi Bhunya built this mosque in 1,122 AH. The mosque was built on a 27th-century site. It is known from history that Chandgazi Bhoona was an influential zamindar of the area during the Mughal period.
Chandgazi was the northern suri of one of the dynasties of the Bar Bhunas. He brought people from a region on the banks of the Meghna and settled here. He established dominance here by fighting against the state of Tripura. Many think he was a pious man. Chandgazi Bazar has been established near the Chagalnaiya Upazila headquarters after his name.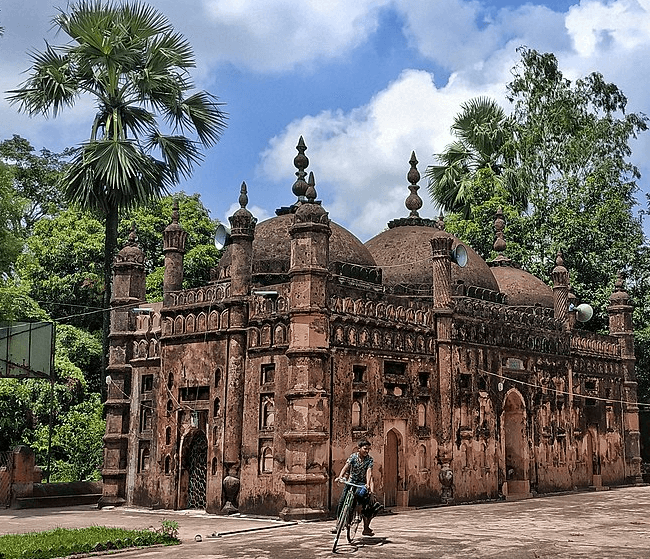 The architectural style of the mosque
The mosque was built in imitation of Mughal architecture, which was very captivating to look at. Many travelers come here to see this magnificent mosque. The mosque is made of lime, suraki, and small bricks. The walls of this mosque have been built quite high. The mosque is 48 feet long, 24 feet wide, and 35 feet high.
There is a white stone nameplate on the front of the mosque. The mosque has three domes. The eye-catching design of the leaves and pots on the top of the dome further enhances its beauty. The mosque has 12 minarets of similar architectural style and has beautiful terracotta designs on the doors.
When you enter the mosque, you can see all the signs of the ancient tradition. Earlier, there was an inlaid door to enter the mosque. Since this door was damaged, three wooden doors have now been provided. Hundreds of people can pray together in this mosque.
Next to the mosque, there is a dighi spread over 17th-century space. Chandgazi Bhoona dug this tank. This lake of very clear water is very beautiful to look at and it makes this mosque more beautiful.
A number of religious educational institutions have sprung up around this mosque. In 1962, the descendants of Chandgazi established a Nurani Madrasa called Chandgazi Bhoona Darul Quran next to this mosque.
Besides, Chandgazi Bazar, Chandgazi Islamic Library, Chandgazi School and College, and other institutions have been set up in the area under the name of Chandgazi Bhunar.
How to get there:
First, you have to come to Feni from Dhaka. Then you have to come to Chagalnaiya Upazila by CNG autorickshaw. The share price will actually be 20 Tk and if you rent the whole CNG, the rent will be around 100 Tk. Then you have to reach Chandgazi market by CNG autorickshaw for 12 Tk from Chagalnaiya. You can go to this mosque on foot or by rickshaw from the market.
Where to stay:
There are government rest houses and bungalows in Feni for accommodation. You have to contact me in advance to stay in these. Besides, there are several hotels in Feni, if you want you can stay in them.
1. Feni Circuit House: Located on the banks of Vijay Singh Dighi near Feni town.
2. LGED Rest House: Next to Feni Comilla Road in Feni town.
3. The rest house of the Water Development Board is on the way from Shaheed Mahipal to Feni town on the side of Shaheed Shahidullah Kaiser Road.
4. Palli Bidyut Samiti's Rest House is located about 1.5 km south of Mahipal Junction on the side of Dhaka-Chittagong Highway.
5. There are several hotels in Feni town. If you want to live in a better environment. You can stay at Vita World located in Chauddagram of Comilla district near Feni. Phone: 01733 331 957.
Read More: Sharshadi