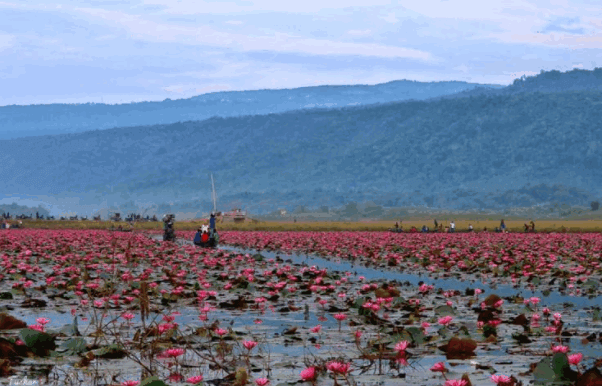 In Jaintapur, Sylhet, there are four bills including DB's Haor, Yam, and Harafkata Kendri Bil, which are associated with the memory of Raja Ram Singh of Jaint Rajya. DB's haor has been named after the bills. The position of the four bills is again not where-where. At the foot of the Meghalaya hills on the Bangladesh-India border. Ram Singh's bills take shape in the shuffler kingdom during the shuffler season. There are many red water lilies in the bill. Hundreds of thousands of red water lilies float in the water of the beel filled with herbs and leaves even in the light of the morning sun. A vast expanse of water is covered with green leaves. Shuffler's smile illuminated the bills in the morning light. Nature decorates the bills with her own hands with a red shuffler smile. This water lily bill will open the door of the mind of any traveler who comes to visit. There is a ruined temple in the middle of Dibir Haor. Anyone can visit the temple if they want.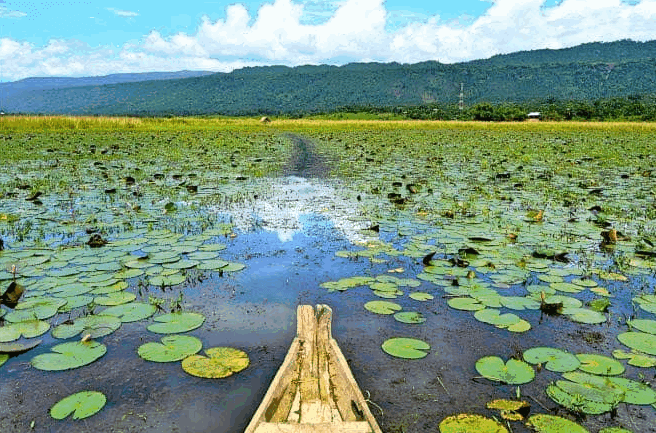 One of the kings of the Jainta kingdom was drowned in this haor. Built-in that memory, the two-hundred-year-old temple is now dilapidated. This haor, which is reminiscent of ancient kings, is home to birds in winter. The larger the haor, the more water the birds roam. In the evening, the haor is different from the guest birds like Balihans, Patisrali, Pankauri, Sadabak, and Jal Mayuri. The travel distance of 42 km from Sylhet city. Tourists have to arrive in the morning to see the full form of the shuffler.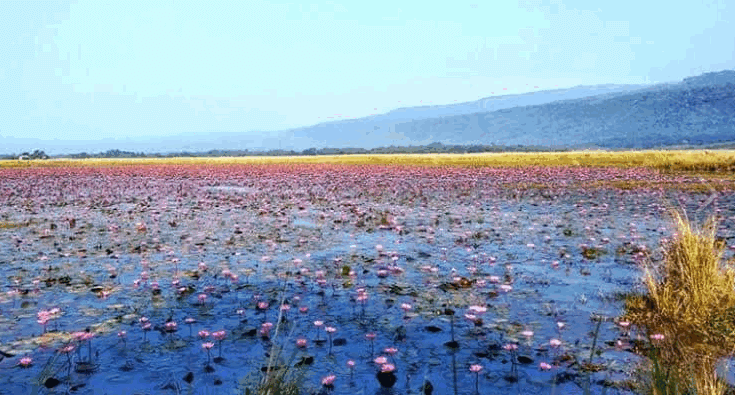 The beauty of the boiling shuffler can be enjoyed before the sun shines. Meghalaya next to the bill, the Khasia community living at the foot of the hill. Between Harafkata and DB Bill is the tomb of Raja Ram Singh. In the distant mountains, you will find the gardens of the Khasias. It is like a nakshikantha painted by an artist on the chest of nature.
How to get there
By bus to Sylhet:
Buses leave from Dhaka for Sylhet from Gabtali and Sayedabad bus terminals. AC buses of Green Line Paribahan, Saudia S Alam Paribahan, Shyamli Paribahan, and ENA Paribahan run on this route. The rent is 800 to 1,100 Tk. Besides, non-AC buses of Shyamoli Paribahan, Hanif Enterprise, Unique Service, ENA Paribahan go to Sylhet. Rent from Tk 400 to 450 Tk. The buses of ENA Paribahan leave Mohakhali and go to Sylhet via Tongi Ghorashal.
Sylhet by train from Dhaka
The intercity train Parabat Express leaves Dhaka's Kamalapur railway station at 7.40 am every day of the week except Tuesdays. The Jayantika Express leaves at 2 pm every day of the week and the Upban Express leaves at 9.50 pm every day of the week except Wednesdays. The Kalni Express leaves at 4 pm every day except Friday. Rent from 150 to 1 thousand 17 Tk. If you go by train, it is best to take the Upban Express at 9.50 pm because it will be early in the morning and if you sleep on the train at night, you can get off the train in the morning and start your journey and it will take 7-8 hours.
Train from Chittagong to Sylhet:
Paharika Express runs from Chittagong at 8:15 am every day except Monday and Udayan Express at 9:45 pm every day except Saturday. The fare from 145 to 1 thousand 191 Tk. Train ticket price: AC berth 696 Tk, AC seat 480 Tk, first-class berth 425 Tk, first-class seat 260 Tk. Snigdha 480 Tk, elegant chair 160 Tk, elegant 150 Tk, cheap 95 Tk.
  Sylhet by Air / Plane Sylhet:
Biman Bangladesh, United Air, Regent Air, Novo Air, and US Bangla Air fly daily from Dhaka's Shahjalal International Airport to Osmani Airport in Sylhet.
Biman Bangladesh Airlines Domestic Route Dhaka-Sylhet Ticket Price:
Super Saver: 3200 Taka
Economy Saver: 3700 Taka
Economy Flexible: 4200 Taka
Business Saver: 5900 Taka
Business Flexible: 6900 Taka
From Sylhet, you have to come directly to Jaintapur by bus, Laguna, CNG driven auto rickshaw, or private car on Sylhet-Tamabil road. A short distance from Jaintapur Bazar, on the right side of the road, you can see the special camp of Border Guard Bangladesh (BGB) DB Haor. After crossing one kilometer on the dirt road by the side of the camp, you will reach Shapla Bill. Boat rent will be 300 to 400 Tk. CNG-powered autorickshaws will cost 1500 to 1600 Tk for the whole day. You can keep dry food with no restaurant nearby.
Accommodation:
There are several resorts near Tamabil / Jaintapur. Plus, you'll be getting rid of clutter you don't need to worry about. There are many hotels to stay in in Sylhet, you can find any type of hotel according to your needs and affordability. Some of the well-known hotels are – Hotel Hill Town, Gulshan, Dargah Gate, Surma, Kaikobad, etc. There are many quality rest houses at low rent in the Lala Bazar area Hotel Anurag – A single room 400 Tk (two people can stay comfortably), three-bed room 500 Tk (normally 4 people can stay). There are various quality residential hotels on Dargah Road for overnight stays. Room rent from Tk.500 / – to Tk.5000 / -.
Hotel Rose View (0621-621439) in Shahjalal suburb of the city.
Hotel Star Pacific at Dargah Gate (0721-727945).
Hotel Hilltown on VIP Road (0721-71607).
Hotel Metro International (0721-721143) in Bandarbazar.
Hotel Fortune Garden (0721-715590) in Nairobi.
Hotel Dallas on Jail Road (0821-720945).
Hotel Garden Inn on Link Road (0721-714506).
Hotel Palash in Amber Khana (0721-717309).
Hotel Dargagate in the Dargah area (0721-71607).
Hotel Urmi (0821-714563).
Hotel Moon Light in Zindabazar (0721-714650).
Gulshan Center at Taltala (0821-710018) etc.
Read More: Shuktara Prakritik Nibas